Nerdcore Hip-hop at Triumph Brewing Co. Thurs 1/27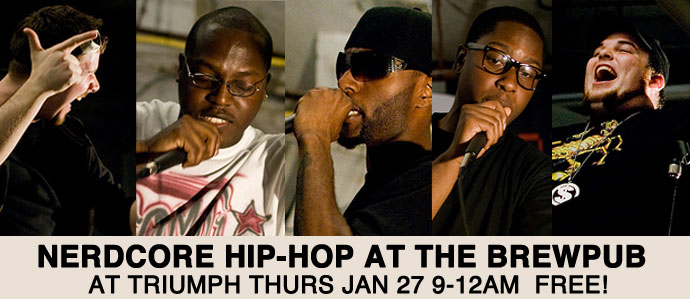 WHAT: Nerds and geeks rapping in a brewpub!
WHEN: January 27th, 2011, from 9pm to Midnight
WHERE: Triumph Brewing Company of Old City
COST: Admission is free!
For the past year, our PR director has been slowly but steadily trying to make a name for himself in the alt-rap genre commonly referred to as "Nerdcore Hip-hop" as Zilla Persona. The goal is a simple one: make the best hip-hop you can, while channeling your true nerdy self.
He's not alone in his struggle, however. In May of 2010, Justin launched an annual Nerdcore Hip-Hop showcase called "Nerdrage." Pulling together artists from all over Philadelphia, Nerdrage sought to show off the talent that was lurking all around the county. As an added bonus, the Godfather-And-Final-Boss of Nerdcore MC Frontalot also made an appearance.
It's about geek pride. It's about proclaiming your love of Dungeons & Dragons. Interested?
Zilla Persona will be bringing his electronically-fueled beats and high energy performance to Triumph Brewing on Thursday, January 26th from 9pm-Midnight. The evening will feature two other groups: Philadelphia-based ECOMOG and King Pheenix.
If you like hip-hop, gaming of any sort, NES nostalgia, chip music, drinking, dance parties and all things geek, then get down here, have a beer, and be prepared for three hours of awesomeness.
RSVP on Facebook here:
Find Zilla Persona's album "You Wouldn't Think" on iTunes, or visit here for four free downloadable tracks.
Recent Articles
Beer Review: Two Brothers Brewing Cane and Ebel
Cavanaugh's Headhouse First Brew and Chew Featuring Yards, June 6
Sea Isle City Craft Beer and Rock Festival, June 8
Feedback
How are we doing? Tell us what you like or don't like and how we can improve. We would love to hear your thoughts!