Cuba Libre: Empanada Month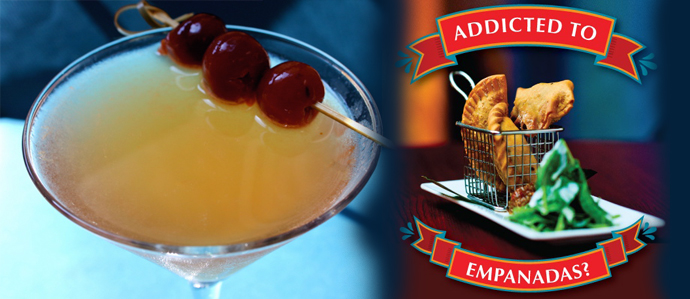 In celebration of National Empanada month, Cuba Libre is offering a special menu in honor of the most addictive of all Latin culinary offerings: empanadas!
Cuba Libre will offer empanadas with lobster and coral butter, empanadas with roasted artichoke, Swiss chard, ricotta cheese and hardboiled egg, and Mama Amelia's Empanadas, a Cuba Libre menu mainstay. Mama Amelia's Empanada include beef, chicken, shrimp, or pulled pork, and they go for $4 during happy hour. Make it an empanada night by following your aperitivo with an empanada platter, made with tuna or slow-braised pulled lamb shoulder, and finish it off with a dessert empanada.
To keep your empanadas company, Cuba Libre hosts a great happy hour with plenty of choices. Weeknights from 5p.m. to 7p.m., and on Sundays from 4p.m. to 6:30p.m., stop in for $4 Cuba Libre Rum cocktails, $4 house wines and sangria, $4 Miller Lite and Coronas, and $4 bar bites. On the Wednesday that I visited, Cuba Libre had many after-work imbibers crowding around the bar, and plenty more taking up the small tables that dot the charming cantina.
The name Cuba Libre comes from cocktail vocabulary: the Cuba Libre is a rum and coke, typically served with lime. In honor of its rum heritage, the happy hour menu includes cocktails incorporating white or dark rum. Classic and watermelon mojitos make perfect Summery drinks, while the mango and ginger martini adds a little kick. Rounding out the menu is the Caballito, the Cuban Manhattan made of dark rum, sweet vermouth, guarapo, fresh lime juice, and a cherry.
The Picadas, or small bar bites, include tasty treats that pays homage to Cuban cuisine. Try the tostones, salty but sweet twice fried crisp green plantains, served with garlic mojo sauce for dipping. The Guacamole Cubano puts a twist on everyone's favorite dip by mixing in pineapple for extra flavor. For heartier happy hour fare, order up a Miami Frita, a mini Cuban burger with beef, pork, and Spanish chorizo, or the Barbacoa de Puerco, a BBQ rib meat sandwich.
The National Empanada Month menu will be offered until the end of April, but even after, head to Cuba Libre for delicious snacks and drinks.
Recent Articles
Sign Up for Early Word on Brad Pitt and Angelina Jolie's Next Wine Release
Neshaminy Creek and Old Forge Kick the Keg Battle at Perch Pub, May 16
Bainbridge Street Barrel House Gets Hopped Up on the (Dark) Horse, May 15
Feedback
How are we doing? Tell us what you like or don't like and how we can improve. We would love to hear your thoughts!