2012 Drinker's Choice Nominees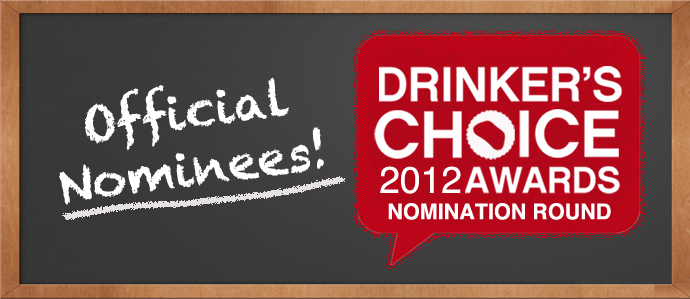 A couple of weeks ago, we asked you, the drinking public of Philadelphia, to step up and nominate your favorite bars, so that we could honor them with accolades and trophies. You made your voices heard by sending in great candidates for Best Beer Bar, Best Cocktail Bar, Best Wings and more, and the results are in! Congratulations to the fine establishments that will face off in our Drinker's Choice finals. Check them out below, and then go to drinkphilly. com/vote to cast your vote!
Best Beer Bar Nominees
Eulogy
Farmers' Cabinet
Grey Lodge Pub
Khyber Pass Pub
Kraftwork
Local44
Monk's Cafe
Perch Pub
Standard Tap
Varga Bar

Best Sports Bar Nominees
Cappy's Cafe
Cavanaugh's Rittenhouse
Chickie's and Pete's
City Tap House
Dark Horse Pub
Fox & Hound
McGillin's Olde Ale House
Misconduct
O'Neal's Pub
Philadelphia Bar and Restaurant

Best New Bar Nominees
American Sardine Bar
Barcade
Farmers' Cabinet
Frankford Hall
Interstate Draft House
Perch Pub
Stateside
Tapestry
Trestle Inn
Twisted Tale

Best Wings Nominees
Bryne's Tavern
Chickie's and Pete's
Curran's
El Camino Real
Irish Pol
Moriarty's
McGillin's Olde Ale House
Q BBQ & Tequila
Twisted Tail
Varga Bar

Best Brewpub Nominees
Dock Street
Earth: Bread + Brewery
Iron Hill
Manayunk Brewing Co
Nodding Head
Prism
Sly Fox
Triumph
Victory
Yards

Best Happy Hour Nominees
Bar 210 at LaCroix
Davio's
Devil's Den
Irish Pol
Local 44
McGillin's Olde Ale House
Oyster House
Perch Pub
Valanni
Varga Bar

Best Local Beer Nominees
Rye IPA - Dock Street
Nectar Farmhouse Ale - Earth Bread + Brewery
Exit 4 American Tripell - Flying Fish
Kenzinger - Philadelphia Brewing Co
Bitto Honey IPA - Prism
Dunkel Lager - Sly Fox
Perpetual IPA - Troegs
Headwaters Pale Ale - Victory
Merry Monks - Weyerbacher
Love Stout - Yards

Best BYO Restaurant Nominees
Audrey Claire
Bibou
Dmitri's
Kanella
La Viola
Little Fish
Lolita
Matyson
Mercato
Modo Mio

Best Cocktail Bar Nominees
Bar210
Continental
Farmers' Cabinet
Franklin Mortgage & Investment Company
Ranstead Room
Rum Bar
Sassafras
Southwark
Valanni
Village whiskey

Best Beer Store Nominees
Beer Heaven
Beer Store (Southampton)
Beer Yard
Bella Vista Beverage
Bottle Shop
Craft Beer Outlet
Exton Beverage
Food and Friends
The Foodery
Hawthornes

Best Bar-Hopping Neighborhood Nominees
Art Museum/Fairmount
East Passyunk Ave
Fishtown
Manayunk
Mayfair
Midtown Village/Gayborhood/Wash West
Northern Liberties
Old City
Queen Village
Rittenhouse

Best Wine Bar Nominees
Beneluxx
Chick's
Fare
Jet Wine Bar
Panorama
Positano Coast
Tria
Vintage Wine Bar & Bistro
WineO
Zavino
Recent Articles
Beer Review: Two Brothers Brewing Cane and Ebel
Cavanaugh's Headhouse First Brew and Chew Featuring Yards, June 6
Sea Isle City Craft Beer and Rock Festival, June 8
Feedback
How are we doing? Tell us what you like or don't like and how we can improve. We would love to hear your thoughts!