Drink Philly Presents Phestiv-Ale: Coming to South Philadelphia in September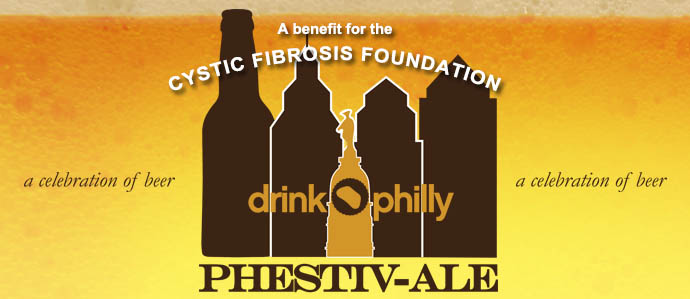 We are thrilled to announce the first-ever Drink Philly beerfest! Phestiv-Ale is a craft beer tasting extravaganza, held to raise funds for the Delaware Valley Chapter of the Cystic Fibrosis Foundation. On Saturday, September 8, please join us for a day of real beer fun.

Phestiv-Ale will be holding the party at the very spacious Sheet Metal Workers Hall on Columbus Boulevard, so expect plenty of room and access to good brew samples. A $45 advance ticket ($55 at the door) scores you access to the afternoon (noon–3 PM) or evening (4:30–7:30 PM) session. You'll receive a commemorative tasting glass, which you can put to use with as many sample pours as you like.

So far we've lined up a great group of breweries, including local faves Victory, Yards, Troegs, Weyerbacher, Dock Street, Triumph and we're signing up more each week. Perkasie, PA newcomer Free Will Brewing Co. will be pouring, and from afar we'll have Allagash, Lagunitas and Oskar Blues, among others. To accompany your sips, snacks from Penn's Landing Caterers will be available throughout the fest.

Just for buying tickets, you're automatically entered to win a free Kegerator from our friends at Man Cave Kingdom. They make all kinds of custom kegerators and wine refrigerators so be sure to check them out at mancavekingdom.com.

The event is produced by a committee of folks who, like us, love craft beer and are willing to donate their time to putting together this fundraiser. Cystic fibrosis s a life-threatening genetic disease that affects nearly 30,000 children and adults in the U.S., but recent advances in treatment and research for a cure have been especially promising, so every penny counts. Our committee consists of people from Drink Philly, Young Professionals Leadership Committee, OneCrazyFan.com, Temple University, DSC Advertising, Big Hit Promotions, Complete Ticket Solutions and others.

Tickets for Phestiv-Ale are on sale now, so don't delay. Sponsorship opportunities are also available; let us know if you're interested. See you in September!
Updated Brewery List:
Allagash Brewing Co (Porland, ME)
Bell's Brewing Co (Kalamazoo, MI)
Boulder Beer (Boulder, CO)
Dock Street Brewing Co (Philadelphia, PA)
Dogfish Head (Milton, DE)
Evil Genius Beer Co (PA)
Flying Dog Brewing Co (Frederick, MD)
Flying Fish Brewing Co (Cherry Hill, NJ)
Founders Brewing Co (Grand Rapids, MI)
Free Will Brewing Co (Perkasie, PA)
Goose Island Brewing Co (Chicago, IL)
Great Lakes Brewing Co (Cleveland, OH)
Green Flash Brewing Co (San Diego, CA)
Lagunitas Brewing Co (Petaluma, CA)
Manayunk Brewing Co (Manayunk, PA)
Oskar Blues Brewing (Longmont, CO)
Philadelphia Brewing Co (Philadelphia, PA)
Sixpoint Craft Ales (Brooklyn, NY)
Sly Fox (Pottstown, PA)
Southern Tier Brewing Co (Lakewood, NY)
Sprecher Brewing Co (Milwaukee, WI)
Stone Brewing Co (Escondido, CA)
Triumph Brewing Co (Philadelphia, PA)
Troegs Brewing Co (Hershey, PA)
Victory Brewing Co (Downingtown, PA)
Weyerbacher Brewing Co (Easton, PA)
Yards Brewing Co (Philadelphia, PA)
This is our list, but tell us below in the comments what your favorite beer is and why you're excited to celebrate drinking beer with us at Phestiv-Ale!
Event Date: 09/08
Event Time: noon-3 PM & 4:30-7:30 PM
Location: Sheet Metal Workers Hall
Price: $45 in advance, $55 at the door
Website: phestivale.com

Recent Articles
Drink From the Hoff's Nipples at Bierstube
Philly Beer Week 2013 Preview
Memorial Day Drinks: 5 Fun and Easy Summer Pitcher Cocktails
Feedback
How are we doing? Tell us what you like or don't like and how we can improve. We would love to hear your thoughts!