Leaked Recipes From Duke's Surf Bar Pop-Up, August 16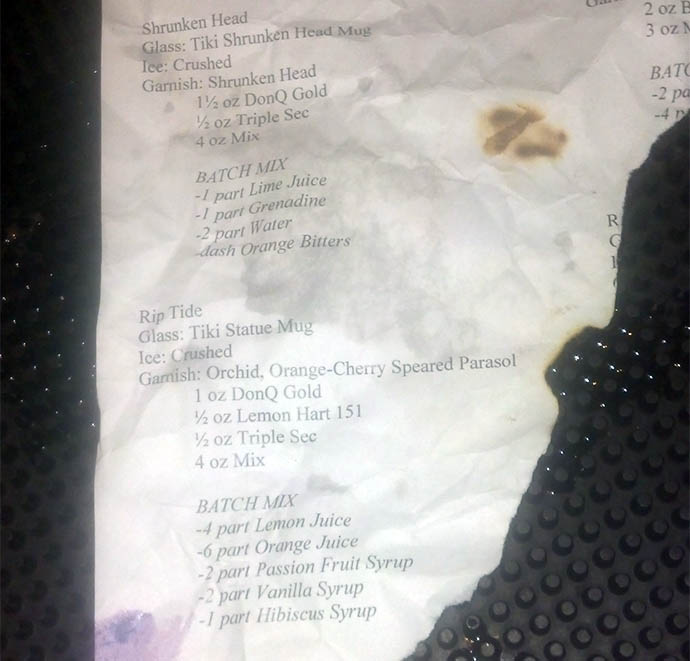 We're excited for the Duke's Surf Bar, the tiki pop-up taking over Rum Bar this Thursday, August 16, and it looks like someone else is, too. Though one of the elements of a true tiki bar is that drink recipes are never revealed, a tipster sent us this photo of a torn page, with this to say:
"This was found discarded under a bartstool at Rum Bar. It appears to have the recipes for a couple drinks I've never seen or heard of before."
At least one of the drinks appears to be from the list bartender Katie Loeb (on loan from Han Dynasty in University City) and Rum Bar proprietor Adam Kanter put up on the Duke's website. We can make out the cocktail recipe for the Shrunken Head and the Rip Tide.

At the risk of bringing the ire of the bartenders, we're reproducing the recipes here, in case you want to try your hand at a tiki experience. For the real deal, head to Rum Bar — er, Duke's Surf Bar — on Thursday night. Orchids, parasols and shrunken head tiki mugs await!

Shrunken Head

1½ oz. Don Q Gold rum
½ oz. triple sec
4 oz. Mix

Mix:
1 part lime juice
1 part grenadine
2 parts water
Dash orange bitters

Glass: Tiki shrunken head mug
Ice: Crushed
Garnish: Shrunken head [Ed: No, not sure what that garnish is!]

Rip Tide

1 oz. DonQ Gold rum
½ oz Lemon Hart Demerara 151
½ oz. triple sec
4 oz. Mix

Mix:
4 parts lemon juice
6 parts orange juice
2 parts passion fruit syrup
2 parts vanilla syrup
2 part hibiscus syrup

Glass: Tiki statue mug
Ice: Crushed
Garnish: Orchid, cherry-speared parasol
Recent Articles
Memorial Day Drinks: 5 Fun and Easy Summer Pitcher Cocktails
Beer Review: Two Brothers Brewing Cane and Ebel
Cavanaugh's Headhouse First Brew and Chew Featuring Yards, June 6
Feedback
How are we doing? Tell us what you like or don't like and how we can improve. We would love to hear your thoughts!