Swann Lounge Introduces Local Fall Cocktails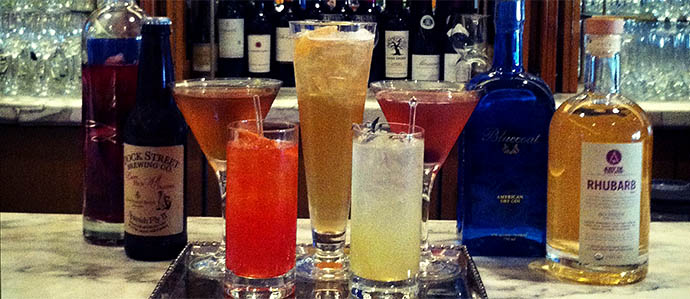 When we we at the Swann Lounge at the Four Seasons hotel to sample the Dock Street collab brew Spanish Fly on Wednesday, resident mixologist Michael Haggerty tipped us off that the fall menu of cocktails was about to be introduced. We've got the full list of new sips now on offer at the Logan Circle bar, and though they are not cheap, there are several we're looking forward to trying.

Haggerty has taken up the challenge of making sure every drink on the specialty menu uses ingredients sourced, produced or crafted within 50 miles of the hotel. this means lots of Philadelphia Distilling spirits, beer cocktails with local brew from yards or Dock Street, a couple with Dad's Hat Rye. There's also plentyof use of herbs picked from the Four Seasons rooftop garden.

Check out the full menu below, which also features the Pheeling Hope drink for Breast Cancer Awareness Month, and a duo of mocktails. Let us know your favorite when you go to try them out.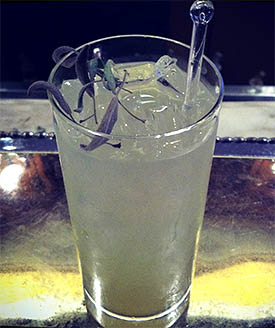 Swann Lounge Fall Cocktails ($15)

Lansdowne
Dad's Hat Rye, rosé vermouth, Sterling & Lawrence vanilla bitters

Joe Frazier
Yards Brawler ale, Snap, Bluecoat Gin, Bartram's Bitters

Society Hill
Applejack Brandy, Jin-Ja, house sour, rooftop sage

Doug Collins
Rooftop-rosemary-infused Bluecoat gin, house sour, club soda

Mayfair
Dad's Hat Rye, rhubarb tea, chai simple syrup, La Colombe coffee wash

Queen's Village
Orange-grapefruit-infused Penn 1681 Vodka, house sour, Steaz Orange Organic Green Tea

Brewery Town
Dock Street Spanish Fly II, rooftop sage, Lancaster honey syrup, Bartram's Bitters

Pheeling Hope ($16)
Rhubarb tea, housemade rosé vermouth, honey syrup
$2 per drink is contributed to the Abramson Cancer Center

Mocktails ($9)

The John Bartram
Strawberry rhubarb conserves, white cranberry, Sprite, house sour

B. Frank Tea
Blackberry lemonade, peach nectar
Recent Articles
Drink From the Hoff's Nipples at Bierstube
Philly Beer Week 2013 Preview
Memorial Day Drinks: 5 Fun and Easy Summer Pitcher Cocktails
Feedback
How are we doing? Tell us what you like or don't like and how we can improve. We would love to hear your thoughts!