International Great Beer Expo 2010
Taste the World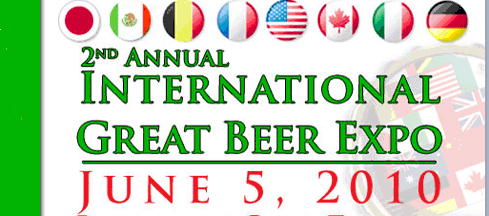 Adorned with pretzel necklaces and six-pack hats (and a lot of Flyers regalia), the Philly beer faithful arrived in force at the Philadelphia Naval Yard Cruise Terminal for the 2010 International Great Beer Expo, ready to pit the best of the States against the rest of the world in a beer tasting event featuring over 80 breweries. Organized by Starfish Junction Productions as an anchor event for Philly Beer Week, the Expo offered beers from local favorites like Manayunk Brewery and Yards, national craft icons like Stone and Ballast Point (both from California), and global standouts like Denmark's Elephant and Scotland's Brew Dog. Drink Philly showed up for the second session of the day, on a quest for the extreme.
The beers that made the biggest impression were the unique. We immediately tracked down the Magic Hat booth to sample their beet-based Wacko, which featured a beet pink body, albeit a fairly subdued flavor. England's Hepworth & Company offered their Iron Horse Pale Ale, a complex bitter with a distinct iced tea aroma. Florida's Saint Somewhere Brewing Company combined multiple Belgian styles in their Pays du Soleil, which evoked saison, pale ale, and Flemish sour all in one yeasty elixir.
We found some new favorites at the Expo. Oregon's Beer Valley was not aiming for subtlety when they crafted their thick and delectable Black Flag Imperial Stout. Loaded with dark chocolate and roasted malts, this is an 11% abv heavy-duty beast of a stout, not for the faint of heart. No doubt we'll be stocking up on Black Flag.
Wisconsin's Furthermore Beer offered Knot Stock, an enigmatic pale ale with enough cracked black peppercorn in the nose and body to clear out the sinuses. Adding a bit of hard lemonade to Knot Stock transformed it to a lemon pepper beer that one event attendee noted would make a great steak marinade, though we all liked the un-lemoned version better. Bonus points for Knot Stock for having a retired Navy Petty Officer in full dress whites doing the pouring.
Lest we be accused of bias against lagers, we discovered the pride of Meadville, Pennsylvania. Voodoo Brewing Company's Hoppy-Ass Lager threatens to redefine the style with a generous malt bill and a heavy-handed helping of floral hops.
Despite some great offerings from some boutique breweries, this wasn't exactly what you'd call a meet-the-brewer event. With the exception of a few locals like Manayunk and Voodoo, most of the breweries were represented at the expo by their local distributors. The good folks at Bella Vista Beer Distributors (755 South 11th St) in particular brought their A-game, with the aforementioned Black Flag and Knot Stock, as well as some selections from Ballast Point, though I was disappointed not to have their Sculpin IPA.
The global component of the Expo was downplayed a bit. With few exceptions, the international scene was represented primarily by macros (Beck's, Stella Artois, Pilsner Urquell), leaving a bit of a skewed playing field of American craft against world-wide adjunct brews.
All in all, however, Starfish Junction put together a great Expo, a place to discover new favorites, make some new friends, and raise a glass with hundreds of other fans of the world's greatest beverage. And if there was any question of the impression that Philly Beer Week creates for the city, just ask Tobias, visiting from London for the duration of the festivities: "I love Philadelphia!"
About Beer Geek Steve:
Steve spends as much time as his wife will let him tracking down rare beers and trying to analyze the intersection between quality beer, hype, and viral marketing. When he's not reviewing beer for Drink Philly, he writes about his adventures in chasing bottles and taps at his blog, Beer Geek Steve. You can also follow him on Twitter, where he tweets about happenings in the craft beer industry and often locates some of the best barrels in southeast PA.
Recent Articles

Feedback
How are we doing? Tell us what you like or don't like and how we can improve. We would love to hear your thoughts!