Type
Average Drink Price
$5-$7
Average Food Price
$10-$15
Hours of Operation
Sunday - Thursday 5 PM-10 PM; Friday - Saturday 5 PM-2 AM
Kitchen Hours
Sunday - Thursday 5 PM-10 PM; Friday - Saturday 5 PM-11:30 PM; Sunday Brunch 11 AM-2 PM
Atmosphere
Beer Connoisseur
Impress a Date
Neighborhood Hang
Relaxed
Young Professionals
Special Features
Good for Groups
Outdoor seating
Dress Code
Come as you are!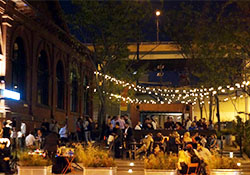 Address
140 N Columbus Blvd.
(Columbus Blvd and Race St.)
215-375-7744
www.lapegbrasserie.com
Neighborhood
Penn's Landing
About
From the website:
"La Peg is a contemporary American brasserie by Peter Woolsey located inside the FringeArts building in Old City Philadelphia across from the Race Street Pier. The dining room is grandiose, with 45 foot tall ceilings and large windows to match. Every seat in the house offers dramatic views of the industrial-chic interior and the gracefully arching Benjamin Franklin Bridge. Just out doors is a beer garden with a shipping container for a bar featuring casual seafood, burgers and cold drinks in the warmer months and fire pits in the winter."
Monday
Happy Hour (5:00 pm - 7:00 pm): $3 drafts; $3 House Cabernet and Chardonnay; $5 specialty cocktail
Tuesday
Happy Hour (5:00 pm - 7:00 pm): $3 drafts; $3 House Cabernet and Chardonnay; $5 specialty cocktail
Wednesday
Happy Hour (5:00 pm - 7:00 pm): $3 drafts; $3 House Cabernet and Chardonnay; $5 specialty cocktail
Thursday
Happy Hour (5:00 pm - 7:00 pm): $3 drafts; $3 House Cabernet and Chardonnay; $5 specialty cocktail
Friday
Happy Hour (5:00 pm - 7:00 pm): $3 drafts; $3 House Cabernet and Chardonnay; $5 specialty cocktail
Sunday
Happy Hour (12:30 pm - 4:00 pm): $3 Gin Gimlets (beer garden only)