Press
We're pretty much famous
Drink Philly Featured in…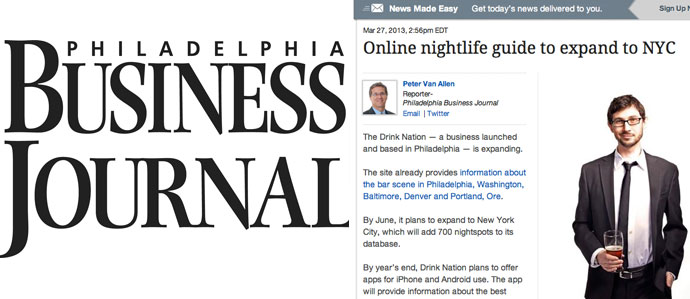 Check out the writeup we got in the Philadelphia Business Journal about our New York expansion with DrinkNYC.com. Be sure to tell your New York friends to sign up so they can be the first to know the details on our sweet upcoming launch party. Read more here.
---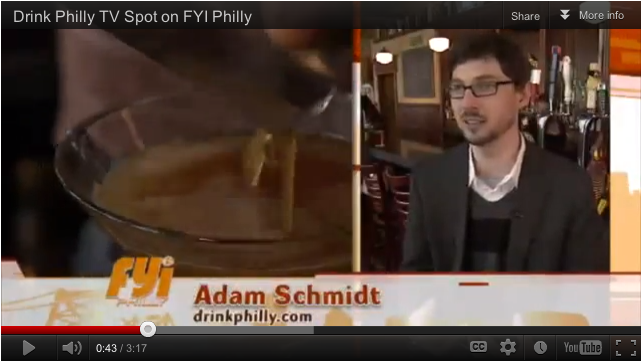 FYI Philly on ABC featured a spot on Drink Philly. Reporter Niki Hawkins interviews Drink Philly president Adam Schmidt about the growth of our website in Philadelphia as well as our national expansion. Watch the video here.
---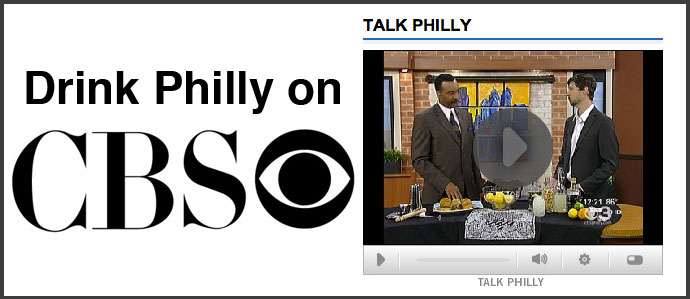 Drink Philly on CBS Talk Philly: Lemon Moonshine Margaritas
---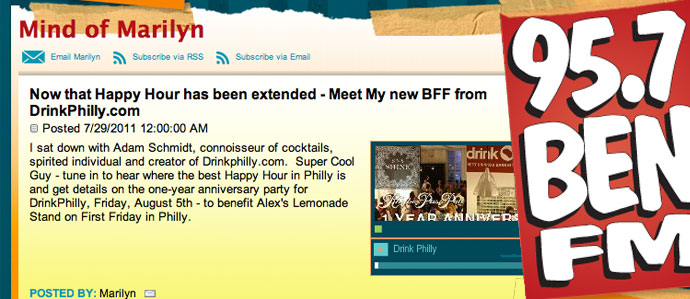 Drink Philly Interview with Marilyn Russell on Ben FM
---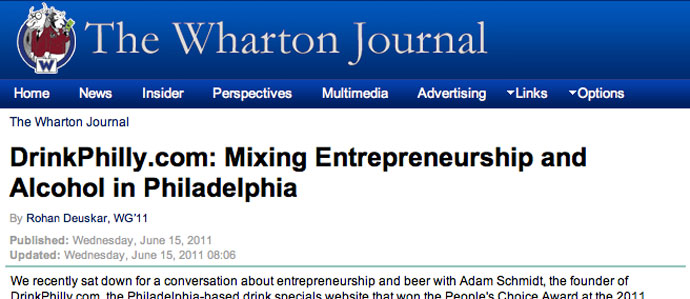 DrinkPhilly.com: Mixing Entrepreneurship and Alcohol in Philadelphia
---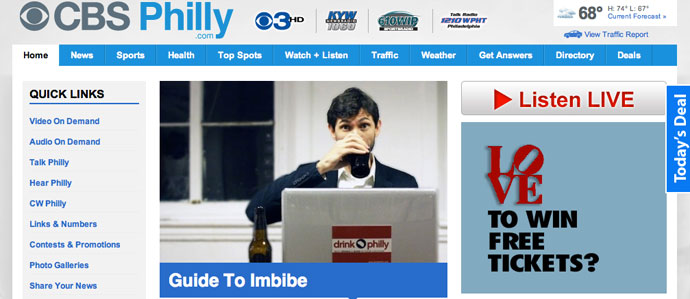 Local Website Offers One-Stop Shopping For Locating Bars, Happy Hours And Drink Specials 7 Days A Week
---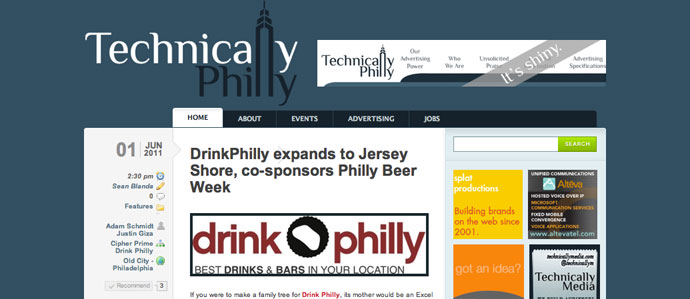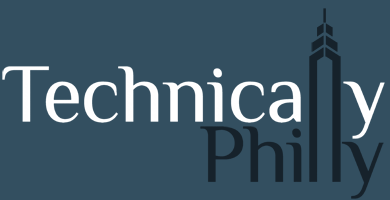 DrinkPhilly expands to Jersey Shore, co-sponsors Philly Beer Week
---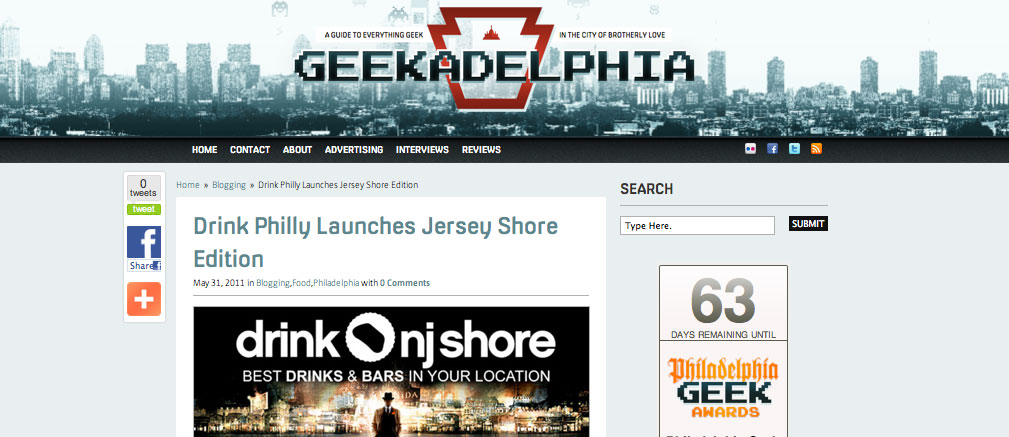 Drink Philly Launches Jersey Shore Edition
---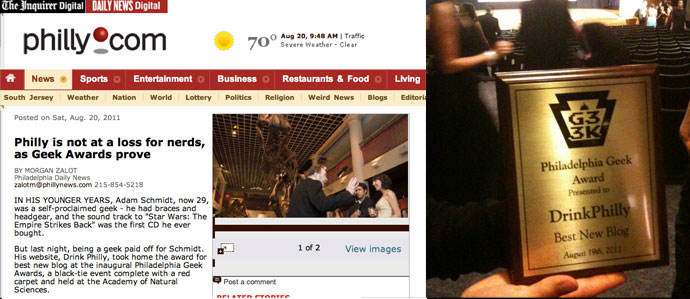 Drink Philly Takes Home Best New Blog Award at Philly Geek Awards
---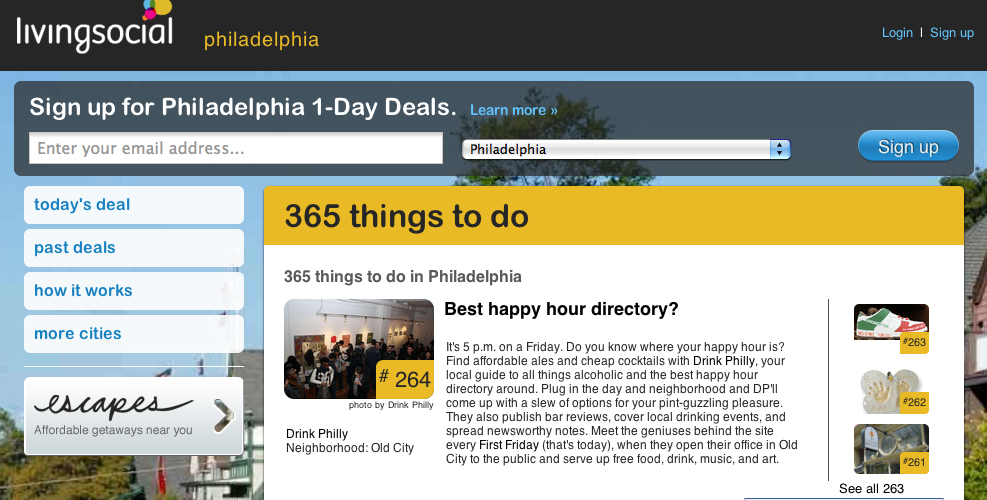 Living Social Philadelphia (online)
Best Happy Hour Directory In Philadelphia
---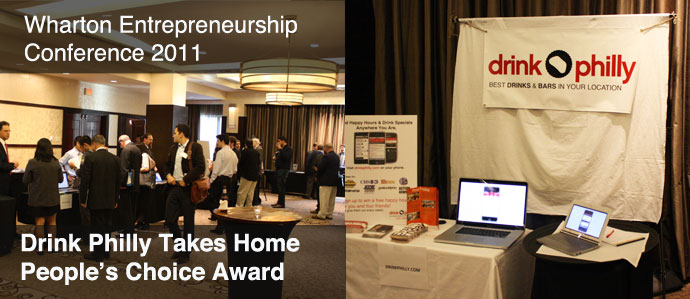 Wharton Entrepreneurship Conference 2011 People's Choice Award Winner
People's Choice Award Winner
---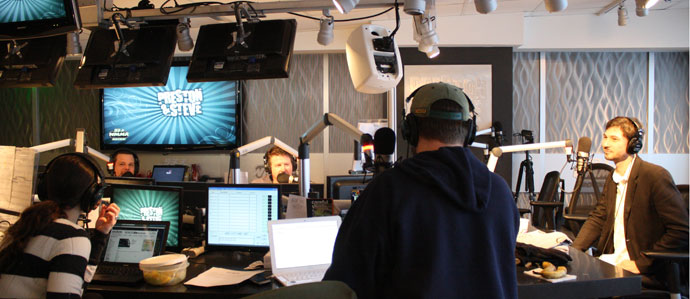 Preston & Steve Show on 93.3 FM WMMR (radio)
On-Air Interview Full Video of interview
Steve: "This is a godsend for the college student."
Nick: "When you don't know exactly where to go and where the happy hour specials might be, this is perfect"
---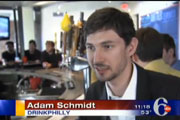 ABC 6 Philadelphia (TV and online)
Consumer Reports with Nydia Hahn

---

CBS 3 Philly (TV and online)

Cheap Date Philadelphia (online)
Numerous featured articles
Clicker (online)
Victory Over Prohibition

City's Best Philadelphia (online)
Victory Over Prohibition

ESPN Radio, 97.5 The Fanatic (radio)
Geekadelphia (website)
First Friday and Mobile Site

KYW Newsradio (radio)

Open Data Philly (online)
Overview of website

Philly.com (online)
Mobile site and drink deals

Philly Beer Events (online)
Featured event and First Fridays are always listed on site

Philly Beer Scene (magazine)
Drinker's Choice Awards

Philly Beer Week (event/festival)
Official sponsor

Phrequency (online)
Featured articles at Drinkadelphia
Rockin' Cotton For a Cause (event)
Official sponsor along with Fieldhouse and Something Creative
Technically Philly (site)
Mobile site

TEDxPhilly (event)
Beverage sponsor

Temple News (newspaper)
Advertisement

Uwishunu (online)
Victory Over Prohibition, Weekend Picks, various events