First Fridays at Drink Philly: A Guide for Artists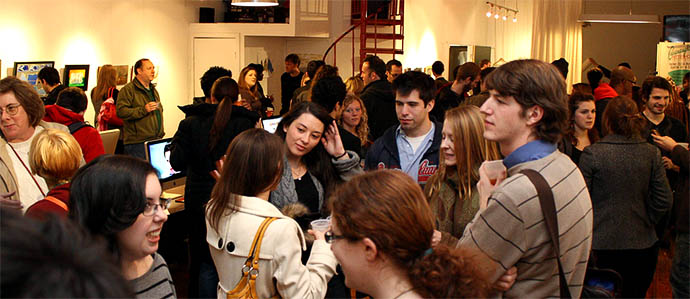 Drink Philly is proud to support local artists, restaurants and beverage at our First Friday events. Held quarterly at our Old City world headquarters, the evening combines an art show with free food and drink samples and live music.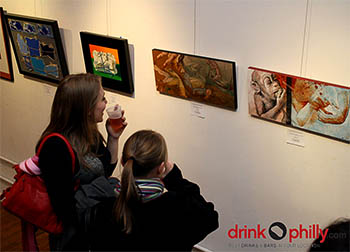 Our office is outfitted like a professional studio, with track lighting and a gallery-quality hanging system, so visitors can easily take in the sights of varied original drawings, photos, paintings and other works. From 5–9 PM, we welcome anyone who is over 21 years of age and has RSVP'd online or signed up on our mailing list.

Check out this video with founder and president Adam Schmidt for a brief overview:
Interested artists should contact Adam via email, and take note of the following things:

Our wall space is offered free of charge. All we ask in return is that you promote the event as broadly as possible, using any and all forms of communication (Twitter, Facebook, posters, cards, etc.). You can invite people online using our Facebook event page or our Eventbrite RSVP page, links to which will be provided to you as soon as they are set up.

All art sales are between you and the buyer alone. We do not get involved in any negotiations nor take any commission. If a transaction requires additional communication after the show is over, you and the buyer should get in contact directly.

All artwork must be dropped off at 239 Chestnut Street, Suite 2B, no later than the second week of the month. You will need to arrange a drop-off time in advance.

When you drop off your artwork, we need the following information for each piece of art:
Artist Name
Artist Website and/or Contact Email
Artwork Name
Artwork Medium
Artwork Price
Please include the relevant information on a paper note, and make it easy to decipher what information goes with what piece. We will print out paper nameplates to display along with each work. All art must be hung with wire. Hooks don't work with our art hanging system.

After the event, all artwork should be picked up during the following week so that we can begin preparing for our next show. Please contact us to arrange a pickup time.

Please refrain from submitting artwork with nudity, violence or imagery that could be considered scary. We like to keep an upbeat and positive vibe at these shows. If you are not sure about a certain piece, just ask.

Our First Friday art shows have been a success for over two years now, and we look forward to continuing the tradition for a long time to come.