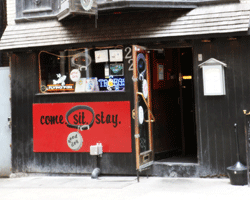 Address
224 S 15th Street
(Between Walnut & Locust)
(215) 985-9600
www.gooddogbar.com
Neighborhood
Rittenhouse
About
Conveniently located between Rittenhouse Square & the Avenue of the Arts, Good Dog is a cozy alternative to the ultra-trendy, exclusive type of bar/restaurant that has taken over the city of brotherly love. For a different experience in food, drink, service, and atmosphere... come, sit, stay.
Monday
Happy Hour (5:00 pm - 7:00 pm): $1 off all drinks
Tuesday
Happy Hour (5:00 pm - 7:00 pm): $1 of all drinks
Wednesday
All Day (11:30 am - 2:00 am): Half price cans
Happy Hour (5:00 pm - 7:00 pm): $1 off all drinks
Thursday
Happy Hour (5:00 pm - 7:00 pm): $1 off all drinks
Friday
Happy Hour (5:00 pm - 7:00 pm): $1 off all drinks
Saturday
Happy Hour (4:00 pm - 6:00 pm): $1 off all drinks
Sunday
Happy Hour (8:00 pm - 12:00 am): $1 off all drinks
Beers on Tap
Mostly rotating. Primarily local, craft, breweries.
Yards Philadelphia Pale Ale $5
Lagunitas IPA $5
Southampton Double White $5
Philadelphia Brewing Co. Kenzinger $4
Flying Fish Farmhouse Summer Ale $5
Dark Horse Plead The 5th Imperial Stout $5
Stoudt's Karnival Kolsch $5
Stone Cali-Belgique $6
Ommegang Gnomegang $9
Atwater Vanilla Java Porter $5
Beer in Bottles & Cans
Mostly Rotating.
Miller High Life $3
Budweiser $3
Coors Light $3
Miller Lite $3
Corona $5
Magic Hat #9 $5
Original Sin Cider $5
North Coast Red Seal Ale $5
Green Flash West Coast IPA $6
Left Hand Milk Stout $5
Founders Porter $6
St. Bernardus Tripel $8
Duchesse de Bourgogne $8
St. Paulie Girl NA $4
Stone Smoked Porter 22oz $10
Rogue Dead Guy Ale 22oz $12
Russian River Damnation 12.7oz $14
Southampton Abbot 12 Strong Ale $15
Port Wipeout IPA 22oz $15
PBR Pounder $3
Sly Fox Pikeland Pils $4
Sly Fox Phoenix Pale Ale $4
Butternuts Porkslap Pale Ale $5
Butternuts Moo Thunder Stout $5
Strongbow Cider $6
Wild Onion Jack Stout $5
21st Amendment Brew Free or Die! IPA $6
Brooklyn Lager $5
Speciality drinks available
Seasonal Cocktail list
LOLA'S FLOWER POWER $7
Stolichnaya Vodka & fresh lemon juice mixed with cranberry juice & sour mix.
THE GRANDE FINITO $7
El Jimador Reposado Tequila, honey simple syrup, orange juice & a splash of pom topped off with ginger ale.
JACK PALMER $8
Jack Daniel's Whiskey & mint simple syrup mixed with equal parts of lemonade & iced tea.
BERRY MANILOW $8
Blackberry & blueberry infused vanilla vodka with a splash of simple syrup finished off with cranberry juice.
THE GUMMI BEAR $7
Three Olives Raspberry Vodka, peach schnapps & sprite with a splash of lemonade & a Gummi Bear garnish.
THE CLASSIC PHIL COLLINS $7
Beefeater London Dry Gin mixed with mint simple syrup & fresh lemon juice topped off with club soda.
Wine
Cristalino Extra Dry Sparkling, NV, Spain $10/44
Fleur de California unoaked Chardonnay, 07' Napa, CA $8/33
ranga.ranga. Sauvignon Blanc, 08' Marlborough, New Zealand $8/33
Montoya Pinot Noir, 08', Monterey, CA $10/$44
Oxford Landing, GSM (Grenache, Shiraz, Mourvedre) 08' S. Australia $8/33
Pietra Santa Sacred Stone (Sangiovese, Dolcetto, Zinfandel) NV Sonoma, CA $8/33
Events
Yearly Photo Contest & Anniversary Party/Fundraiser for Morris Animal Shelter of Philadelphia