Type
Bar/Pub
Dive Bar
Lounge
Restaurant
Sports Bar
Wine & Spirits
Cuisine
American cuisine with a New Orleans influence. For full menu, click here.
Average Drink Price
$5-$7
Average Food Price
$10-$15
Hours of Operation
Mon-Thu: 4 PM-2 AM; Fri-Sun: 11 AM-2 AM
Kitchen Hours
Mon-Thu: 4 PM-2 AM; Fri-Sun: 11 AM-2 AM
Atmosphere
Bar & Grill
Casual
Domestics on Tap
Neighborhood Hang
Relaxed
Special Features
Beer Pitchers
Outdoor seating
Television
Dress Code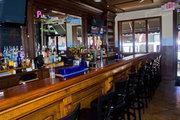 Address
775 S Front St
(Catharine St & Front St)
215.271.9300
catahoulaphilly.com/
Neighborhood
Queen Village
About
From Catahoula Bar and Restaurant's Website:
From classic New Orleans flavors to top notch bar food, we've got those taste buds covered. We have food and drink specials during Phillies, Eagles, Flyers and 76ers games, and there's not a bad seat in the house with 5 TVs, 2 located outside on our covered patio. So whether you just want to stop by for an Eagles game with a cold Abita draft and one of Philly's best burgers, or sit down for a belly warming bowl of Acadian Style Gumbo on a cold day, we'll be happy to see you again.