Type
Average Drink Price
$5-$7
Average Food Price
$10-$15
Hours of Operation
Monday - Thursday 6 AM-12 AM, Friday 6 AM-2 AM, Saturday 7 AM- 2 AM, Sunday 7 AM-12 AM
Kitchen Hours
Sunday - Thursday 8 AM-10 PM, Friday - Saturday 8 AM-11 PM
Atmosphere
Bar & Grill
Beer Connoisseur
Casual
Domestics on Tap
Impress a Date
Relaxed
Trendy
Special Features
Beer Pitchers
Fireplace
Good for Groups
Locally Sourced
Outdoor seating
Dress Code
Come as you are!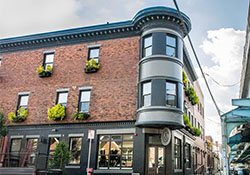 Address
1253 N Front St
(Front St and W Thompson St)
215-515-3073
www.frontstreetcafe.net
Neighborhood
Fishtown
About
From the website:
"Front Street Cafe is a unique full service neighborhood Cafe open for Breakfast, Lunch and Dinner. The Cafe offers residents of Fishtown and surrounding neighborhoods a friendly atmosphere and fresh menu featuring farm-to-table, locally sourced and organic New American cuisine with international influences. This unique space houses a coffee shop, fresh juice bar, European beer garden, outdoor terrace with garden seating, indoor & outdoor bars and private upstairs event space."
Monday
Happy Hour (5:00 pm - 7:00 pm): $3 off wines, $2 off Beers, $1 off cocktails
Tuesday
Happy Hour (5:00 pm - 7:00 pm): $3 off wines, $2 off Beers, $1 off cocktails
Wednesday
Happy Hour (5:00 pm - 7:00 pm): $3 off wines, $2 off Beers, $1 off cocktails
Thursday
Happy Hour (5:00 pm - 7:00 pm): $3 off wines, $2 off Beers, $1 off cocktails
Friday
Happy Hour (5:00 pm - 7:00 pm): $3 off wines, $2 off Beers, $1 off cocktails
Events
Dj nights or live music every weekend 10 PM-2 AM