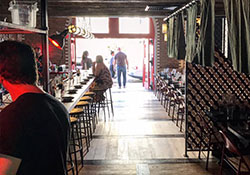 Address
1416 Frankford Ave.
(Frankford Ave at Belgrade St.)
267-758-2269
www.cheufishtown.com
Neighborhood
Fishtown
About
From the website:
"We cook what we like to eat - its personal, no matter what we put in front of you. Our food is often informed by tradition, but it's never defined by it. All that we require of you is a willing mind and stomach. We might not be "authentic". But we do keep it real."
Monday
Happy Hour (5:00 pm - 7:00 pm): $5 food, $5 wine, $2 Coors Banquet, $1 off drafts
Tuesday
Happy Hour (3:00 pm - 5:00 pm): $5 food, $5 wine, $2 Coors Banquet, $1 off drafts
Wednesday
Happy Hour (3:00 pm - 5:00 pm): $5 food, $5 wine, $2 Coors Banquet, $1 off drafts
Thursday
Happy Hour (3:00 pm - 5:00 pm): $5 food, $5 wine, $2 Coors Banquet, $1 off drafts
Friday
Happy Hour (3:00 pm - 5:00 pm): $5 food, $5 wine, $2 Coors Banquet, $1 off drafts
Saturday
Happy Hour (1:00 pm - 3:00 pm): $5 food, $5 wine, $2 Coors Banquet, $1 off drafts
Sunday
Happy Hour (1:00 pm - 3:00 pm): $5 food, $5 wine, $2 Coors Banquet, $1 off drafts