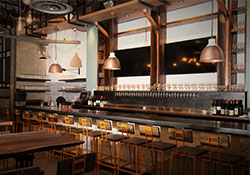 Address
1500 Locust St.
(15th and Locust Streets)
(267) 761-5582
www.cindercl.com
Neighborhood
Center City
About
From their Facebook:
"Rittenhouse cider/sour bar and artisanal pizza kitchen features ciders and wild ales on the 32 taps and 70+ bottles. Featuring pizzas, mussels, salads and small plates in the open kitchen focusing on local ingredients. Rustic pizza uses creative and classical toppings that are prepared in custom-built wood-fired pizza oven."
Monday
Happy Hour (4:00 pm - 7:00 pm): $3 off all drafts and wines by the glass, and $5 appetizers
Tuesday
Happy Hour (4:00 pm - 7:00 pm): $3 off all drafts and wines by the glass, and $5 appetizers
Wednesday
Happy Hour (4:00 pm - 7:00 pm): $3 off all drafts and wines by the glass, and $5 appetizers
Thursday
Happy Hour (4:00 pm - 7:00 pm): $3 off all drafts and wines by the glass, and $5 appetizers
Friday
Happy Hour (4:00 pm - 7:00 pm): $3 off all drafts and wines by the glass, and $5 appetizers