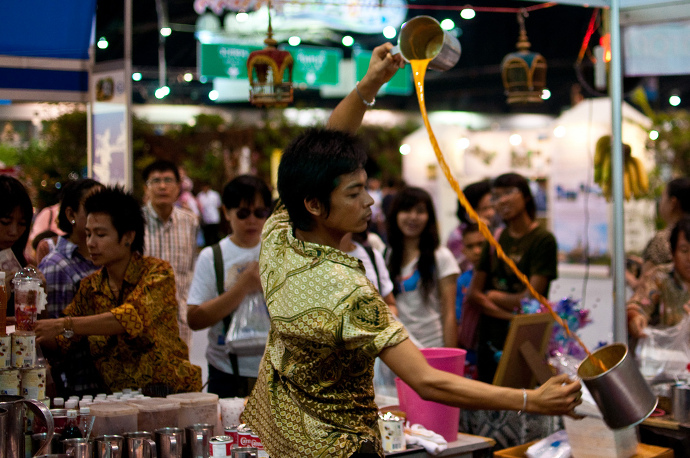 Boozy Vietnamese Iced Coffee

This alcoholic take on the sweet summertime mainstay will let you power your through long sunny afternoons.

5 cups cold brewed coffee
2 cups spiced rum
1 cup sweetened condensed milk

For the cold brewed coffee:
5-6 ounces coarsely ground bold roasted coffee (about 1 3/4-2 cups)
5 cups cold water
Pour the the coffee grounds in a 2-quart container, add the water, and stir to combine. Cover with plastic wrap and let steep at room temperature for 12-24 hours.

Line a mesh strainer with cheesecloth or a coffee filter and put the strainer over a large bowl. Slowly filter the coffee grounds and water through the filter in small batches until all of the liquid has passed through the strainer. Pat down water through the grounds as you go. Discard the grounds and transfer the coffee into a pitcher and chill for another 2 hours.

For the cocktail:
When ready to serve the cocktails, add the strained coffee, spiced rum, and sweetened condensed milk to a pitcher, add ice and stir. Serve over ice in a highball glass.
Photo via Flickr user Mark Fischer

Recent Articles
Where to Celebrate Philly Cider Week 2022, October 23-30
Enjoy Fall Weather & PA Ciders in a Historic Setting at CiderFest, October 15 & 16
WitchCraft: Halloween Themed Beer Fest in the Middle of the NJ Woods Returns October 14 & 15
Feedback
How are we doing? Tell us what you like or don't like and how we can improve. We would love to hear your thoughts!