Beer Review: Flying Dog Lucky SOB Irish Red Ale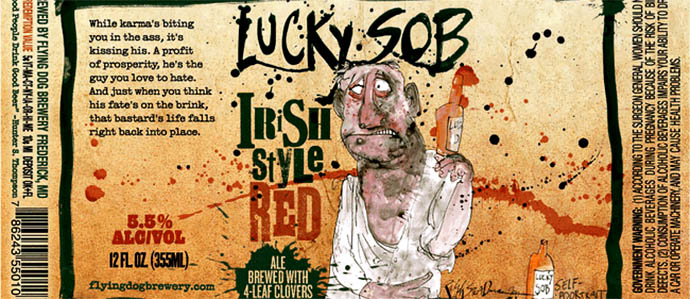 As spring approaches and lighter beer seasonals begin to prevail, one last gasp of malty, wintry flavor can be found in the form of seasonal Irish reds, released for St. Patrick's Day. Frederick, MD's Flying Dog Brewery offers a Lucky SOB, an Irish red ale brewed with four leaf clovers for and extra dose of good fortune.

Poured from a 12-oz. bottle into a tumbler glass, Lucky SOB offers no surprises. As is expected from the style, the color of the beer is a rich red in the glass, and the liquid has a rather minimal head. The aroma is of bready malts, accompanied with a small floral presence.

Despite the use of the high-alpha acid hops Galaxy and Falconer's Flight, in tastes the beer shows almost no hop presence, save for a rather dry finish. Any taste of the grapefruit and citrus often found with these hop varieties is buried by the rich Irish and crystal malt flavors. Lucky SOB is well-balanced for its 5.5% ABV, so it's easy drinking — very appropriate for drinkful holidays like St. Paddy's.

Irish red ales are not for every craft beer fan, but if you've ever wished you could more enjoy something like Killian's Irish Red or Smithwick's, Flying Dog Lucky SOB is the beer for you. Since the majority of beers in this style are offered by macro breweries, it's nice to see a craft offering that's flavorful, easy drinking and accessible.
Recent Articles

Feedback
How are we doing? Tell us what you like or don't like and how we can improve. We would love to hear your thoughts!