Beer Review: Founders Brewing Doom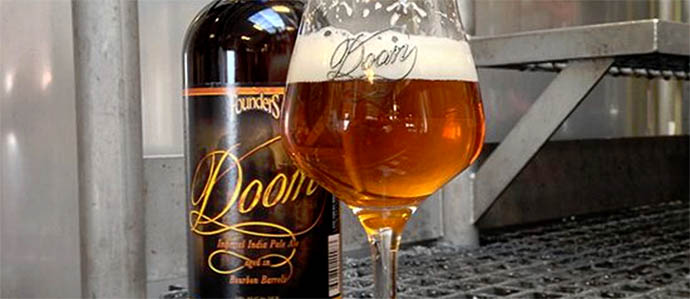 Founders Brewing Co. has made a name for itself with barrel-aged beers, and its limited-edition Kentucky Breakfast Stout is now well-known and sought-after across the nation. While KBS and other barrel-aged beers from the Grand Rapids, MI brewery have been extremely malt-forward, the latest release is a hop-centric affair.

The newest entry in Founders' Backstage Series (beers that graduate from the taproom to wider distribution), Doom is the result of aging imperial IPA Double Trouble in bourbon barrels for four months. In the brewery's own words, "While Double Trouble is brewed to turn your world upside down, Doom is brewed to tear it apart." Does it live up to the hype?



Poured from a 25-oz bottle, Doom is a transparent golden color with relatively active carbonation and a robust white head. A quick whiff makes the barrel aging obvious, as the nose is straight up booze, with dashes of hop scent showing up if you breathe deep.

This beer, as with many complex brews, really develops as you sip. The first taste comes off rather harsh, with raw liquor quality, almost like drinking a glass of bourbon sitting on the rocks too long. But as you sip, the hoppiness of the imperial IPA comes through to balance out what would otherwise be an overly boozy flavor. The hops won't smack as they would with an un-aged IPA — the aging process fades their bite. In Doom, the hops provide a welcome drying quality, preventing it from feeling too heavy on the palate.

Though not for everyone, bourbon barrel aging is a great way to inject new flavors into a brew lineup. If you are a fan of bourbon or whiskey, you'll likely enjoy Founders' new offering quite a bit. If you're not a big hops lover, this is a chance to see how the flowers can be used to flavor a beer rather than merely make it bitter. Not run-of-the-mill in any way, Doom is definitely worth your consideration.
Recent Articles

Feedback
How are we doing? Tell us what you like or don't like and how we can improve. We would love to hear your thoughts!