8 Great Philly Beer Week Events at Perch Pub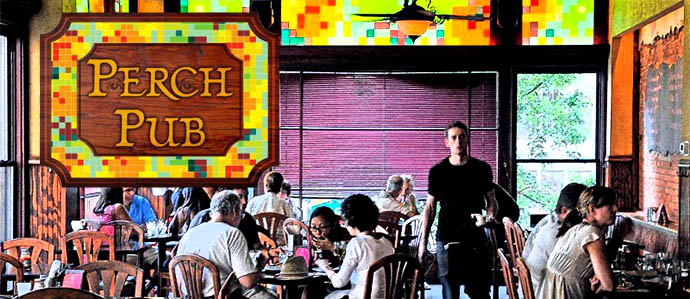 Philly Beer Week is happening big time at Perch Pub. Check out eight different events taking place at the Broad Street pub, all of them great reasons to make your way up the spiral staircase and into a beer-filled room with a view of the Avenue of the Arts.

Half Acre Meet the Brewer and Tap Takeover
7–10 PM, Friday, May 31
Self-proclaimed "idea tycoon" Rog McGuin will be on hand for an evening of pay-as-you-go beers from Half Acre. Expect a huge draft lineup with several limited editions and a few special kegs that usually don't leave the Chicago brewery's tasting room.
On Tap
Half Acre Akari Shogun
Half Acre Baume
Half Acre Big Hugs
Half Acre Daisy Cutter
Half Acre Galactic Double Daisy Cutter
Half Acre Over Ale
Half Acre Pony

Goose Island Tap Takeover
5–8 PM, Saturday, June 1
Goose Island may have been bought by Anheuser-Busch, but production of all the specialty brews still takes place at the original craft brewery in Chicago. On tap you'll find Bourbon County Brand Stout (BCBS) and a Coffee BCBS, in addition to many others. Look for glassware and merch giveaways throughout the evening.
On Tap
Goose Island Bourbon County Brand Stout
Goose Island Coffee Bourbon County Brand Stout
Goose Island Imperial IPA
Goose Island Madame Rose
Goose Island Pepe Nero
Goose Island Pere Jacques
Goose Island Sofie
Goose Island Sofie Paradisi

Voodoo Brewery Taps and Apps
7–10 PM, Monday, June 3
Brewer Matt Allen will be on Broad Street for an evening of the Meadville, PA, brewery's beers paired with a special menu of pay-as-you-go appetizers.
On Tap
Voodoo Cowbell
Voodoo Good Vibes IPA
Voodoo Love Child
Voodoo Oak Aged Brett Gran Met
Voodoo Pilzilla
Voodoo White Magick
Voodoo Wynona's Big Brown Ale

Adam Avery of Avery Brewing Company
7–10 PM, Tuesday, June 4
Beer luminary Adam Avery will be showcasing a roster of the Boulder brewery's best, including well-loved staples and several rarities.
On Tap
Avery Hog Heaven
Avery IPA
Avery Karma
Avery Lilikoi
Avery Maharaja
Avery Out of Bounds
Avery Out of Sight
Avery White Rascal

The Fall of Rome With Elysian Brewing Company
7–10 PM, Wednesday, June 5
Wear your toga to win prizes at this evening celebrating the Romans and their penchant for hedonism, pageantry and — most especially — libations. Several beers from the Seattle brewery will be on offer.
On Tap
Elysian Black Swatch
Elysian Doom Treacle Pale
Elysian Immortal IPA
Elysian Loki Lager
Elysian Oddlands Green Peppercorn Saison
Elysian Space Dust IPA
Elysian Superfuzz
Elysian Valhalla

Beer Geek Quizzo With Stoudt's Brewing Company
9 PM–midnight, Thursday, June 6
Quizmaster Kevin Romer will put your beer geekiness to the test with a series of questions about all things suds. Look for special brews from Stoudt's as you compete to be Perch Pub's top beer geek of 2013.
On Tap
Stoudts Four Play #2: Bravo
Stoudts Maibock
Stoudts Pils
Stoudts Scarlet Lady
Stoudts Smooth Hoperator
Stoudts Vanilla Porter

Brewer's Lunch With Round Guys Brewing
Noon–2 PM, Friday, June 7
Three courses will be served for this end-of-week luncheon, each paired with one of this local brewery's exotic and interesting brews. The meal is $40 total, and the Round Guys brewer will join you.
On Tap
Round Guys 'Bout Damn Time DIPA
Round Guys Brett 'Bout Damn Time DIPA (firkin)
Round Guys Saison du Pomme
Round Guys Wild Rider Sour Tripel

Hangover Cure Brunch With Troegs Brewery
11:30 AM-3:30 PM, Sunday, June 8
You won't be alone if you're limping a little on this very last day of Beer Week. Salve your pains with this hearty brunch featuring Dreamweaver Wheat mimosas, Hopback Amber Ale Bloody Marys and several other Troegs brunch cocktails.
On Tap
Troegs Black Rye IPA (collaboration with Church Brew Works & Devil's Backbone)
Troegs Dremweaver
Troegs Hopback
Troegs Java Head Stout
Troegs Naked Elf
Troegs Scratch #92: Munich Helles
Event Date: 05/31,06/01,06/03,06/04,06/05,06/06,06/07,06/09
Event Time: Varies
Location: Perch Pub
Price: Varies
Type: Beer,Beer Week
Website: www.perchpub.com/eventDetails.php?i=41

Tags:
Beer
,
Beer Week
Recent Articles

Feedback
How are we doing? Tell us what you like or don't like and how we can improve. We would love to hear your thoughts!