Beer Review: Susquehanna 6th Generation Stock Ale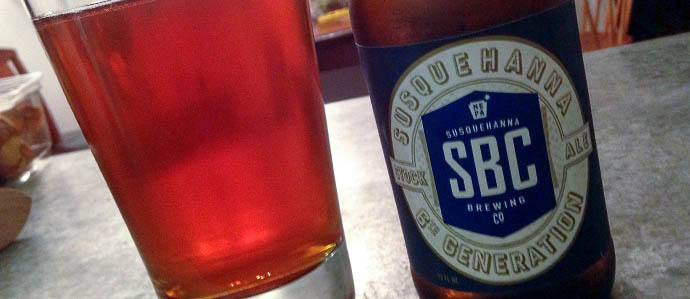 I've had a grudge against Pittston, Pennsylvania since my Visa card number was used to buy five GPS units a couple days after I used it to buy gas there. When I learned newcomer Susquehanna Brewing was based in Pittston, I was prepared to phone in a review filled with easy references to The Office, smoldering underground coal fires and Joe Biden. But since trying 6th Generation Stock Ale, I want to give the whole Scranton/Wilkes-Barre valley another chance.

Susquehanna is in its second year of operation; as the beer's name suggests, though, the brewers have malt in their blood. Father and son owners Ed and Fred Maier trace their roots back five generations to the first brewmaster in Northeastern Pennsylvania. Their partner Mark Nobile is a second generation beer distributor. It's a nice story that they decided to get back into the family business — better still that they make a good enough beer to do the talking for them.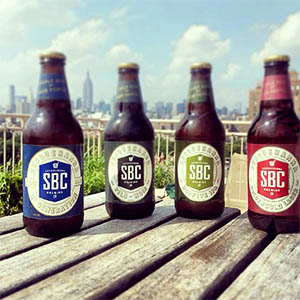 Sold in nicely designed brown bottles with the brewery's initials in all caps on dark-colored labels (the stock ale is the dark blue one), Susquehanna beers look more like macrobeer bottles than most craft labels. The Stock Ale, which clocks in at a serious but reasonable 5.5% alcohol and 44 IBUs, pours golden brown with a thin head but a lot of fizz. It has a light sweet and sour bouquet.

The flavor, though! Stock ale is not something you find much; I couldn't find any others in twenty stores across three states this month. As I understand it, it's supposed to be beer the brewer keeps on hand (in stock) to age in barrels and to use to add flavor to newer brews. Sixth Generation Stock Ale is the mildest bitter beer I've had in a while, full bodied and creamy without ever turning sweet or bland. I like it a lot and hope they keep brewing it. (And if other brewers want to take the hint and bring out a stock ale, I for one could use a break from IPAs.)

For now, Susquehanna is distributed only in 39 counties in Pennsylvania. The brewery offers a sampler twelve pack with a decent lager, the obligatory craft IPA, the stock ale, and a black pilsner. The lager and ale are good and the pilsner is something else, in a good way. If you see this sampler, get it — I doubt you'll be disappointed.
Top photo by Jordan Davis
Recent Articles

Feedback
How are we doing? Tell us what you like or don't like and how we can improve. We would love to hear your thoughts!