Vintage Wine Bar: In Vino Veritas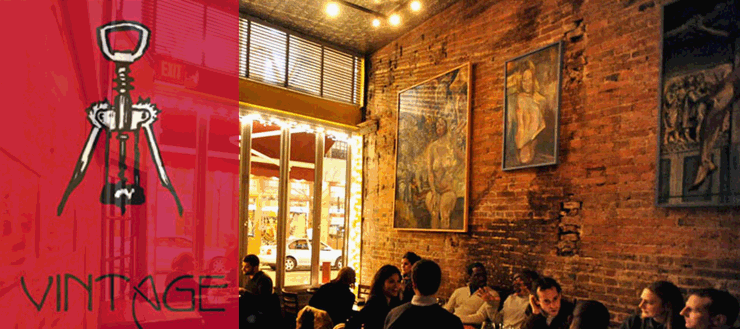 Vintage is not your typical bar happy hour where you're served fatty foods and beer until you eat and drink so much that you feel the need to go to the gym. Vintage gives you fine food, and of course, fine wine. They have over 60 wines from across the globe to choose from. During their happy hour, which is from 4 PM to 6 PM during the week, they offer $4 house wines (originally $6), and of course $3 yuengling draughts (because let's face it, what Philly bar doesn't give cheap lager during happy hour?).
There are six house wines to choose from, 3 whites and 3 reds, so there's sure to be at least one that you like. I started off with a glass of white, Sauvignon Blanc Redwood Creek '08. It was definitely a nice refreshing glass of wine. It was pretty summery, it had a very fruity, citrusy taste. To accompany my wine I ordered a Vintage house salad. It was only $7 and was definitely worth it. It went really nicely with my glass of wine, I felt like I should have been dining al fresco somewhere in California. The honey truffle dressing was delicious, I need to learn how to make this at home.
I ordered the beef satay appetizer after this (for only $9). It came in a peanut sauce which was pretty awesome, and a side of frisee in balsamic dressing. Just beware of the sauce they put on the side, I'm not sure what it was, but boy was it spicy. Spicy ginger perhaps? To go with my beef satay I switched it up to a glass of red, and tried the Cabernet Sauvignon Redwood Creek '08. It had hints of black cherry and vanilla, and was definitely a drier wine. It went really well together and both were definitely satisfying.
The service was really good, the food came out as it was ready, and the waitress was very friendly. I even saw the bartender chatting up all the patrons at the bar. All the patrons seemed to be having a good time, laughing and drinking cocktails, international beer, and flights of wine (which was exciting). As I looked around the restaurant I felt like I was in a wine cellar. When you first walk in there is a tin ceiling which I thought was really different. A wine bottle chandelier hung in the center of the restaurant over the bar which was even more different and extremely eclectic. I couldn't take my eyes off it and was examining it for quite a while! The décor was very rustic - dim lighting with candles on each table, wood floors and tables, exposed brick walls, and really awesome decorative furniture. There was a beautiful breakfront up against the wall, a ladder leaning up against the wall, and an old fashioned looking clock. The furniture was one of my favorite parts of the bar, I felt very comfy and welcomed. The candles on the table smelled like incense; and there was modern art hanging on the wall which was an interesting choice, but one that worked. Everywhere I looked there was something that caught my eye.
I will surely go back after this delightful happy hour! But my favorite part of the entire experience was the waiter with the handlebar moustache. Seriously, keep your eye out for him, he was awesome.
Recent Articles

Feedback
How are we doing? Tell us what you like or don't like and how we can improve. We would love to hear your thoughts!