Happy Hour Crawl: Southwest by South (Point Breeze to Graduate Hospital)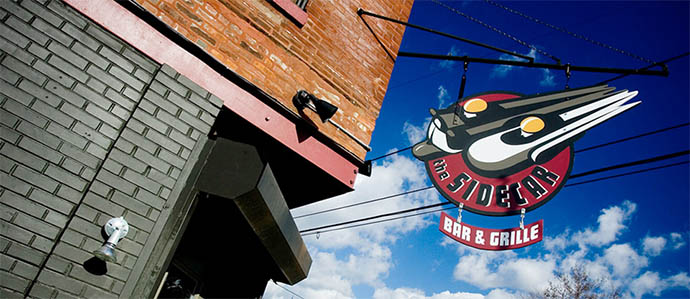 We're going South of South for this virtual bar crawl, starting at the edge of Point Breeze and finishing in Southwest Center City (aka Graduate Hospital). Hop to hop, it's an easy walk. Take a bus, or a cab (or Uber if you're feeling fabulous), or just walk to the start. (Don't you let us find you driving.) Total distance traveled is just a hair over one mile.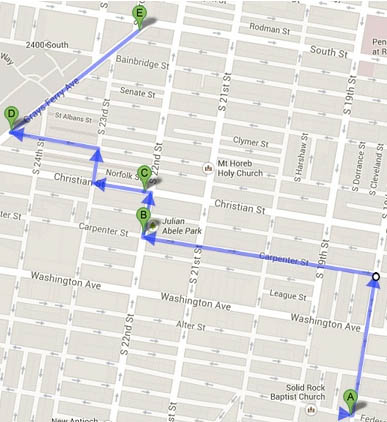 A. American Sardine Bar (1800 Federal St.; 215-334-2337; Happy Hour 4–6 PM)
This bar is easy to find on the corner of 18th and Federal: its exterior resembles an adorable little house pulled from the Shire, with a round-top door surrounded by yellow walls and potted plants and flowers. Plus, you won't miss the oversized sardine can with lid curled back to greet you. Though it looks small from outside, there's plenty of room here, including seats at the long bar, two-tops at the windows and tables at the back. Keep going and you'll find stairs that lead to a second bar upstairs that opens at 7 PM nightly. As this is a venture from by South Philadelphia Tap Room owner John Longacre and chef Scott Schroeder, you can expect a respectable draft list and menu to go with a chill vibe, and half-off all cans during happy hour. Begin your sudsy sojourn here with a can or two (or three), and a sardine sandwich (or two) as your foundation. Take your time. Give yourself fifteen minutes to walk to your next stop, and enjoy the gentrification along the way.
When you're ready, walk north on 18th Street, passing four minor streets to reach Washington. Cross over (welcome to Southwest Center City) and make a left onto Carpenter. The streets are numbered, so count your blocks to 22nd (happy hour is young, so you should still be able to do this) to find the aptly named SoWe Bar + Kitchen.
B. SoWe Bar + Kitchen (918 S 22nd St.; 215-545-5790; Happy Hour 5–7 PM)
Find a bicolored stone building with chic black awnings and brushed gold accents, and step into relaxed sophistication. This makes a perfect second stop on a crawl, especially if a delicious cocktail sounds like good idea to you — happy hour features 20% off all drinks. That's right, all drinks, which includes expertly mixed gorgeous cocktails made from top shelf spirits, fresh fruit and all the bitters you could hope for. Pick from the list or challenge the bartenders to create something new, they're up for it. Savor this one, and consider a few 50-cent wings, even though the the next stop is only a block away.
Don't rush, but when you are ready, push through the doors that face Christian and turn left, putting Julian Abele Park on your right as you head up 22nd exactly one block and enter two floors of somehow kitschless kitsch and tattoos.
C. The Sidecar Bar & Grille (2201 Christian St.; 215-732-3429; Happy Hour 3–7 PM)
It can get a bit loud in Adam Ritter's first bar (he also owns Kraftwork), since there's almost always a full house, but it's totally worth the strain on conversation (or a slick excuse to take a break from one). Earlier this year on Diners Drive-ins and Dives, Guy Fieri proclaimed the bar's New England clam chowder with gnocchi ''literally one of the best gnocchi dishes [he's] ever had.'' Happy hour deals are some of the best, too, including $1 off all drafts, $2.50 Miller High Lifes, $3 well drinks and $4 call drinks. Don't miss the chance to grab a half-price carnitas taco — pork is this kitchen's thing.
Crawl-wise, as much as you might be tempted to, we caution you not to hang here too long. There's more happy-houring to do! Wash down that taco with a glass of water (hydration is important) and pop out into the evening and right out the door onto Christian, taking it west one block to 23rd. Turn right onto 23rd and take it one north to Catharine. Turn left on Catharine and walk a regular block followed by a short block to Grays Ferry. With Naval Square in front of you, extend your left arm out to the side and pull open the door to Resurrection Ale House.
D. Resurrection Ale House (2425 Grays Ferry Ave.; 215-735-2202; Happy Hour 5–7 pM)
Wife and husband team Leigh Maida and Brendan Hartranft took the once sleepy, kitchenless, Yello'Bar and turned it into a neighborhood jewel. (At this point in your crawl it would be good for you to know there are bathrooms on both the main level and downstairs.) If you're a betting person, you'd easily put every penny on the spectacular draft and bottle offering here, and at happy hour you can score American craft beer for $4 and wine for $5.
If it's not Tuesday, another good bet is to stay here and get your real dinner. If you are a meat eater, go directly to the famous twice-fried chicken. (Do not pass go. Do not collect $200.) Do note, however, that for quality assurance's sake and due to its popularity, this dish is always in limited supply.) If you are not a meat eater, the menu is replete with vegetarian and vegan plates. Modifications for dietary requirements are happily made as requested. If it is Tuesday, close the tab and get thee down the street two and half blocks to Grace Tavern.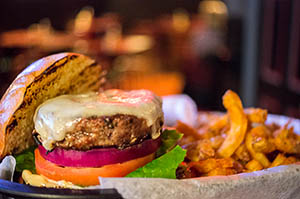 E. Grace Tavern (2229 Grays Ferry Ave; 215-893-9580; Happy Hour 5–7 PM, Tuesdays only)
From the outside, you might think, really? After all those fancy, special places you want me to finish here? Our answer is, damn straight. What might be misconstrued as a dive from the outside is a bar with some serious beer knowledge provenance - it's from the same owners as Monk's Cafe. Check out the draft list on the board. make your choice, and listen to the bartender's iPod as you chill out. Look up to see what's on the TV, chat with your friends, or make new ones. This is a cozy neighborhood place with a tin ceiling and wooden walls — one of the first places to open when this part of Grays Ferry started to brighten-up. If you made it here, reward yourself with one of the best burgers in Philadelphia, or go for the blackened green beans if you're a veggiephile.
Recent Articles

Feedback
How are we doing? Tell us what you like or don't like and how we can improve. We would love to hear your thoughts!