Check Out What's On Tap For Barren Hill Tavern & Brewery's Debut
More than 24 amazing beers will be on tap for opening night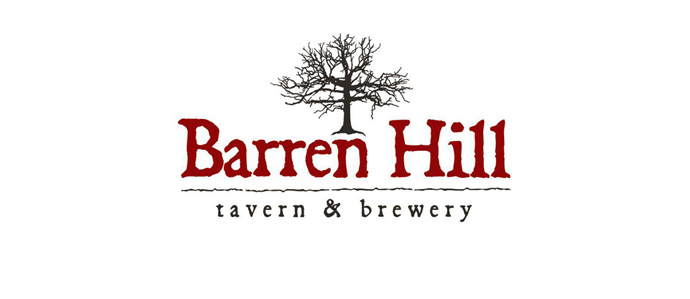 Barren Hill Tavern & Brewery
's opening on Thursday, November 7, is perhaps the most excitement Lafayette Hill's seen since the property's former tenant, the General Lafayette Inn, gave up the ghost back in 2010.
Scott and Erin Wallace
, who own South Philly's
Devil's Den
and Manayunk's
Old Eagle Tavern
, have been working on reviving the historic property for nearly a year. To head up the brewing operations, they enlisted
Scott Morrison
, former brewer at McKenzie Brewing and Dock Street Brewing Co., and five time GABF and World Beer Cup bronze medalist. Paul Trowbridge, chef at the
Double-D
, developed the menu of beer-friendly bites.
For the big debut, Morrison will have a dozen totally original house-brewed beers on tap. From the draught lines will flow an exciting selection of brews ranging from a single-hopped Belgian IPA and a pre-prohibition style German pale ale to a Belgian Triple brewed entirely with New Zealand Pacific jade hops and a Berliner Double Weisse. Prices range from $5 per pint to $18 for a growler to go. In addition to the house beers, another dozen taps will have great beers from breweries near and far.
Doors open at 5 p.m. Check below for the full list.
Belgian Golden - Inspired by Duvel, the classic Belgian Golden. A beer that is well balanced as the hops, malt & the spicy yeast show themselves with each sip. Belgian Pilsner Malt & Slovak Stryian Golding hops
7.2% ABV Medium Hop Bitterness 16oz -Chalice or Pint $5.5 growler 64oz $18
Biere De Octobre - A French Country Biere de Garde, typically produced in Nord & Pas de Calais. A malty, earthy beer that is dominated by the malt sweetness up front, but dry in the finish. French Malt, French Strisselpalt & Aramis hops Basically our take on an October fest – Biere de Guarde brewed with lager yeast
6.75% ABV Low Hop bitterness 16oz pint $5 growler 64oz $15
German Pale Ale (pre prohibition) - An American Pale ale style with German hops. What we'd imagine the German brewers in Philadelphia were producing in the late 1800s. Smooth hoppiness, as we used Hallertau, Opal, & Brewer's Gold hops from Germany. For a twist, we aged the beer on American Cherry.
4.8% ABV Medium Hop Bitterness 16oz Pint $5 growler $15
Pilsner IPA - a hybrid style also known as an Imperial Pilsner. We made a traditional German Pilsner, with a bit more malt & a generous amount of hops. We used German Pearle & Hersburker hops. Instead of being intensely bitter, we added a ton of hops towards the end of the boil for flavor. Then we added a pound per barrel of Hersbucker hops for aroma,
6.4% ABV Medium Hop Bitterness 16oz Pint $5 Growler $15
Belgian IPA Single Hop Series - Galaxy - a true hybrid - Belgian Yeast, Australian hops & American Barley. There is a lot going on in the glass, as you have the spicy Belgian yeast & intense Galaxy hops fighting for attention. This is the first in a series of single hopped Belgian IPA's. The Galaxy hops show a strong tropical fruit flavor of mango & passion fruit.
7.1% ABV High Hop Bitterness 16oz Pint $5.5 growler $18
Berliner Double Weisse - a rarely brewed style a few years ago, it's now a favorite of many. A traditional sour, but refreshing German Wheat beer. Most Berliner beers are about 2.8 to 3.0% ABV, we decided to double it. Clean bright sourness & great wheat flavors
5.8% ABV Low Hop Bitterness 16oz Pint $5 growler $15
Down Under Triple- Belgian Triple, Brewed exclusively with New Zealand Pacific jade hops, which bring out a citrus and black pepper flavor. Belgian Yeast brings a distinct Banana aroma. Deceivingly light bodied.
9.9% ABV Medium Hop Bitterness 10.5oz tulip $5 growler $18
Edel-Helles - A German Helles, a perilously drinkable beer for those who prefer something on the "lighter" side. Edel in German is defined as noble, and the hops are Noble Hersbrucker hops from Germany.
4.8ABV Low hop bitterness 16oz pint $5 growler $15
Burton IPA - Burton is famous for the water, and we've recreated the beer and the water. All English malts, and East Kent Golding hops. English IPA's are not quite as hop forward as American IPA's, as many would consider this a pale ale.
6.2 ABV Medium hop bitterness 16oz pint $5 growler $15
Baltic Porter - A Finnish Porter, that's fermented with Lager yeast, instead of Ale. This fermentation gives the beer a remarkably smooth character, and is aged for 8 weeks. A bit stronger than most porters, some would call it an Imperial Porter.
8 ABV low/Medium Hop Bitterness 16oz Pint $5.5 growler $18
Black Rye Double IPA - A double IPA with a few twists, the rye malt brings a distinct spicy character, and the American Hops bring a bold citrus/ woodsy character.
9.2 ABV High Hop Bitterness 10.5oz tulip
Imperial Vanilla Stout - Perfect for the onset of the colder nights, we use 12 different malts to create a complex, strong malt forward beer. Real Vanilla beans used from Madagascar, Indonesia, and Mexico.
9.7 ABV low/Medium Hop Bitterness 10.5oz tulip $5 growler $18
Other Beers on Tap for Official Opening:
Julius Echter Hefeweisse - a Hefeweisse that is a cloudy golden color with notes of citrus, banana, cloves & bubblegum.
5.1% Germany 23oz $6.50 growler $18 Wheat glass
Wurzburger Premium Pilsner - Clear golden color, toasted grainy malt body with notes of citrus and subtle grassy hops crisp finish
4.9% Germany 16oz $5.50 growler $18 Pint
Ommegang Witte - Belgian wheat with notes of tart lemon, orange, cloves & coriander with a crisp refreshing finish.
5.1% NY 16oz $5.50 growler $17 Pint
Ballast Point Sculpin IPA Limited - golden amber, with subtle malt sweetness, notes of light fruits, big juicy citrus hops, with pine hop finish.
7% CA tulip
Bruery Tart of Darkness - limited - stout aged in barrels with brett & wild yeast, roasted chocolate malt dark fruits with funky tart
7% CA 10.5oz $9.5 6oz $5.5 Growler $50 -tulip or flight glass
Yards ESA - a English style ESB that is a dark amber color with a strong malt background to balance the pine hop bitterness.
6.3% Philly, PA 16oz $4.50 Growler $15 Pint
Freigeist Sauer Porter - a dark beer brewed with salt & brett - funky &tart with dark fruits, chocolate & salt
6% Germany Tulip
Unibroue Ephemere Cherry - limited - slightly cloudy amber color, notes of yeast, spice & tart cherries
5.5% Canada 10.5oz $5.5 Growler 25 Tulip
Free Will Saison De Rose - seasonal collaboration brewed for the Rena Rowan Breast Center - a pink saison brewed with pink grapefruit, hibiscus, ginger & pink peppercorn
5% PA 16oz $5 Growler $ 17 Pint Brewed with Free Will, Erin Wallace (Bar owner) , Tara Nurin (beer writer), Carolyn Smagalski (beer writer), Marnie Old (wine Author)
Williamsburg AleWerks Pumpkin - seasonal - amber colored, creamy roasted pumpkin body notes of cinnamon, nutmeg & cloves
8% VA
Suede Imperial Porter -limited collab with 10 Barrel, Bluejacket & Stone - Imperial Porter brewed with avocado honey, jasmine & calendula flowers
9.6% CA 10.5oz tulip
Allagash Confluence - limited - Belgian Pale ale brewed with brett & dry hopped, fruity malt body notes of funk, spice & citrus hops
7% ME 10.5oz tulip
Tags:
Beer
,
Food
Recent Articles

Feedback
How are we doing? Tell us what you like or don't like and how we can improve. We would love to hear your thoughts!