Beer Review: Dogfish Head's American Beauty
It's as classic as the album of the same name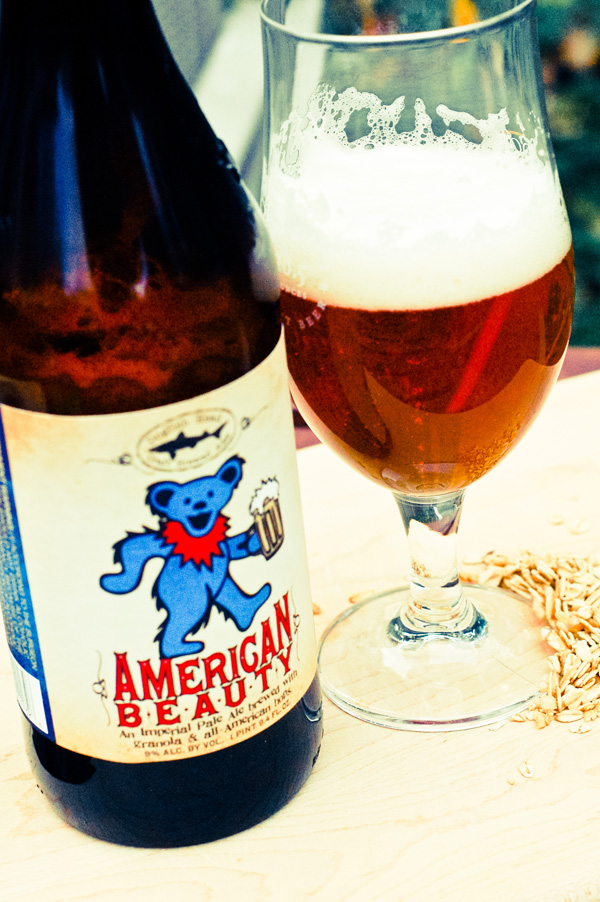 Music as inspiration is nothing new for Sam Calagione. Miles Davis, Pearl Jam, Del the Funkee Homosapien and Dan the Automator's Deltron 3030, and now one of the most celebrated
bands
that millennials know nothing about. Of course, the craft beer demographic skews toward the age when you start to get a break on your car insurance, so it makes sense that Dogfish Head's Music Series of beers also skews old. But maybe "old" isn't the right word. "Classic" feels better, and Dogfish Head's
"American Beauty"
— an American Pale Ale inspired by the
Grateful Dead
— is as classic as the album of the same name.
According to the label, Dogfish Head had over a thousand ingredient suggestions (they didn't specify whether patchouli and weed were on the list), and the one mentioned most frequently was granola. Not too off-centered for the Dogfish Heads, but totally appropriate for a beer that caters to aging hippies, a very large part of the craft beer contingent. Make beer, not war, right?
Anyway, let's get back to the American Beauty. Sold in bombers and weighing in at 9 percent ABV, it's definitely a beer meant for sharing. Poured into an imperial pint glass, its deep copper hue might lead you to believe you're going to get a healthy dose of malt, but the nose is bright with citrus and the level of carbonation makes this beer very easy to drink considering the high alcohol content. The other pleasant surprise was the beer's viscosity. Typical
high-octane DFH brews
can border on syrup, but the only thing that clung to the glass with this beer was the head. Going down, the citrus continued to dominate in the form of lemon zest and an almost orange tic-tac flavor (that's a good thing). And while you should probably sip this big boy, it's really hard not to gulp.
On shelves for a little over a month now, you shouldn't have a hard time finding it in the 27 states where Dogfish ships its beer. Its price point could be the reason it's sticking around, but at $14.99 for a limited release, we didn't feel like we were paying a scalper to get into the festival. If you're into fizz and fruit with a side of nostalgia, you should definitely pick up a bottle to share the next time you find yourself truckin' down Shakedown Street.
Tags:
Beer
Recent Articles

Feedback
How are we doing? Tell us what you like or don't like and how we can improve. We would love to hear your thoughts!