7 Hot Drinks For Cold Nights in Philly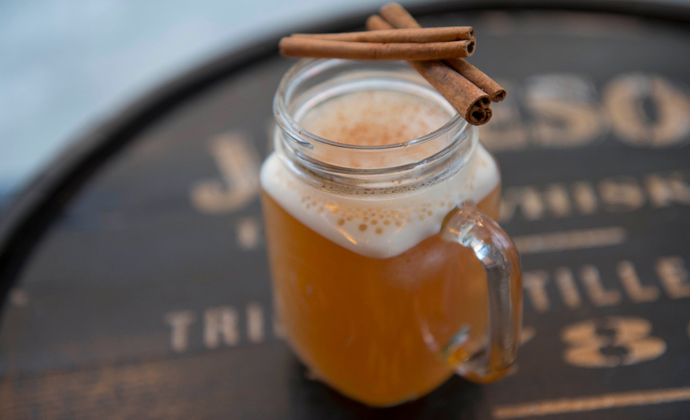 Jackets, gloves, and hats keep us warm from the outside, but what about warming-up from the inside? Sure, we can stay home and mix our own Tom and Jerrys, or we can venture out and get toasty with these seasonal specials:
Fireside Cider $9
Bar Manager, Evan Maffiore, has more than a few spiked coffees for you, but this tipsy wassail twist (pictured above) is a favorite. Fireball Whiskey and apple cider are mixed and served in a mason jar with honey and cinnamon stick toppers. (1100 Chestnut St.; 215-925-6455)
Mon Cheri Hot Chocolate
$6
Chef Marco DeCotiis melts shaved German chocolate in whole milk (okay), adds a shot of cherry infused vodka (keep talkin'), and tops it all with marshmallows and a vodka-spiked cherry (right on!). (1909 East Passyunk Avenue; 267-319-1678) Photo: East Passyunk Avenue Business Improvement District
Nine Boozy Hot Chocolates $6 - $7
If the hot chocolate menu isn't out, give the bartender the special nod and wink. Just kidding. Go ahead and ask for it, or just order off this list. All come with whipped cream: Salted Caramel $7: Stoli Salted Caramel Vodka, More Smores $6: 3Olives Smores Vodka, Happy Birthday $6: 3Olives Birthday Cake Vodka, Nuts Over Chocolate $7: Amaretto and Chocolate Vodka, Whipper Snapper $7: Snap Liquor, Irish Winter $7: Jameson, Jamaican Me Crazy $7: Myers Dark Rum, Mint Condition $7: Rumple Minze, and Chocolate Covered Raspberry $7: Chocolate/Raspberry Stoli. (637 N. 3rd St.; 215-627-6711)
Smoking Bishop $9
If you're unfamiliar with the classic Smoking Bishop, think of this one as having more religion. Burgundy is mulled with clove-studded grapefruit, oranges, cinnamon, vanilla bean, anise, and a few secrets. (48 S. 2nd Street; 215-925-2317)
Bourbon Infused Hot Apple Cider $9
Remember
infusions
?
George Reilly
has our backs and warms our hearts with hot apple cider and house infused full spiced bourbon topped with cinnamon whipped cream.
(509 S. 2nd St.; 215-558-2471)
Mexican Hot Chocolate
$9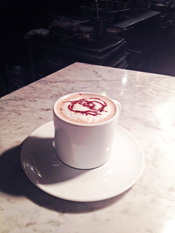 Merion Station's hip glatt kosher Citron and Rose takes this perennial wintertime favorite South of the Border with a little sugar and spice. Oh, and a healthy dose of tequila, too. For the purposes of turning the heat up on this seasonal specialty, barkeeps add cinnamon and spicy chiles to tequila-spiked cocoa. If this doesn't thaw you out, we don't know what will. (370 Montgomery Ave; 610-664-4919) Photo: Citron + Rose
Six Hot Toddies $10 - $14
Hot Toddies are believed to have curative powers, but prevention is the best medicine, and lead bartender Chauncey Scates is on top of that with six offerings (numbered accordingly), the most exciting three being: Toddy Three $14: High West Double Rye, Mulled Wine Syrup, Chai Coco Tea, Toddy Five $13: Knob Creek, Pumpkin Maple Syrup, Hot Water, and Toddy Six $10: Buffalo Trace, Honey, Chamomile Citrus Tea. (121 South 17th St.; 215-563-5008)
Photos: MilkBoy, Noir Restaurant and Bar, Citron and Rose
Tags:
Cocktails
Recent Articles

Feedback
How are we doing? Tell us what you like or don't like and how we can improve. We would love to hear your thoughts!