8 Reasons to Get Excited For a White (Whiskey) Christmas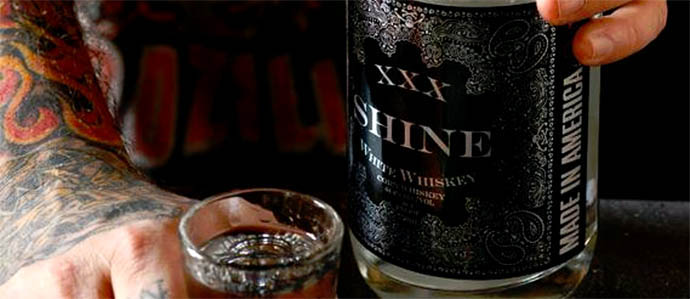 Though your taste buds might be similarly surprised, to be clear, white whiskey is not moonshine. These trendy, vapid concoctions of cornmeal, sugar, yeast and water, also known as "white dog" (presumably for jumping-up and biting you in the face), are not illegally distilled under the cover of darkness, and Danica Patrick isn't speeding them to a shed near you - though if she would, you might wish she kept going (or maybe not).
It's hard to find aficionados who enjoy whiskey's youthful and somewhat impertinent version of itself, but it is possible, and for good reason enough. You might even say it is in the name of science! Steve Rauscher, server at Lemon Hill, and self proclaimed American Whiskey Nerd, argues the case for enjoying the whole development process, especially for your favorite whiskey. Rauscher prefers the Buffalo Trace White Dog Mash #1 raw and still-proof, purchased for at home enjoyment, since it is not served in bars. In eight to ten years, this whiskey whippersnapper grows-up to be Buffalo Trace or Eagle Rare.
Rauscher goes on to say:
The lower proof whites [are] finding their way into the modern cocktail scene in pretty cool ways. With their typically funky sweet flavor, they've often been used as a substitute for blanco tequila in drinks like margaritas. You could probably make a case for replacing white rum with white dog in certain drinks, but you'd have to be careful with drink choice. I don't see a white whiskey mojito being palatable.
If any of the above sounds appealing, or you are sport of spirit, we've gathered a short list of contestants for you to judge:
Buffalo Trace White Dog Mash #1 (ABV 62.5%), Wheated Mash (ABV 57%), Rye Mash (ABV 62.5%): If Mr. Rauscher inspired you, start here.

Philadelphia Distilling Company XXX Shine Corn Whiskey (ABV 44.4%): Locally distilled, you can knock on their door to let them know what you think.

Jack Daniels Unaged Rye (ABV 40%) and Jim Beam Jacob's Ghost (ABV 40%): You know where these are going. Now you can taste where they've been.

Death's Door White Whiskey (ABV 80%): A Wisconsin whiskey of wheat and barley. Keep your distance from open flames.

The Johnson Distilling Company: Shine On Georgia Moon (ABV 40%): Sold in mason jars, and for further authenticity, their website is either nonexistent or hidden very well.


Tags:
Holiday
,
Spirits
Recent Articles

Feedback
How are we doing? Tell us what you like or don't like and how we can improve. We would love to hear your thoughts!