Where to Find Pappy Van Winkle in Philadelphia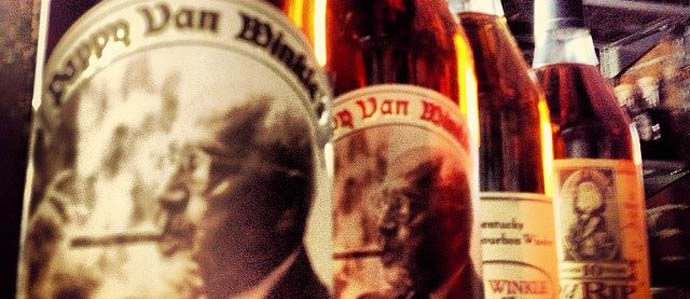 It shouldn't come as much of a surprise that Percy Street Barbecue's Pappy Van WInkle party proved somewhat of a bust. Within 10 minutes of opening the doors, the 15 year, 20 year and 13 year rye varieties were already spoken for. And within 15, the barbecue joint's entire stock of what's widely regarded as the world's most sought after whiskies were all but gone, much to the chagrin of the 50 or so left standing in line out front. But fear not bourbon buffs, though the bottles have been emptied at Percy Street, the elusive elixir remains (for the moement, anyway) in stock at several other area bars and restaurants. Below, check out where we found it.
1 Tipling Place (2006 Chestnut St.; 215-665-0456)
The cozy, Center City cocktail bar currently has Pappy Van Winkle in 10, 12, 15, 20 and 23 year varieties on hand. Keep checking back, because the supply is limited and subject to change.
Ashton Cigar Bar (1522 Walnut Street, 2nd Floor, Philadelphia; 267-350-0000)
Among the many prized potent potables in this upscale stogie shop and bar's whiskey stash is 20 year Pappy Van Winkle.
Bainbridge Street Barrel House (625-27 S. 6th St.; 267-324-3553)
BSBH's has Pappy 15, 20, and 23 year varieties and dozens of other highly sought after whiskeys in its collection.
Fette Sau (1208 Frankford Ave; 215-391-4888)
In addition to barbecue and beer, the Williamsburg export also specializes in brown water. Naturally Pappy Van Winkle is represented in the Fishtown bar and restaurant's extensive whiskey collection.
Fiume (229 S. 45th St.)
This off-the-beaten-path haunt near 45th and Locust just might be the only place in West Philly with Pappy Van Winkle in stock.
Hop Sing Laundromat (1029 Race St.)
With the world's most expensive well, and an inventory worth a king's ransom, it's no surprise that this Chinatown cocktail bar is home to an impressive collection of Van Winkle gems, including 10, 12, 20 and 23 year bourbons, as well as the 13 year rye.
Stateside (1536 E. Passyunk Ave.; 215-551-2500)
We know they keep Pappy stocked, because we watched Anthony Bourdain enjoy some there in the Philly episode of the The Layover.
Keep checking back. We will continue updating this list.
Tags:
Bourbon
,
Spirits
Recent Articles

Feedback
How are we doing? Tell us what you like or don't like and how we can improve. We would love to hear your thoughts!