12 Super Snack Spots For Nibbling While You Nip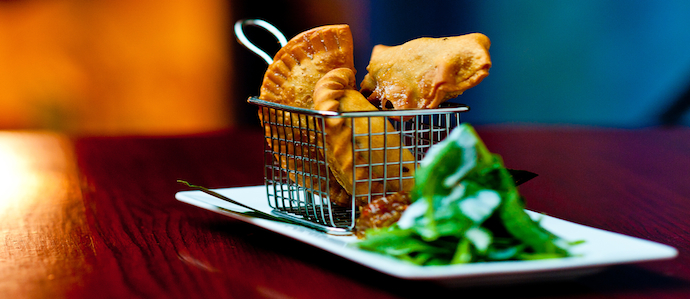 "I can't wait to dig into a communal bowl of over salted nuts, stale pretzels, and microbial bacteria that's been aging on a bar of questionable cleanliness for days." said no one ever. Certainly, at one point in just about everyone's life this type of free food was a stand-in for dinner, usually when one of the roommates ate the last packet of ramen and three tablespoons of ketchup were slowly dying in a crusted-over bottle in an otherwise empty fridge.
We've come a long way since then. We now expect (and can afford) better. Warning: If you do not like scrumptious, interesting, and artfully composed food alongside a craft beer, skillfully mixed cocktail, or glass of fine wine, stop reading now and return to your previously scheduled food poisoning. If you would like to make a note of places to enjoy excellent snacking while sipping, keep reading, but proceed with caution. The following delicious dozen is likely to cause ravenous mania and an immediate desire to run to one or all of the below:
Cuba Libre (10 S. 2nd St.; 215-627-0666)
Cuba Libre's Mamá Amelia's Empanadas (pictured above) are little pockets from heaven filled with ground beef, olives and raisins; hand-chopped chicken, corn and Jack cheese; mozzarella, tetilla, monterey jack and sweet roasted onions; or pulled pork, roasted poblano and charred tomatoes, all served with an aji-sour cream dipping sauce. Choose two, three or four ($11, $15, $20).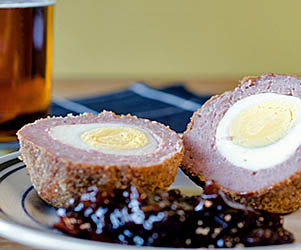 The Victoria Freehouse (10 S. Front St.; 215-543-6089)
When feeling a bit peckish and only a proper British pub snack will do, find your way to The Victoria Freehouse for a Sausage Roll served with grain mustard ($6) or a Scotch Egg with branston pickle ($6).
Barren Hill Tavern & Brewery (646 Germantown Pike; 484-344-5438)
In the spirit of comfort food, we submit Barren Hill's Mushroom Gratin with crostini as a comfort snack ($8).
Paradiso (1627 E Passyunk Ave.; 215-271-2066)
For an alternative to potato, how about Paradiso's Eggplant and Zucchini Fries served with a roasted tomato puree, pecorino and truffle honey ($7)? For something decadent, try the Crispy Chicken Livers served with caramelized onion and vincotto ($9.50). For something simple, go for the la carte cheese plate and pick from their selection of Artisanal cheeses ($4 per piece).
Resurrection Ale House (2425 Grays Ferry Ave.; 215-735-2202)
Right now Resurrection Ale House is featuring brussels sprouts like you've never had them, covered in malted caraway, pickled onions and breadcrumbs if you'd like to keep it vegan ($8), or add bacon for a $1 more. The menu changes frequently, so check-back and check-in often.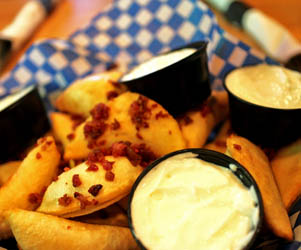 Bierstube (206 Market St.; 215-922-2958)
Though traditionally found in eastern european cuisine, Bierstube snuck house-made pierogies stuffed with mashed potatoes and cheddar served with sour cream onto their German biergarten-style menu ($6.99). Also look for the Potato Pancakes served with apple horseradish slaw and herbed sour cream ($5.99).
Devil's Den (1148-1150 S. 11th St.; 215-339-0855)
You are sure to get your fingers on creative food during happy hour at Devil's Den (5 PM – 7 PM, M – F). Try Bacon Popcorn, fluffy kernels tossed in bacon fat with bacon crumbles and paprika ($7); Deviled Eggs, snapping with orange zest and house-fermented kimchi ($3), and Pork Belly Crostini, smooth and tart with chickpea puree, sauerkraut and pickled red onion ($8); or dive right into a plate of Duck Fries at any time, piled-up and loaded with duck crackling, gravy and cheese ($11).
Grace Tavern (2229 Grays Ferry Ave.; 215-893-9580)
You'll find Grace's Blackened Green Beans on the menu under "House Specialties" instead of "Snacks," but that's not what's important. What's important is that you get your hands dirty from digging them into the basket of fresh green beans sauteed in cajun spices, served with a remoulade dipping sauce (small $3, large $6).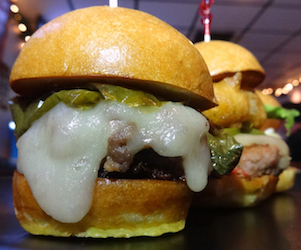 Nick's Roast Beef - Old City (16 S. 2nd St.; 215-928-9411)
When you hear bacon burger slider, you probably envision a tiny bacon topped patty. In most cases you would be right, but not at Nick's Roast Beef in Old City. Their bar menu features a magical mini burger made from a house-blend of 35 percent ground bacon and 65 percent ground beef, topped with lettuce and tomato and served on a roll with pickle chips on the side. These little lovelies are also available in a southwestern twist with fried pickles, house-made salsa and jalapeño slices, and South Philly style with sharp provolone, long hots and caramelized onions ($8 – $9).
Old Eagle Tavern (177 Markle St.; 215-483-5535)
Chef Rich Benussi has added Peking Duck Rolls to Old Eagle Tavern's menu, a new addition for this winter. Ginger duck, caramelized onion, hoisin, shiitake, sriracha and peas are all wrapped-up and ready for you to bite into ($10).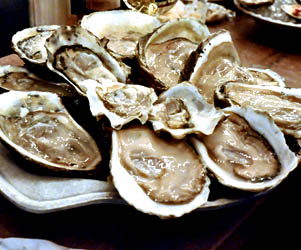 Oyster House (1516 Sansom St.; 215-567-7683)
"Buck a Shuck" oysters served to order by the Oyster House's team of highly skilled shuckers at the bar and in the dining room every Monday through Friday from 5 to 7 PM, and Saturdays from 9 to 11 PM. Need we say more?. Didn't think so.
MilkBoy (1100 Chestnut St.; 215-925-6455)
MilkBoy's Bacon Bowl is exactly what it sounds like – a bowl full of bacon smothered in a buttermilk sauce and drizzled with a spiced honey glaze ($7).
Photo Credits: Mamá Amelia's Empanadas by Jeff Fusco; Bacon Burger Sliders by Nick's Roast Beef - Old City; Scotch Egg by The Victoria Freehouse; Pierogies by Flickr user elsiehui; Oysters by Flickr user j_bary
Tags:
Beer
,
Cocktails
,
Food
,
Spirits
,
Wine
Recent Articles

Feedback
How are we doing? Tell us what you like or don't like and how we can improve. We would love to hear your thoughts!