Where to Watch the Winter Olympics in Philadelphia
by
Drink Philly
on Feb 4, 2014 in
Roundups
for
Abbaye
,
Brauhaus Schmitz
,
BRU Craft & Wurst
,
Cambridge, The
,
Cavanaugh's Headhouse Square
,
Cavanaugh's Rittenhouse
,
City Tap House
,
Cuba Libre
,
Devil's Den
,
Doobies
,
Finn McCool's Ale House
,
Kildare's Irish Pub
,
M Restaurant at The Morris House
,
McGillin's Olde Ale House
,
Sto's Bar
,
Varga Bar
,
Wrap Shack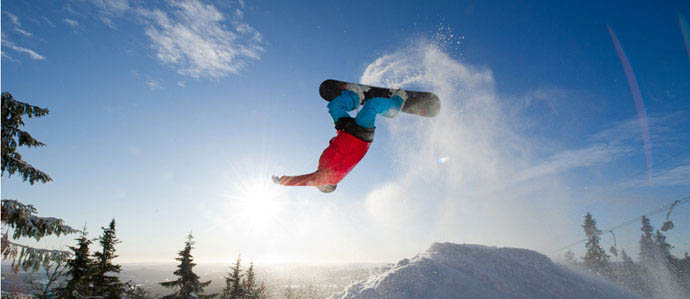 Just as cabin fever is reaching epidemic levels here in the City of Brotherly Love, and Old Man Winter is threatening even more punishing cold and wet weather, the XXII Olympic Winter Games are here to save us from our frigid boredom. They kick off on Fri., Feb. 7 and run through Sun., Feb. 23. And if all the snowboarding, ski jumping, bobsledding and luging doesn't provide enough of a distraction to shake you from your seasonal affective disorder, perhaps heading out to one of the bars listed below and enjoying a few winter game-themed specials will.
Cambridge: The South Street bar will be running its own Beer Olympics to coincide with the winter games in Sochi. They have chosen eight countries to be represented and will pit kegs from each against each other throughout the Winter Olympics' two-and-a-half week run. Each country will have a keg from their homeland and the one that kicks first will win the match. This will go on until the end of the games when the bar will crown a winner. There will also be prizes for people who have the last beer in each keg.
Kildare's Irish Pub: Pull up a seat at this Manayunk watering hole, and catch the games on all nine TVs while enjoying White Russians for the special low price of $3.
Cavanaugh's Rittenhouse: Twenty TVs means you can keep up on all the action of the winter games while keeping an eye on whatever other games are playing, and enjoying some tasty food and great drink specials.
Cavanaugh's Headhouse: If twenty TVs isn't enough, head to Cav's Headhouse to catch the games on thirty-two HDTVs. You can't lose with plenty of TVs, drink specials, and food specials.
McGillin's Olde Ale House: The city's oldest, continuously run bar is celebrating the winter games in a big way with a special Olympics-themed menu, including things like Beef Stroganoff, and Red, White and Blue Burgers, and matching it with drinks like the Olympic Cocktail, frozen layers of Pina Colada and strawberry Daiquiri, served in with blue sugar rim and blueberries; and the Gold Medal, vanilla vodka, and Goldschlager garnished with a gold sugar rim. Plus the games themselves will be shown on the bar's TVs and large digital projection screen.
Varga Bar: The winter games will be on all three of the bar's giant hi-def TVs, and drink and food specials will be offered.
Devil's Den: South Philly's Double-D is getting in on the festivities by tapping a Great American Beer Festival medal-winning beer each day of the winter games. Yard's Brawler, (Silver, 2013) kicks off the series of events on Friday February 7. The final beer, Lavery's Liopard Oir (Gold, 2013) will be tapped on the last day, Sunday February 23. In between, a bevy of awesome medal-winning beers will be tapped everyday until closing ceremonies.
Brü Craft & Wurst: Check out the winter games on this indoor, urban beer garden's 10 huge hi-def TVs and enjoy a rotating selection of daily food and drink deals.
Wrap Shack: With five huge TVs and an impressive lineup of great craft beers and awesome food, you can't go wrong with catching up on the Winter Olympics here.
City Tap House: In addition to its nine big screen TVs, and usual 60 taps dedicated to local and craft beers, the Tap House will have Moscow Mules priced at $5 throughout the Winter Olympics.
M Restaurant: TVs in the bar will be on and tuned to the action beaming in from Sochi.
Cuba Libre: Will have the games on at the bar, but no audio.
Brauhaus Schmitz: Five TVs at the bar and a giant digital projection screen in the back means you won't miss a single second of the winter games while enjoying German beers and food. Throughout the course of the games, Brauhaus will pour half liters of Stiegl for $2 the day after Austria wins a gold medal.
Doobies: The cozy Fitler Square corner bar will have the games on both of its flat screens, and will offer daily-changing drink and food specials based on individual events, countries, and medalists.
The Abbaye: Both of the bar's TVs will be tuned to the Winter Olympics.
Sto's: All TVs will be tuned to the Olympics. You can also get in on the Sto Games including shuffleboard, Mario Kart, Super Smash Bros, and more. $8 pilsner pitchers and $10 Walt Wit pitchers.
Finn McCool's Ale House: The Sansom Street pub will show the games on its six flatscreens and offer guests drink and food specials.
Photo: Flickr user Skistar Trysil
Tags:
Beer
,
Cocktails
,
Dinner
,
Food
,
Spirits
,
Sports
,
Wine
Recent Articles

Feedback
How are we doing? Tell us what you like or don't like and how we can improve. We would love to hear your thoughts!