Bars in Philly That Make You Feel Like You're on Vacation
by
Polly Math
on Feb 17, 2014 in
Roundups
for
Alma de Cuba
,
Amada
,
Bar Ferdinand
,
Bierstube
,
Boot & Saddle
,
Brauhaus Schmitz
,
Cuba Libre
,
Dandelion
,
Eulogy Belgian Tavern
,
Frankford Hall
,
Las Bugambilias
,
Parc Brasserie
,
Percy Street Barbeque
,
Positano Coast
,
Rosa Blanca
,
Route 6
,
Stratus Rooftop Lounge
,
Tinto
,
Twisted Tail, The
,
Yakitori Boy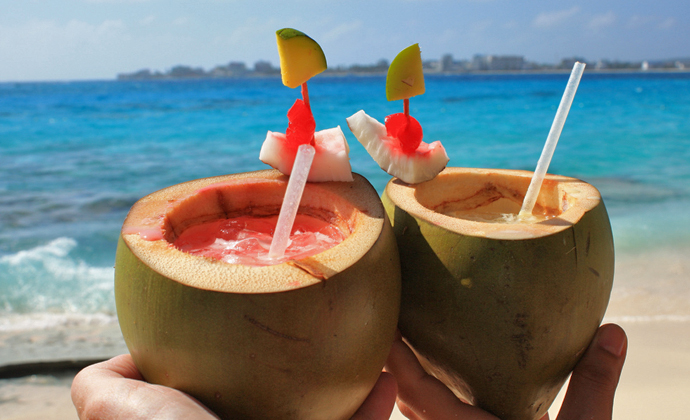 There could be a million reasons why it's impossible for you to get away at the moment, but don't fret. Drink Philly has the perfect solution, and it doesn't even require a body cavity search at the airport. (You'll have to go to a different website for that.) We've rounded-up places that let you travel the world a few hours at a time, in the convenience of your own city. We hope you enjoy your staycation.
Domestic Travel
Route 6 (600 N. Broad St.; 215-391-4600)
$11 beach-themed cocktails: "Sea Cucumber" (Cognac, Cointreau, Cucumber), "Beachcomber" (Smirnoff, Bacardi Pineapple Fusion and Candied Orange), "Baltimore Bloody" (The Bay Vodka, Fresh Lemon Horseradish, Tabasco, Pickled String Bean and Route 6 Rim).
Headhouse Crab & Oyster (119 South St.; (215) 418-0600)
The perfect place to make you think you hear the ocean crashing onto the New England and Maryland shores. Look forward to a well rounded beverage program with specialties like $8 organic beer and $6 oyster shooters: The "Classic" (vodka, tabasco, lime), "Bloody Mary" (Bloody mix, vodka), "Pickleback" (whiskey, pickle juice), "Sandbar" (tequila, shallots, cilantro, lime), "The Blue Coat" (gin, lime, cucumber).
The Twisted Tail (509-511 S. 2nd St.; 215-558-2471)
The Mason-Dixon line is only 15 miles south of us, but Maryland might not be "southern" enough. Get lost in the Bourbon - Whiskey menu of your local friendly Bourbon House and Juke Joint. Bars on two floors. Live music is upstairs. Try the housemade spirit infusions and cocktails too.
Boot & Saddle (1131 S. Broad St.; 267-639-4528)
Choose from the rotating local craft and seasonal beers list, or a drink at the bar. As you head to the back to catch a live show, check-out the original decor, preserved from when this was the only country bar in town.
Percy Street Barbecue (900 South St.; 215-625-8510)
Whether you believe God Blessed Texas or Science Blessed Texas, the beer, bourbon and whiskey list will hogtie your heart.
Stratus Rooftop Lounge (433 Chestnut St.; 215-923-2267)
A flight to Los Angeles takes about six hours, but you can be one among the beautiful people right here. Delight in Bess Gulliver's meticulously handcrafted beverage program while surrounded by swaying greenery and the luxurious decor of famed Los Angeles designer Gulla Jonsdottir. The walls are moveable, so you can indulge no matter the weather.
Latin America and the Caribbean
Las Bugambilias (148 South St.; 215-922-3190)
If you've been to Mexico, you will recognize this place is auténtico, or as we might say, the real deal. Step-up the stairs past the ever present Día de Muertos greeter, and step into the type of traditional restaurant you'd find in Mexico City, Puebla, Veracruz or the Yucatan region. Settle-in, choose from an "imaginative array of margaritas," and relax.
Alma de Cuba (1623 Walnut St.; 215-988-1799)
Travel to Cuba is still illegal for most of us, but Drink Philly can get you there. Like its Head Chef Douglas Rodriguez's book "Nuevo Latino," this restaurant is a manifestation of the modern cuban soul. Enjoy the eclectic latin drink menu.
Rosa Blanca (707 Chestnut St.; 215-925-5555)
Another take on the modern Cuban theme, but this time as a diner. Check-out the impressive rum list.
Cuba Libre (10 S 2nd St.; 215-627-0666)
The outside-indoors atmosphere feels like you're dining al fresco in Havana. Come for the mojitos (there are 12 on the menu). Stay for the late night latin floor show.
Europe
Dandelion (124 18th St.; 215-558-2500)
Have a pint, or something stronger, in a proper London pub, in a leather seat by the fireplace or at the rail on a plaid barstool.
Bar Ferdinand (1030 N. 2nd St.; 215-923-1313)
Marry your tapas to your bebidas where Barcelona meets Northern Liberties. Choose from a long list of spanish beer, wine and cocktails while immersed in Spanish style.
Tinto (114 S. 20th St.; 215-665-9150)
"Travel Spain One Glass At A Time." Northern Spain is featured in the Basque regional decor, ciders, sangrias and wine.
Amada (217 Chestnut St.; 215-625-2450)
Visit southern Spain while trying to pick from an extensive spanish wine offering. At the bar, feel like you're in Andalucía with "hanging jamòns, a display of whole cheeses and shelves brimming with imported canned goods for sale."
Parc (227 S. 18th St.; 215-545-2262)
Paris is closer than you think. Mahogany paneled walls juxtaposed with cream-colored box columns and a hand-laid mosaic tile floor with red leather banquettes and frosted glass evoke Parisian sophistication, and the perfect place to enjoy a rosè, a blanc, a rouge, and of course champagne.
Eulogy Belgian Tavern (136 Chestnut St.; 215-413-1918)
You don't have to go to Antwerp to find this gem. Philadelphia's largest beer selection, comprised of over 300 international and domestic craft bottled beers and 21 on draft, happens to include "Eulogy's Busty Blonde," brewed by La Binchoise Brewery in Belgium exclusively for Eulogy Belgian Tavern.
Frankford Hall (1210 Frankford Ave.; 215-634-3338)
A great place to feel like you're at an authentic biergarten, especially when weather permits sitting outside at the picnic tables, which makes it feel like Oktoberfest, even when it's not September.
Bierstube (206 Market St.; 215-922-2958)
Bavarian blue and white will make you want to jump into your tracht and onto the tables, just like it's done in München, but we suggest you stay in your seat while you sip your Schnapps.
Brauhaus Schmitz (718 South St.; 267-909-8814)
This bierhall has 30 beers on tap and 89 in bottles for waitstaff in dirndls to deliver to your table.
Positano Coast (212 Walnut St.; 215-238-0499)
The only thing missing from this bright and cheerful Italian spot is the Mediterranean sea. (Sadly, the Delaware River is no substitute for it.) Linger over a lovely beverage at our inner Amalfi Coast.
Asia
Yakitori Boy (211 N. 11th St.; 215-923-8088)
Have a sake bomb at Philly's own authentic Izakaya, the Japanese version of a pub. Relax with friends downstairs, then move upstairs for Karaoke. "Eat. Drink. Sing."
Kim's Restaurant (5955 N. 5th St.; 215-927-4550)
This secret spot is a bit of hike up from Center City, but worth it for a legitimate Korean experience. Tables line a single room that was once a diner. Exhaust fans lower over your personal charcoal BBQ to help clear the air, but you will still smell smoky, but that's all part of the experience. Enjoy some korean beer or soju with all the little plates.
Photo: Flickr user flowizm
Tags:
Beer
,
Cocktails
,
Food
,
Spirits
,
Wine
Recent Articles

Feedback
How are we doing? Tell us what you like or don't like and how we can improve. We would love to hear your thoughts!