What to Drink on St. Patrick's Day in Philadelphia (That Isn't Guinness)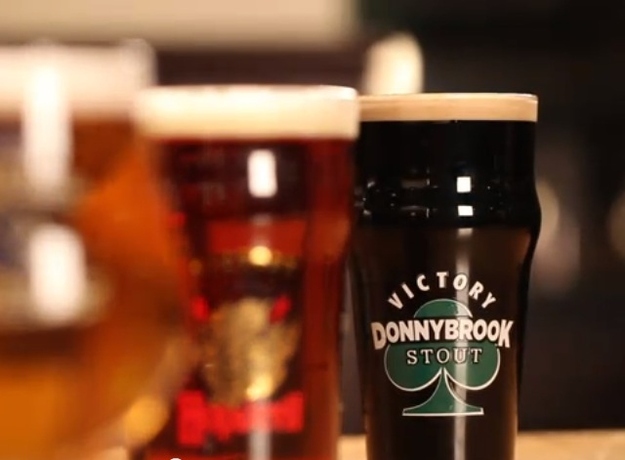 May your glass be ever full.
May the roof over your head be always strong.
And may you pull your car away from an expired meter
half an hour before the PPA notices.
Not that you would be drinking and driving. We're talking about the 364 days of the year that are not St. Patrick's Day. If you are choosing to celebrate at home, or looking to augment your time out, we've got a dozen libations to put a skip in your jig.
The Eye Opener - Irish Coffee.
1 Mug of Hot coffee
2 Sugar Cubes
1 oz Irish Whiskey
Whipped cream on top at your discretion.
Keep it going with local Irish-style brews.
Leave the green beer in yesteryear, and go for quality.
Dock Street Brewing Company: Dry Irishman
"A roasted bitter flavor and subtle chocolate notes. The dry flavor is complemented with smoothness from flaked barley." (ABV 4%) You'll need a growler to bring this one home.
Prism Brewing Company: Red Zone
This spicy ale is based on an Irish Red. The cinnamon, nutmeg, ginger, allspice and local maple syrup are featured prominently over the pale, aromatic, roasted barley, and Cara-8 malt, Northern Brewer and Fuggle hops. (ABV 6.6%) Beer finder.
Victory Brewing Company: Donnybrook Stout
Low alcohol and roasted barley make this a clean and flavorful session stout. Smell the peat through whole flower British and Slovenian hops. (ABV 3.7%) Beer finder.
Yards: Love Stout
A traditionally creamy yet slightly sweet stout with roasted malt and luscious notes of coffee and chocolate. (ABV 5.5%) Beer finder.
Yuengling: Black & Tan
It might be challenging to make a Black & Tan (the Guinness beer cocktail) at home, but we don't have to. Yuengling's done this for us, by combining their dark brewed porter with premium beer. Hints of caramel and coffee give it a smooth finish. (ABV 4.7%) Beer finder.
The Drink That Shall Not be Named
Before we get started, let's talk about the Leprechaun in the room: Drink Philly does not endorse using the name "Irish Car Bomb" but we do like this popular and fun drink, so let's just call it something else. How about "Irish Coffee Drop" or "Danny Boy's Boilermaker"? (Either way, don't look for it in Ireland. Like corned beef and cabbage, it's not a thing there.)
1/2 pint Irish Stout
1/2 oz Irish Cream
1/2 oz Irish Whiskey
Pour a 1/2 pint of Irish stout into a pint glass.
Pour a 1/2 oz of Irish Cream into a 1 oz shot glass.
Pour a 1/2 oz of Irish Whiskey on top of the Irish Cream.
Slowly drop the shot into the beer.
Drink it quickly until it's gone. Dilly dally, and you risk chugging curdled hell.
Mixed Drinks and Shooters
In Philadelphia, we bleed green, but on St. Patrick's day we drink green. Save the food coloring for Easter and go for cocktails that get their festive color naturally:

Everybody's Irish

2 oz Irish Whiskey
1 Tablespoon Green Crème de Menthe
1 Tablespoon Green Chartreuse
Pour the ingredients into a cocktail shaker with ice cubes.
Shake well.
Strain into a chilled cocktail glass.
Instead of garnishing with the traditional olive, find a few shamrocks. (If you find a four-leaf clover, keep it for yourself)
Emerald Isle
1 oz Gin
1 Teaspoon Green Crème de Menthe
2 Dashes Bitters
Pour the ingredients into a cocktail shaker filled with ice cubes.
Strain into chilled cocktail glass.
Green Dublin Apple
2 oz Irish Whiskey
1 oz Sour Apple Schnapps
2 oz White Cranberry Juice
Pour all three ingredients into a cocktail shaker.
Add ice and shake vigorously for 30 seconds.
Strain into a chilled martini glass.
Garnish with a fresh apple slice.
Baby Guinness Shot
1 3/4 oz Coffee Liqueur (chilled)
1/2 oz Irish Cream (chilled)
Pour coffee liqueur into 2 oz shot glass. This is the body of the "beer."
Slowly pour Irish Cream down side of shot glass on top of the Coffee Liqueur, to make the "head."
Shamrock Shooter
2 oz Melon Liqueur
1/2 oz Irish Whiskey
1/2 oz Irish Cream
Combine ingredients in a cocktail shaker with ice.
Strain into a shot glass.
Slàinte!
Tags:
Beer
,
Cocktails
,
Holiday
,
Whiskey
Recent Articles

Feedback
How are we doing? Tell us what you like or don't like and how we can improve. We would love to hear your thoughts!