Stratus Lounge's New Tableside Cocktail Service Hydraulic Carts Are Truly One Of A Kind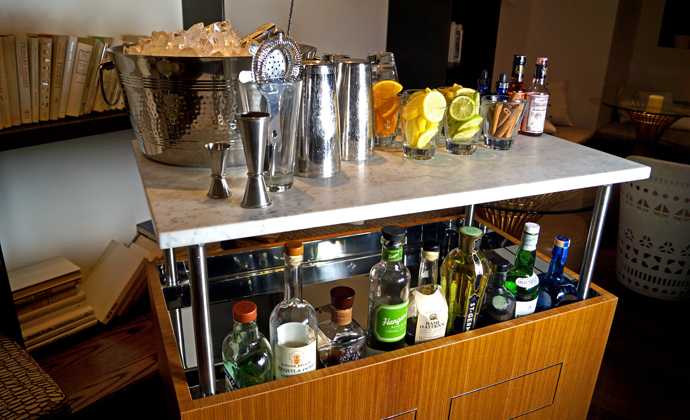 In April, Stratus Lounge, the gorgeous perch that overlooks Old City from atop the 11th floor of Kimpton's Hotel Monaco will begin offering an elevated approach to tableside cocktails.
The sky-high lounge and bar will offer guests seated in its Mist and Vapor pavilions highly personalized service — at their very seats — via newly introduced bar carts. Save for their ability to blend in with appointments and ornamentations found in the two VIP spaces that bookend Stratus' rooftop patio, the mobile bars appear as innocuous bookshelves to the casual onlooker. But there's more going on here than meets the eye.
"Most people don't even realize what they are when they come into the rooms," Stratus General Manager Brian McKelvey told DrinkPhilly. "They find out it's a bar when one of us comes in and presses the button to raise the bar top up."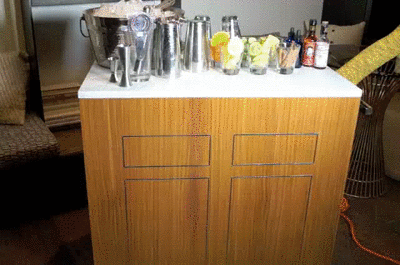 The carts are equipped with hydraulics that lift the bar's surface up to reveal a fully-functional cocktail laboratory beneath. Both are fully equipped, standalone bars, complete with a well for liquor, ice storage, glasses and bartender gear. McKelvey and Stratus' VIP Host Dave Yike hatched the plan as a means of reducing the time it takes the bar to serve guests, especially the VIPs seated in the pavilions.
McKelvey and Yike submitted their initial plan, crude designs and specs to fabricator Designs by Giacomo. They wanted both bars to look as if they were original fixtures in the two rooms, and not simply moveable banquet bars set up as an afterthought. Essentially they wanted two bookshelves that contained hideaway bars that could be easily set up and taken down on the fly. What the hotel and restaurant equipment manufacturer came back with perfectly nailed their vision for the perfect bar cart.
Following April's rollout, Stratus will offer the carts as part of a series of customizable packages in its Mist and Vapor pavilions. At the high end, the rooms, the carts and a dedicated bartender mixing, shaking and pouring cocktails to order will be available with all custom cordials, tinctures, syrups, sodas, and everything else prepared in house by head bartender Bess Gulliver. McKelvey and Yike will work with guests one-on-one to develop a completely personalized cocktail menu. On nights when the two VIP rooms are not booked, individual couch areas will be available for groups, and depending on the time of year and bartenders whimsy, any number of specialized drinks will be on offer.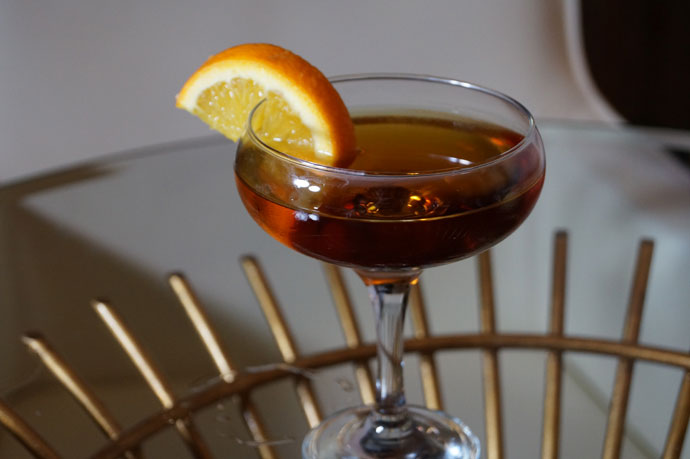 But the tableside cocktail service isn't limited to just the two VIP areas at Stratus. In addition to the new additions to Mist and Vapor, McKelvey also plans to roll out six more carts on the lounge's patio this spring. The stainless steel mobile bars were custom designed and fabricated by Architectural Brass, and will be strategically positioned on the patio where they will serve as bar stations, offering guests constantly changing selections of seasonally-inspired libations. What's more, McKelvey tells us Stratus will begin hosting a series of interactive brunches on the patio, which depending on the theme, will be mixing things like bloody Marys, mimosas, bellinis and Margaritas.
Tags:
Cocktails
Recent Articles

Feedback
How are we doing? Tell us what you like or don't like and how we can improve. We would love to hear your thoughts!