A Smokin' Good Time at Smokin' Betty's
Smokin' Betty's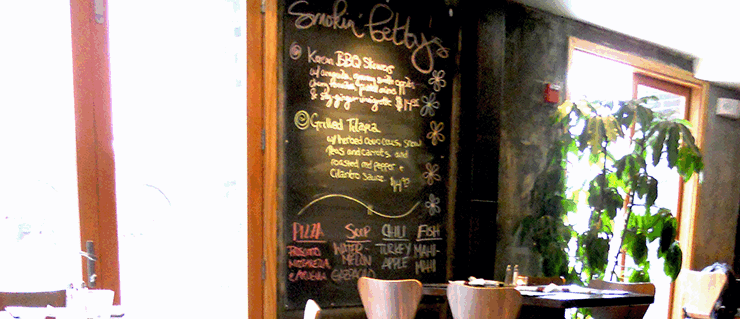 In a discrete neck of the woods, across from the Midtown Diner at 11th and Sansom, where a bar may seem unexpected, my friend and I stumbled upon Smokin' Betty's. At first glance, we had no idea what this brick building was. A small office building perhaps? A store? As we ventured closer we saw tables outside, and huzzah, we realized it was a bar! Insert happy face here! This bar was a whole lot bigger than it had appeared to be at first glimpse. Aside from the outdoor seating, there were two levels to the bar/restaurant. The second floor, up a large wide staircase, contained tables surrounding a large bar with multiple seats and several TV's. Additionally there were expansive windows with a beautiful view of the city. The first floor where we sat was made of up of two sides: one with low tables and booths, the other with high tables and a few low tables. This bar is definitely spacious.
We sat down at a table where we were greeted by a very friendly and trendy waitress. She brought us a candle and some menus. It was then that we saw the happy hour specials. There were $2 yuengling lagers (of course) and $3 featured drafts of the day. That day it happened to be Kenzinger. There was also a $5 fall sangria, and $4 featured cocktails of the day, which my friend and I decided to order a round of. A great decision this was. The featured cocktail was called the "Paradise Kitty," and it certainly brought me to paradise. It had mango rum, coconut rum, orange juice… yum. I turned around for a second and my friend had already chugged the drink. She may have been having a bad day, but I like to think it was because the drink was delicious. We ordered a few more rounds following this and the cocktail never got old.
In addition to drink specials during happy hour (5 PM to 7 PM Monday through Friday) there are great food specials. Insert excited face here! There were $3 cheesesteak springrolls, $3 veggie quesadillas, $5 wings, and $6 pizza of the day. My friend and I ordered the cheesesteak springrolls and the pizza of the day (which had prosciutto, mozzerella, and arugula). The portions may have been small, but you can't beat those prices… and they were tasty! The pizza was nice and crispy, and the cheesesteak springrolls were very Philadelphia.
Once I stopped being so excited about my food and drinks, I got a chance to relax and look around. The music helped with this, as it was really relaxing and soothing. They were playing mostly pop and classic rock. The dim lights and the wood floors added to the ambiance. The whole bar was very modern, it was filled with earth tones and there were plants and flowers everywhere. I felt transported back to a different time. To the time of Marilyn Monroe and James Dean, maybe. I'm not sure. I am sure, however, that they had Arrogant Bastard on tap… the first time I've ever seen this. Because of this, and because of many other reasons, I will be coming back and enjoying myself at Smokin' Betty's another day!
Recent Articles

Feedback
How are we doing? Tell us what you like or don't like and how we can improve. We would love to hear your thoughts!