Bartender Q+A: Mike 'Juice' Treffehn from Franklin Mortgage & Investment Co.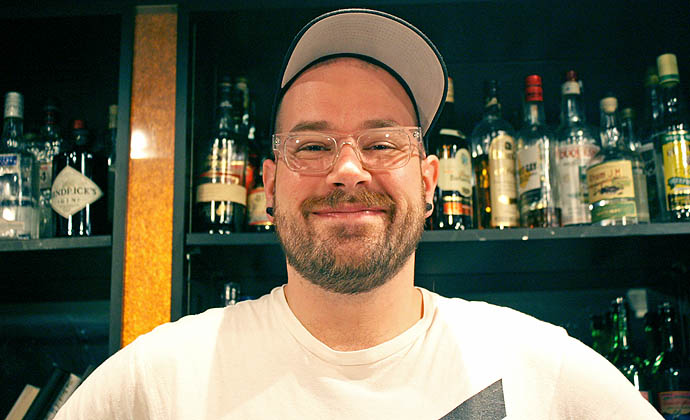 Mike "Juice" Treffehn has been mixing and shaking up drinks at Center City's nationally renowned Franklin Mortgage & Investment Company for almost the entirety of his bartending career. He worked his way up from barback, a role which earned him the nickname Juice for his proficiency with keeping the bar's fresh-squeezed mixers stocked. Four years later, he's now at the top of the heap as the bar's head bartender. Here's what he had to say when Drink Philly recently caught up with him.
How long have you been behind the bar at Franklin Mortgage & Investment Company?
I've been here for just a little more than four years.
Where else have you tended bar?
I worked at Horizons when it was still open. I moved to Philly for grad school, and my first service job was being a food runner there. I really wanted to bartend, and nobody there wanted to work behind the bar. I always liked bars, and being in them. I like the social dynamic that it creates, and love the history and craft of cocktails. So, I just dove right in there.
What brought you from there to the Franklin?
At Horizons, I worked with Al Sotack, who up until recently was the head bartender here. When he first opened over here, I would always stop in and pick his brain and ask a lot of questions. Eventually, a barback spot opened up, and I worked my way up. So really, most of my bartending career has been working here.
How did you get into bartending?
I got my MFA in sculpture from Tyler, which is not really a professional minded degree. Unless of course you're teaching, which I was for a while. When I started here as a barback, I was also teaching at Tyler. But bartending was something that I really enjoyed, and could learn a lot from. One of things I love the most about it is, you learn a lot about people and how they interact.
What's the biggest difference between bartending and teaching art students?
The power structure is different. As a teacher, you are trying engage with the students, and get them to engage with you in a fairly specific way. There's kind of this degree of standards you hold them to, and it's not like that working behind a bar. You sort of have to let people be who they really are.
What are your thoughts on the word "mixologist?"
I know some people bristle at it. Some people really embrace it. I don't really care. I think it's actually a pretty important part of what we do. Especially with what we do here. I think it's an important part for anybody who puts two or three ingredients together to create a flavor profile. From my experience — like 95 percent of the time when I hear it — it's used as a form of praise. I take that with great pride. Usually when people say it, they are trying to be nice.
So what do you prefer, bartender or mixologist?
I'm a bartender. I think being a mixologist is a part of being a bartender. To me mixology means understanding the balance of flavors, how ingredients play together, and about creating an enjoyable drink. Bartending is about dealing with people. The drink and what it tastes like is only part of that.
How has the job changed since you started?
I think the drinking culture in Philadelphia has changed a lot. In a city that's obsessed with beer, people are now more educated about cocktails then they were, say, four or five years ago. They know what cocktails are and how they are supposed to be made.
What do see trending right now?
Savory cocktails are something people are getting into more. People are more curious, which is a trend I like. Whiskey is still huge, and I think it will continue to stay big. People are definitely appreciating agave distilled spirits more. One of things that's tricky with tequilas and mezcals is, you just can't get good, quality stuff for cheap.
What trends are still lingering that you wish would go away?
The whole "what can you give me that's low calorie" thing must stop. I think it's just delusional, because the most caloric thing you're going to get when you drink is the booze. I haven't had anyone ask for a Skinny Girl Margarita in a long time, which I take as a really good sign.
What's your poison?
My very favorite spirit category is Agricole rums. I think it's a fascinating production method. The flavor profiles they create are incredibly varied and unique.
How about your shift drink?
It's almost never a cocktail at the end of the night, because you've been making them for so long and you're just trying to clean up and get out. So it's usually a beer and shot of Old Grand Dad Bonded.
How would you describe your best customer?
People who are curious and who trust me.
How about your worst?
People who are really specific, but afraid to be so. There's no need to apologize for being particular about what you like.
What's the best tip you've ever received?
The best tips are when people are actually engaging with you. Money's great an all, but I love when people get up to leave and they shake my hand and tell me they'll be back soon.
Who's the biggest name celebrity you've served?
Harrison Ford came in here once, but there weren't any seats at the bar, so he turned around and left.
Where can we find you on the other side of the bar?
I really, really like the Good King Tavern. It's near my house, it's a cozy spot that my wife and I like to go to. I spend some time at Dirty Frank's. I grew up in Germany, so I love going to Brauhaus Schmitz. I used to like to go and sit next to the fireplace at Hawthornes. The Khyber before a movie. Emmanuelle when I want to see friends.
Tags:
Cocktails
,
Spirits
,
Whiskey
Recent Articles

Feedback
How are we doing? Tell us what you like or don't like and how we can improve. We would love to hear your thoughts!