More Than Just Margaritas: Philly's Top Tequila and Mezcal Cocktails for Cinco de Mayo
by
Drink Philly
on May 1, 2014 in
Roundups
for
1 Tippling Place
,
Ela
,
Emmanuelle
,
La Calaca Feliz
,
Lolita
,
McGillin's Olde Ale House
,
Mica
,
Sutton's Parlor
,
Tequilas Restaurant
,
The Franklin Bar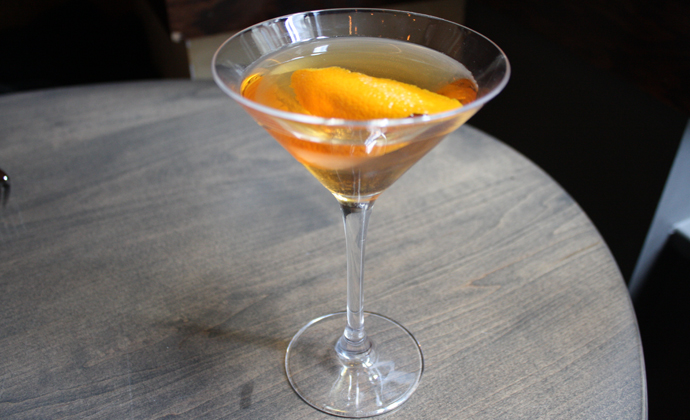 Before your Cinco de Mayo plans once again devolve into a day of mediocre Margarita madness, consider bellying up to the bar for something a little more creative than the old tequila cocktail standby. Even better, try something that's made with tequila's smoky close cousin, mezcal! Below, check out some of our favorite festive drinks that showcase the amazing versatility of Mexico's agave distilled spirits.
The Treemont (231 S 15th St.; 267-687-2237)
The Center City newcomer from Chip Roman (chef-owner of Blackfish, Mica and Ela) offers the best of both worlds in the Silver Blaze (pictured above). It combines tequila and mezcal with Aperol, Cyan and vermouth.
Tequila's Restaurant (1602 Locust St.; 215-546-0181)
Junior Merino (aka the Liquid Chef) developed the Future Traditions cocktail for Philly's oldest, and arguably favorite Mexican restaurant specifically to showcase owner David Suro-Piñera's extraordinary Siembra Azul tequila. The drink combines Siembra Azul's 18 months-aged Añejo with Benedictine, Combier, lemon juice and peach bitters.
Sutton's Parlor (40 S 19th St.; 215-800-1217)
The Center City cocktail joint has something of an obsession with mezcal and offers up the El Destilador, Illegal Hova Mezcal, Dolin Blanc, Luxardo Maraschino Liqueur and locally made, chrysanthemum bitters for Cinco de Mayo.
Lolita (106 South 13th St.; 215-546-7100)
Newly liquor-licensed Lolita offers a selection of cocktails that are every bit as tempting as the street food-focused menu. One of our favorites, the Paloma Violeta, pairs blanco tequila with grapefruit juice, agave, prickly pear sorbet and soda.
Franklin Mortgage & Investment Co. (112 S. 18th St.; 267-467-3277)
Head bartender Mike "Juice" Treffehn recommends his Tequila Daisy, which is made with Espolon Blanco Tequila, lemon, yellow Chartreuse, Grenadine, simple syrup, and Peychaud's bitters.
Emmanuelle (1052 N. Hancock St.; 267-639-2470)
Phoebe Esmon's A Plethora of Pinatas combines Del Maguey Vida Mescal with housemade pineapple preserves, lime, Meletti Amaro, agave nectar, Angostura bitters, which she serves shaken on a big rock.
1 Tippling Place (2006 Chestnut St.; 215-665-0456)
Barkeep Daniel Hamm gives mezcal the Old Fashioned treatment with his Church Yard, which he makes with Lunazul Reposado tequila and Illegal Mezcal with Angostura orange and Mexican mole bitters stirred and served on the rocks with an orange twist.
Square 1682 (121 South 17th St.; 215-563-5008)
Head bartender Chauncey Jane Scates takes tequila into tiki territory with her Killin' the Blues, which she makes with Corralejo Reposado, yellow Chartreuse, orgeat, lemon and Jerry Thomas bitters.
Good King Tavern (614 S. 7th St.; 215-625-3700)
Bartender Daniel Eng's El Diablo updates the classic Trader Vic's cocktail with a fifty-fifty split of tequila and mezcal, housemade ginger syrup and creme de cassis served tall in a Collins glass with club soda.
Petruce et al (1121 Walnut St.; 215-225-8232)
George Costa's Poncho's Lament comes together with chili-infused reposado tequila, Ramazzotti, agave, cold brewed Rival Bros. coffee, mole bitters and fizzy water.
La Calaca Feliz (2321 Fairmount Ave.; 215-787-9930)
With mezcal, cucumber, agave, ginger and passion fruit, La Calaca Feliz's Mezcal Mule puts a South-of-the-Border spin on the Moscow Mule.
McGillin's Olde Ale House (1310 Drury St.; 215-735-5562)
Every year at Cinco de Mayo, the city's oldest, continuously run bar pays homage to celebrities of both Irish and Mexican descent with specialty drinks. Our favorite, the Anthony Quinn, pairs a perfectly pulled pint of Sly Fox's O'Reilly's Stout with a shot Patron tequila.
Photo: Drink Philly
Tags:
Holiday
,
Spirits
Recent Articles

Feedback
How are we doing? Tell us what you like or don't like and how we can improve. We would love to hear your thoughts!