Quench Your Thirst for Boozy Knowledge with Franklin Mortgage & Investment Co.'s Cocktail Classes
Learn to make classics with the pros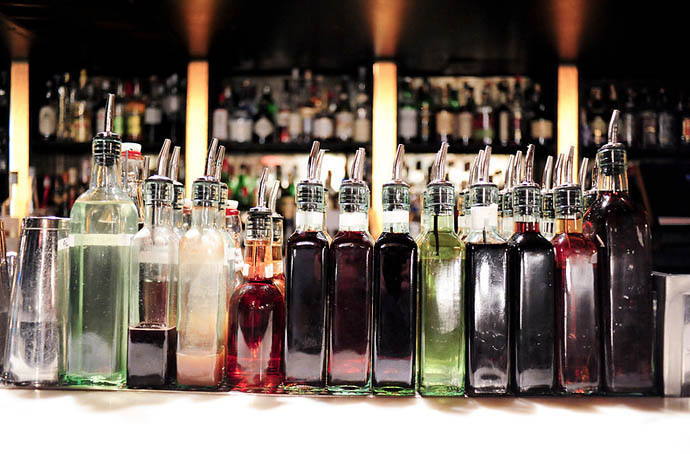 There's a lot more going on at The Upstairs Bar at Franklin Mortgage and Investment Co. than meets the eye.
If anything, you probably know that when open on Friday and Saturday evenings, the semi-secret, second-story annex adds an extra 15 bar seats, two spacious booths and a dozen smaller tables to the popular Center City cocktail bar. Or perhaps you've heard of — or possibly even been invited to — one of the exclusive private or industry-only events hosted there.
But did you know that it also serves as one of the city's premier academies for cocktails and mixology?
On and off for the past year, Franklin Mortgage's crack team of skillful bartenders have been quietly sharing the secrets of their trade with small groups of curious cocktail buffs who have a thirst for knowledge matched only by that of booze. Now they're stepping up the effort, hosting classes on a variety of subjects on a more regular basis.
Each class runs two hours long, and offers ample opportunities to sip and taste the course materials whether the curriculum is based on base spirits or a specific genre of cocktail classics. Enrollment runs $130 per course, and includes the class itself, liquor, tax and gratuity. Each student who purchases a ticket receives a folder, syllabus and Franklin letterhead for notes.
Upcoming courses include:

Mon., June 23, 7 - 9 PM
Introduction to American Whiskey
Head Bartender Mike "Juice" Treffehn returns to teach this course on the exciting world of American Whiskey. The course will cover a variety of subjects, including a selection of different rye whiskeys and bourbons, highlighting each one's mashbill and how it relates to the finished spirit's aromas and flavors. Count on lots of straight tastings, as well as some cocktail incorporation.
Mon., July 28, 7 - 9 PM
Setting Up Your Home Bar
One of The Franklin's most popular classes will be taught this time by Head Bartender Mike "Juice" Treffehn. The course will cover the fundamentals of building cocktails, which spirits to start with at home, and how to strategically, and efficiently, build and stock your home bar. Treffehn will also spend time talking about what tools your bar should have on hand. After going through all this, he will set up multiple mini-home bars throughout the second floor bar area, so students can create their own cocktails based on what they've learned.
Tues., Aug 5, 7 - 9 PM
The History of the Daiquiri
OG Franklin bartender Catherine Manning will lead this class, which will shed light on rum, the first daiquiri and some of its many variations, including Classic Daiquiri, Hemingway, and La Florida Daiquiri. Plus there will be an Ernest Hemingway tie-in.
Mon., Aug. 25, 7 - 9 PM
The World of Gin
Head Bartender Mike "Juice" Treffehn will teach this class covering the basic styles of gin — London Dry, Plymouth, Old Tom, and Genever. Featured cocktails will include Tom Collins, Martini, and Genever punch.
Mon., Sept. 22, 7 - 9 PM
Introduction to Amari: How Fernet Save My Life
Michael Buonocore, who works at both Vernick Food & Drink and at The Franklin, leads this class that explores the world of traditional Italian digestivos and bitter herbal liqueurs. Needless to say, the course involves lots of tasting and some cocktail incorporations. Spirits covered include Branca Menta, Amaro Abano, Cynar, Nardini, Montenegro, Nonino and of course, Fernet Branca.
Tues., Oct. 28, 7 - 9 PM
Sherry Baby: An Introduction to Fortified Wines
In this course, bartender Christina Rando (Clover Club and Flatiron Lounge in New York) will show you firsthand the differences and peculiarities of fortified wines like Port, Sherry, Madeira, Marsala, Commandaria wine and Vermouth.
Mon., Nov. 18, 7 - 9 PM
Charles Baker
This book specific course, taught by Mike "Juice" Treffehn, delves into the writings of Charles Baker, the Indiana Jones-like world traveler whose globe-trotting exploits are chronicled in The Gentleman's Companion: Being an Exotic Drinking Book or Around the World with Jigger, Beaker and Flask, one of the most highly sought after collections of drink recipes ever. Cocktails featured include Mexican Firing Squad (Blanco Tequila, Sugar, Fresh Lime Juice, Pomegranate molasses, Angostura bitters), Death in the Gulfstream, Burra Peg (a cocktail with champagne and brandy).
Add to Calendar 2014-06-23 7 PM 2014-06-23 9 PM 15 Quench Your Thirst for Boozy Knowledge with Franklin Mortgage & Investment Co.s Cocktail Classes false YYYY-MM-DD
Event Date: 06/23,07/28,08/05,08/25,09/22,10/28,11/18
Event Time: 7 PM - 9 PM

Tags:
Bourbon
,
Cocktails
,
Education
,
Spirits
,
Whiskey
,
Wine
Recent Articles

Feedback
How are we doing? Tell us what you like or don't like and how we can improve. We would love to hear your thoughts!