Where to Find Philadelphia's Best Taco Tuesday Deals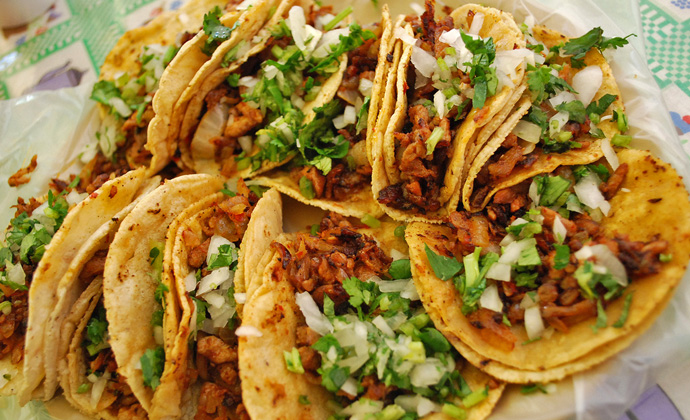 If you've been eating and drinking here long enough, you know that tacos are as much a part of Philadelphia's culinary fabric as cheesesteaks, pretzels and roast pork sandwiches. So much, in fact, that the phenomenon of Taco Tuesdays, weekly deals and specials that celebrate the mighty tortilla and all the delicious things you can pile on it, has quietly established itself as a regular feature at bars and restaurants all over the city. Here we've rounded up some of out favorite Taco Tuesday options. If you know of one we missed, let us know via Facebook or Twitter.
Alma de Cuba (1623 Walnut St.; 215-988-1799)
This Stephen Starr restaurant offers up delicious tacos with a Cuban twist for $5 each, or you can try five miniature tacos for $5 during happy hour Monday through Friday from 4 to 7 PM.
Cavanaugh's Headhouse (421 S. 2nd St.; 215-928-9307)
Cavanaugh's Headhouse is the ultimate neighborhood sports bar that offers everything a Philadelphian could need from a bar. On Tuesdays, that's tacos. They offer $3 tacos teamed with drink specials every Tuesday during happy hour.

Distrito (3945 Chestnut St.; 215-222-1657)
Down at Distrito you can find chicken ropa vieja, pulled pork and crispy mahi mahi tacos for $5 every Tuesday and every other day of the week too, for that matter. Guacamole, beer, sangria and house made cocktails accompany these tasty options.
Tap Room on 19th (2400 S. 19th St.; 267-687-7817)
All day the Tap Room offers $2 tacos, $2 Tecates and $5 Margaritas. Taco options vary, but some recently served include Chicken Mole, Lamb Picadillo and Vegan Texas Tacos.

Tattooed Mom (530 South St.; 215-238-9880)
Tattooed Mom has been running their taco special for over a decade, and it has grown to include beef and vegetarian tacos from noon to 10 PM, free candy, half off draught beers from 5 to 7 PM and then a second round of discount drinks from 10 to 11 PM.
Dave & Busters (325 N Columbus Blvd.; 215-413-1951)
It's not just fun and games at Dave & Busters, as they serve up a serious taco special all day every Tuesday. Your choice of chicken or beef crunchy tacos for $1, soft shell tacos for $2, chips and salsa for $2, and $2 Dos Equis bottles at this giant adult playground.
Tres Jalapenos (901 S. 8th St.; 215-465-0607)
This newly liquor-licensed Bella Vista taqueria now offers a broad selection of cervezas to go with its weekly all-you-can-eat Taco Tuesday special.
Interstate Draft House (1235 E. Palmer St.; 267-455-0045)
This Fishtown gastropub hosts 1$ taco Tuesdays every week with multiple meat options accompanied by 3$ draft beers. Don't fret, vegetarians they have options for you as well!
Cactus (4243 Main St.; 267-385-6249)
Should you find yourself in Manayunk on any given Tuesday, be sure to pop into the authentic Mexican restaurant, Cactus Restaurant & Bar for $2 tacos and $5 margaritas.
Manny Brown's (512 South St.; 215-627-7427)
Manny Brown's has opened its doors for the warm weather, and you can enjoy the breeze with $1.25 tacos from 11:30 AM to midnight.
Ortlieb's Lounge (847 N 3rd St.; 267-324-3348)
Live music, half off all drinks, and $1.50 tacos every Tuesday through Friday from 5:30 to 7:30 PM should be all you need to know about this Northern Liberties hotspot.
Loco Pez (2401 E. Norris St.; 267-886-8061)
While this Fishtown does not offer taco specials every Tuesday, they randomly select a day or two out of the week to run a $1 taco special, and sometimes that lands on Tuesday. With rotating hot sauces, fresh taco concepts, and some really tasty beer selections, you had better keep an eye on their twitter account to hit up one of these taco days @locopeztacos
Grey Lodge Pub (6235 Frankford Ave.; 215-856-3591)
This Northeast pub serves up three unique tacos every Tuesday from 5 PM to midnight. Mix and match any three for $8. No two Tuesdays are the same!
El Rey (2013 Chestnut St.; 215-563-3330)
Serving different taco styles everyday, the humble center city El Rey has $1 tacos to go along with their $2 Tecate cans, $3 drafts, and $5 margaritas from 5 p.m. to 6:30 PM
Lox Stock & Barrel (2001 Hamilton St.; 215-640-0100)
Lox Stock & Barrel is a family-friendly casual dining experience equipped with 3 tacos for $6 every Tuesday with the option of adding an extra taco for $2. Happy hour begins at 5 PM with $3 domestic drafts, $4 imports, $4 craft drafts, and $4 glasses of their house wine until 7 PM
Drinker's West (3900 Chestnut St.; 215-397-4693)
All Drinker's locations have great Taco Tuesday deals. This location is tucked in Universtity City at 39th and Chestnut and rocks specials like $1 tacos, $1 hot dogs, $2 Yuengling drafts, and $8 pitchers from 5 to 7 PM. You can also get $4 Absolut drinks from 5 PM to Midnight.
Drinker's Pub (1903 Chestnut St.; 215-564-0914)
If Drinker's other locations aren't in your 'hood, check out Drinker's Pub in Rittenhouse for $1 tacos, $1 hot dogs and half-off all drinks from 5:30 to 8 PM.
Drinker's Tavern (124 Market St.; 215-351-0141)
The final Drinker's is right on Market Street in Old City. Catch $1 tacos, $1 hot dogs, $2 Yuengling drafts, and $8 pitchers from 6 to 8 PM, along with $4 Absolut drinks from 5 PM to Midnight every Tuesday.
Photo: Flickr user picsoflife
Tags:
Beer
,
Cocktails
,
Food
,
Spirits
Recent Articles

Feedback
How are we doing? Tell us what you like or don't like and how we can improve. We would love to hear your thoughts!