Talking Tiki with The Yachtsman's Tommy Up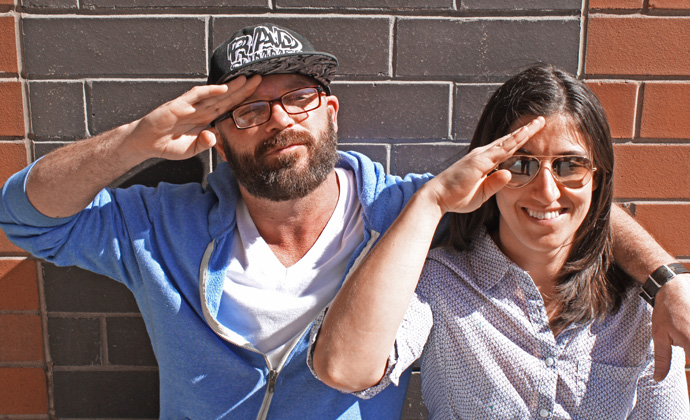 It looks like The Yachtsman, the much hyped tiki bar from P.Y.T. and Emmannuelle owner Tommy Up and his business partner Sarah Brown is a go. As of this morning, the Kickstarter campaign Up launched to raise the last $36,700 needed to complete the Polynesian makeover of the former dive bar at Frankford Ave. and East Jefferson St. is fully funded. Newly flush with the crowdsourced cash, he expects to have his crack barkeeps Phoebe Esmon and Christian Gaal slinging Volcano bowls and other exotic cocktails from behind the new bar before the end of July. On the eve of his Kickstarter's close, Drink Philly sat down with the Yachtsman's Big Kahuna to learn more about the project. Below, check out what he had to say.
How long have you been working on The Yachtsman?
Since last summer. We were originally going to do it outside at the Piazza as a sort of tiki drink garden. But once we got into the concept of it, we realized it needed to be a year-round, standalone thing.
Why did you decide to go with a tiki bar concept?
I've wanted to do a tiki bar for forever. Any time I go to another city, I always seek out the tiki bars there, whether they are newer ones or classic ones that have been around since the 50s and 60s. There's like Tonga Room in San Francisco, which is probably the biggest, coolest tiki bar ever. There's a new wave of tiki bars popping up; a resurgence over the last couple of years that combines the craft cocktail movement with an authentic tiki bar experience. So I feel like the attention and the work the mixologists put into refining cocktails has sort of branched out into what to me is a more a fun direction and expression of tiki culture. And there's a lot of different ways to go with it. You can go completely authentic, or you can be really super craft cocktail-y about it. So our idea is really a marriage of the two — with drinks created by Phoebe and Christian from Emmanuelle — in a tiki dive bar atmosphere.
Why do you suppose it's taken this long for Philadelphia to answer the call of the tiki bar?
I think opening any bar or restaurant is a pretty ballsy maneuver in general. It's easier to go a true and tried route, which is opening a beer bar, or you know, some sort of genre restaurant, and I think that's why no one's opened a great tiki bar — at least since the 70s, probably. I'm sure once we're open, there will be more tiki bars that will follow.
When you were a kid growing up in Philly, were you ever exposed to the great and long lost tiki bars like Kona Kai on City Line Avenue or Pub Tiki on Walnut Street?
I don't remember which ones I've been to, but I remember my mom and grandparents taking me all kinds of crazy themed-out places — some wacky places in Jersey that had a lot of tiki elements. Then there's the places that were the American version of a Chinese restaurant that blended into tiki bar culture — you know, the pu pu platters, the crazy drinks on the paper placemats. But I think the biggest thing for me as a kid was the tiki attraction at Disney World. You know, the Tiki Tiki Room? That made quite an impression on me.
What made you decide to go the Kickstarter route?
I read some really encouraging stats about Kickstarter. Something like 80 percent of all projects that reach at least 20 percent of their goal wind up getting fully funded, which I think is a really incredible statistic. I've wanted to do a Kickstarter for a couple of years now, because I think it's a really cool way to get projects going.
What kind of response have you been getting?
Naturally, a lot of our friends have helped out, but we've had some unlikely supporters too. Lee from Hop Sing Laundromat grabbed a bar stool.
How do you feel about your critics who've taken shots at you in print and on blogs about everything from The Yachtsman concept and your use of Kickstarter to gentrification and creating a potential nuisance for the neighborhood?
Anytime you go out to the world with an idea for a project and say you'd like help to get it off the ground, it puts you in a vulnerable place. As a creator, and especially as a somewhat public figure in Philadelphia, you become a pretty easy target. But I wouldn't have even tried if I didn't have thick skin. I'm from Philadelphia, so my skin's plenty thick. I really don't give a shit about what anyone else says.
What about those who say this is not what Fishtown wants or needs?
We've gotten a lot of hate mail about The Yachtsman. But here's the thing: I'm from Fishtown. I've spent most of life here. I grew up six blocks away. I went to school at Montgomery and Girard, which has since been converted into some really nice apartments. At one point while growing up, my mom — she was single mom raising me — actually worked as a bartender at the same bar we bought. So I like to think that I know Fishtown. Maybe someone who moved here in the last couple years and bought a $700,000 townhome might have a better idea than a local of what the neighborhood wants and needs. But I feel pretty confident about what we are doing.
As someone who's from Fishtown and is still a resident, can you say for sure that a tiki bar is what the neighborhood needs?
Absolutely! What else could it possibly need? Another gastropub? Another German beer hall? Another barbecue joint or Mexican restaurant? A tiki bar is something no one else in Philly is doing right now.

Tags:
Cocktails
,
Spirits
Recent Articles

Feedback
How are we doing? Tell us what you like or don't like and how we can improve. We would love to hear your thoughts!