Philadelphia's Top Suds and Ciders for Summer Sipping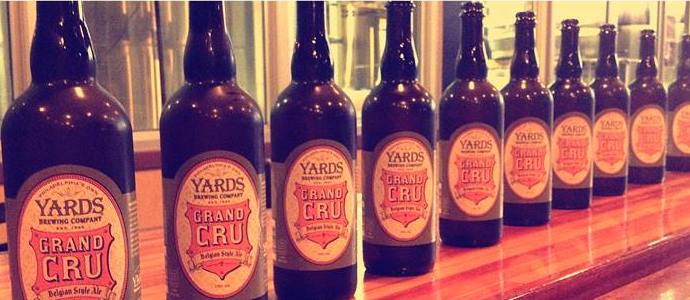 Hot town, summer in the city
Back of my neck getting dirty and gritty
Been down, isn't it a pity
Doesn't seem to be a shadow in the city
Summer: When all the outdoor festivals, barbeques, bugs, and overheated people crammed into small steamy places drive-up the instances of violent crime. The Lovin' Spoonful gets Philadelphia summers, but we don't have to let Philadelphia summers get to us. Instead of being a victim of temperature aggression, be a part of the solution by filling your growlers and picking-up cases of these local summer favorites, and sharing them with your friends:
Grand Cru: First introduced last year, Yards describes their Grand Cru as "fit for a king." This Belgian style strong ale's specific Belgian pilsner malts provide a subtle malt profile to compliment the fruity esters produced by the classic Belgian yeast. "A blend of noble hops adds just a touch of aroma, nicely rounding out this deep golden, slightly tart, effervescent delight." Yards suggest you can pair Grand Cru with anything. It's a strong one, so we suggest food. Available May through August wherever Yards is sold. (ABV 9.9%)
Saison: This Yards classic which has been improving our summers for nearly 20 years now, Yards' Saison is a semi-unfiltered Belgian style ale brewed with distinctive Belgian yeast. "It's delicate and fruity with a subtle spiciness. Styrian Goldings lend a touch of hop to the palate, balancing out this highly drinkable version of the classic style." Yards suggests you have this on hand anytime a hot grill is likely to happen. Available April through July wherever Yards is sold. (ABV 6.5%)
Fleur de Lehigh: Warm weather, flowers and baseball inspired the recipe for this unfiltered golden ale. Brewed with ginger, lemongrass and other natural herbs. "It blooms upon the palate with a vibrant, floral character." Available Spring/Summer in stores. (ABV 4.75%)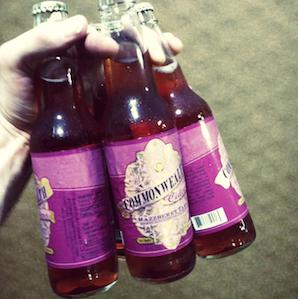 Traditional Dry, Razzberet Tart, and Gregarious Ginger: If you haven't tried any of the ciders from Philadelphia Brewing Company's spin-off, now would be the time, and we suggest all of them. Commonwealth ciders are made in traditional fashion by converting natural apple sugars to alcohol. And since they do not add any additional sweeteners, artificial flavors, preservatives or colors, they are crisp, dry and sophisticated, and won't hurt your teeth or hurt you if you are wheat sensitive, because they are gluten-free. (ABV 5%)
These are coming soon and limited, so have your growler ready, or buy one at the brew pub.
Dock Street Amber Ale: The flag-ship Dock Street recipe, the one that started it all in 1985. Full bodied, exceptionally balanced and always admired for its clean smooth finish. (ABV 5%)
Caliente: Brewed with 100% Blue Agave nectar and aged on Guajillo and Ancho chiles. Traditional Belgian Strong with toasty malty profile, fruit and spices finishing with a mild residual heat from the chiles. (ABV 8%)
Firehouse Saison: Light and refreshing with a special twist from the addition of smoked malts. Delivers a low-key chewy, smoky flavor balanced by fruity saison yeast. (ABV 5%)
Farmhouse Summer Ale: This highly drinkable "every day" belgian contains Belgian two-row pale malt, Cara-8, Acidulated and 7% White Wheat. It's only lightly filtered so it retains an earthy, spicy hop character from imported Styrian Goldings hops and a beautiful rich creamy head from the wheat. This is one you'll want to take to all the BBQs. Available April 15 to September 1 at take-out packaged goods locations and distributors. (ABV 4.9%)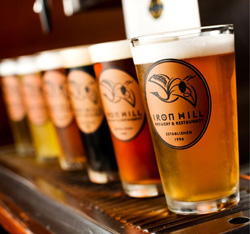 Seven late spring and early summer releases for you to find at the brew pub. Remember to bring a growler:
Belgian Witbier: Pale, unfiltered Belgian-style wheat beer. Although light-bodied, it has complex orange citrus and spice flavors that are very refreshing. Available now. (ABV 4.6%)
Hop Smoothie: A collaboration beer brewed with Matt Cole of Fat Heads in Cleveland, this strong pale ale is brewed with lots of Citra and Galaxy hops and 100 pounds of clementines. Available May 28. (ABV 6.2%)
Lex Luthor IPA: This full bodied triple IPA is brewed with Pilsner malt and over 80 lbs of different American hops for an onslaught of hop bitterness, flavor, and aroma. Surely more potent than Kryptonite! Available May 28. (ABV 10.5%)
Berliner Weisse: Pale, German-style, light-bodied wheat beer with refreshing tart, acidic and lemony characteristics and little hop bitterness. The addition of Woodruff and Raspberry syrup can be added upon request. Available June 3. (ABV 2.8%)
Kölsch: A delicate German golden ale. Much cleaner and crisper than most ales and features a gentle, German noble hop finish. Available June 10. (ABV 4.2%)
The Golden Child: 2014 World Beer Cup Gold in American-Style Brett Beer. A golden ale fermented exclusively with a single strain of Brettanomyces. Bright notes of lemon rind and grapefruit, finishes with a quenching acidity. Available June 12. (ABV 5.7%)
Sweet Leaf IPA: A pale yellow American IPA brewed tons of Columbus, Centennial, Chinook, and Simcoe hops.giving it a medium body and overwhelming hop flavors. Available June 25. (ABV 6.7%)
Available now for summer: You'll need a growler to take these home, unless they come in cans (noted):
Session: Manayunk Session is a light-bodied Belgian-Style blonde ale that is refreshing and approachable. Aromas of lemon zest and black pepper artfully compliment the simple grain bill. Take Session with you to the beach, ball park, hiking or knock a few back with some friends at your next cookout. Available in cans. (ABV 4.5%)
Manayunk IPA: India-Style Pale Ale was created to showcase the bright citrus and pine flavors from the American hops. A touch of crystal malt imparts a sweetness to balance the bitterness provided by the hops. This medium-body beer is crisp but goes down smooth, leaving your taste buds screaming for more. Available in cans. (ABV 5.5%)
Duet: A Belgian Style Golden Ale collaboration with Brendan Hartranft, who owns gastro pubs like Memphis Taproom and Strangelove's. Brendan has a love of both the dry, complex flavor of Belgian ales and the herbal, spicy aroma of German hops. This light bodied ale is brewed to have the perfect balance between the two. (ABV 5%)
Hidden River: This Belgian style wheat beer is left unfiltered to retain the flavor of its integral ingredients. Though uncommon in other beer styles, the addition of coriander and orange peel is essential to create its subtle citrus flavor and refreshing, peppery finish. This ale is the perfect sipper for warm days and cool nights with your comrades. (ABV 4.8%)
Schuylkill Punch: Ruby colored raspberry ale fermented with over 500 lbs of real raspberries for a distinct berry aroma and a tart, yet not too sweet flavor. This beer is brightly filtered to preserve its delicate profile. (ABV 6%)
Prism Brewing Company

Love is evoL: This brown Ale represents love in strawberries and evil in Jalapenos. The spice and flavor is kept in balance by leaving some seeds in and some seeds out, and then combining earthy English and traditional American hops. Available just about anywhere you can buy beer. (ABV 5.5%)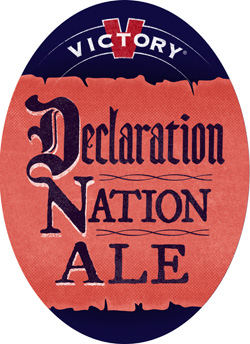 Declaration Nation Ale: This historical Ale was featured and brewed in an episode of Esquire Network's Brew Dogs, and might just be the most American beer ever made. Its recipe features traditional ingredients used during colonial era brewing, including molasses and stone-ground corn, as well as imported two-row malts and Whole flower Tettnang hops, but with a very modern twist. Available for a limited time and on draft only. (ABV 6.2%)
Summer Love Ale: German hops (whole flower Tettnang Tettnang, Simcoe and Citra hops) and pale two-row German malt blend beautifully to create this refreshing light-bodied ale which casts a golden hue reminiscent of the summer sun. It was commissioned by Visit Philadelphia in order to capture the essence of a city that is rich in history and in flavor, and ends with a surprising burst of lemony refreshment. Available as a summer seasonal in 12 oz. bottles and on draft. (ABV: 5.2%)
Hop Ticket Dry Hopped Pils: Celebrating the nuanced flavors that only the finest whole flower hop varieties from around the world can deliver, the brews in the Hop Ticket, draft-only series will take your senses on a tour through six perfectly hop-forward and uniquely satisfying beer styles.It is earthy and thirst quenching, featuring bright hop aspects hinting of lemon and hay which combine with soft German malt notes for an integrated and refreshing finish. Goes with seafood, burgers and pizza. Available on draft May through June and in 12oz. bottles in Victory's Summer Selections variety 12-pack. (ABV: 5.5%)
Belgian Golden Ale: It's their 100th Brew! A big Belgian beer with flavors of tropical fruit and Belgian yeast spices. Notes of pineapple, orange marmalade, guava, lemon peel, and peppercorn. Finishes with a pleasant alcohol warmth. (ABV 9.2%)
Belgian Wit: Pale and hazy, with an aroma that is lemony and bright. The toasted Indian coriander dominates the flavor with the yeast and other spices providing nuance. The spicing adds a touch of complexity and unmalted wheat/oats give it a creamy consistency. A floral, honey-like note may be detectable, likely from the chamomile. Initially soft but with fine carbonation that provides a crisp finish. (ABV 4.7%)
Citra IPA: Golden-orange colored with an intense tropical fruit medley aroma and flavors of guava, mango, pineapple, citrus, and a slight malt sweetness. Finishes with a clean, moderate bitterness. (ABV 6.9%)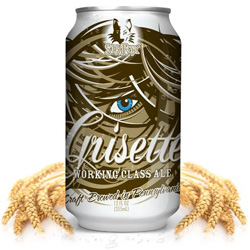 Grisette: Just as Saison was the beer of the farmers, the Grisette is a Belgian style ale originally brewed to be the beer of the miners. It was lighter than Saison and frequently contained wheat as well as barley malt (as does the Sly Fox version). The name is derived from the French word for "gray," referring to both the drab factory frocks worn by the young women (the grisettes) who doled out pints as the men exited the mines, and also the color of the cobblestone rock being mined. This 2013 GABF Silver Medal Winner is available on tap at both the Phoenixville & Pottstown locations (5.6% ABV)
Festina Peche: Sadly, there are only a few breweries left in Berlin still brewing the Berliner Weisse style, which is characterized by its intense tartness (some say sour).
In addition to fermentation with an ale yeast, Berliner Weisse is traditionally fermented with lactic cultures to produce its acidic (or green apple-like) character. Served as an apertif or summertime quencher, Festina is delicately hopped and has a pale straw color. To soften the intense sourness, Berliner Weisse is traditionally served with a dash of essence of woodruff or raspberry syrup. In Festina Peche, since the natural peach sugars are eaten by the yeast, the fruit complexity is woven into both the aroma and the taste of the beer so there is no need to doctor it with woodruff or raspberry syrup. This refreshing neo-Berliner Weisse is available in 4-packs and on draft during the sweaty months. (ABV 4.5%)
Photos: Yards Brewing Company, Commonwealth Ciders, Iron Hill Brewery & Restaurant, Vicory Brewing Company, Sly Fox
Tags:
Beer
Recent Articles

Feedback
How are we doing? Tell us what you like or don't like and how we can improve. We would love to hear your thoughts!