Hop Sing Laundromat Revises 'Short Range Missiles' Happy Hour Deal; Introduces New Cocktails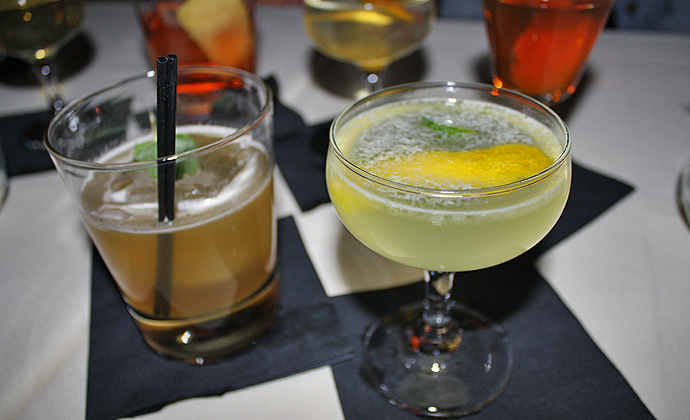 Sadly, the Short Range Missiles happy hour deal that Hop Sing Laundromat cocktail impresario Lê announced earlier this week had to undergo some slight changes to make it street-legal before it's big launch on Fri., June 6.
As first envisioned, the happy hour would give drinkers the opportunity to taste a broad selection of Hop Sing's storied stash of high roller hooch in single pours at absolutely unheard of low prices. But there was a catch. In order to take advantage of those deep discounts, guest would be required to consume a progression of four shots. Turns out, that's not necessarily kosher in the eyes of the law.
As it stands now, Lê is offering single pours on a ton of bottles in his inventory at specially reduced prices, minus the all-or-nothing requirement.
Single pours covered include:
Maestro Dobel Reposado Tequila
$3.50
Gosling's Family Reserve Old Rum
Glen Grant 16 years old Single Malt Whisky
Jameson 12 years old Special Reserve
Cabo Wabo Anejo Tequila
Don Q Gran Anejo Rum
Booker's Bourbon Small Batch
Patron Anejo Tequila
Glenlivet Nadurra 16 years old
Drambuie 15 years old Speyside Whisky Liqueur
$6.66
Chivas Regal 18 years old Scotch Whisky
$7.77
Yamazaki 12 years old Single Malt Whisky
$8.88
Jameson 18 years old Limited Reserve Whiskey
$9.99
And with the rollout of the revised happy hour dealage, Lê is introducing a new cocktail list. New drinks include:
Captain Kirk
Russell's Reserve 10 Year Bourbon, Sortilege Canadian Whisky with Maple Syrup and Angostura bitters
Big Spender
Cold River Gin, Yellow Chartreuse, Velvet Falernum and fresh lemon juice
The Weight
Dobel Maestro Reposado Tequila, Patron XO Cafe and Avion Espresso Liqueur
The Kentucky Flip You
Russell's Reserve 10 Year Bourbon, Drambuie 15 Year, Benedictine, cream and whole egg
Tokyo Joe
Kikusakari Tarusake Sake, Drambuie 15 Year and essence of lemon
Hate Street Dialogue
Dobel Maestro Reposado Tequila, Aperol, Spanish Sweet Vermouth and Campari
White Rabbit
Cold River Potato Vodka, Hidalgo Sherry and Luxardo Triplum
Captain Hook
Appleton Estate 12 Year Jamaican Rum, agave nectar, Don's Spice #2, mint and fresh lime juice
Baba O'Riley
Glen Grant 16 Year Old Single Malt Whisky, Kronan Swedish Punsch and Fernet Branca
Tags:
Bourbon
,
Cocktails
,
Scotch
,
Spirits
,
Whiskey
Recent Articles

Feedback
How are we doing? Tell us what you like or don't like and how we can improve. We would love to hear your thoughts!