Check Out What's On Tap For Beer Week's Final Weekend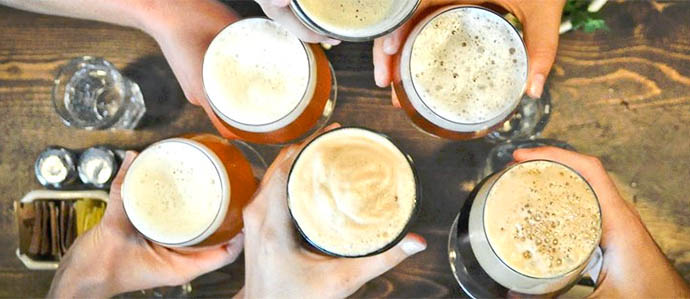 It looks like the good ship Philly Beer Week 2014 has reached the end of the line. If you haven't had your fill of beer and beer-soaked fun by now, time is running out before the whole thing slips into history with That Totally Unnecessary Drink and Live Karaoke at Fergie's Pub on Sunday night. To help you make the most of your final Beer Week weekend, we've put together an itinerary of don't-miss parties and events.
Friday, June 6:
Dinner With Boston Beer Company's Jim Koch
Red Owl Tavern (433 Chestnut St.; 215-923-2267)
6 PM
Celebrate the wrap of another fantastic Philly Beer Week by joining Red Owl Tavern and Boston Beer Company founder Jim Koch on Friday, June 6 for a delicious beer pairing dinner. You will be treated to a four-course spread featuring a different Boston Beer Co brew with each plate. You'll even be able to keep the commemorative glassware. Because one can never have enough beer glasses. Tickets are still available at $65 per person, which includes tax and gratuity. Call 215-923-2267 to reserve your spot.
Meet the Brewers from Carton Brewing
Perch Pub (1345 Locust St.; 215-546-4090)
7 - 9 PM
Carton Brewing, out of the Atlantic Highlands in New Jersey, has only been available in the area for about a year, but word has spread quickly about the quality of their brews. On Friday, June 6 brewer Jesse Ferguson from Carton is bringing quite the selection of ales to Perch Pub. From summer session beers to sour stouts to smoked cherry porters, Carton is bringing a little of everything.
Ommegang Raw
Pennsylvania 6 (114 S. 12th St.; 267-639-5606)
5 - 11 PM
Pennsylvania 6 is handing over the reins to reps from Brewery Ommegang for an evening showcasing the Cooperstown-based brewer's beers and the bar and restaurant's raw bar. Expect surprising ceviches, fresh shucked oysters and tempting towers of fresh, raw seafood served alongsoede Ommegang's Belgian-inspired ales.
Saturday, June 7:
Florida Breweries Beer Brunch
Bainbridge Street Barrel House (625-27 S. 6th St.; 267-324-3553)
10 AM - 3 PM
Start off the last weekend of Philly Beer Week with fluffy eggs and kegs of some of Florida's best beers, including Cigar City, Saint Somewhere, Funky Buddha, and Saltwater. The brunch, which runs from 10 AM - 3 PM, will feature some special guests, among them Cigar City Brewmaster, Wayne Wambles, and VP of operations, Justin Clark.
Rare Beer Attack with Brooklyn Brewery
Perch Pub (1345 Locust St.; 215-546-4090)
5 - 7 PM
Perch Pub is serving up some its rare and vintage beers at this special outing. Beer include 2011 Black Chocolate Stout, 2011 Monster Barleywine, 2012 Silver Anniversary Lager as well as others. In addition to vintage kegs, Brooklyn is bringing special ghost bottles of Kriek and NY Limited. Ghost bottles are typically experimental beers that never made it to the production line. There will also be plenty of Brooklyn swag to give away, so you really won't want to miss out.
The Great Philadelphia Craft Beer Crawl
(Fairmount Ave.)
1 - 6 PM
Grab some friends and follow this crawl through some of the Fairmount neighborhood's best bars — 14 in all. Tickets are $20 each and include a custom tasting mug, two beer samples at each of the participating bars, a map so you don't get too lost, discounted craft beer specials at each bar, discounted "Farimount Fare" at each location, and a $20 Uber credit if you're a new Uber user.
Sunday, June 8:
Beer Week Leftovers Special
Perch Pub (1345 Locust St.; 215-546-4090)
After the events have ended, there's still some beer left. That's where Perch Pub's Beer Week Leftovers special comes into play. Leftover beers will be on tap all day Sunday, June 8, but from 8-10 PM you can grab half price pints on all leftovers. So raise one last glass to the greatest beer week there is, and settle in for a summer of fun.
Dock Street End of Beer Week Music Fest
Dock Street Brewery (701 South 50th St.; 215-726-2337)
4 - 8 PM
Grab a pint of Dock Street's Pimp My Rye IPA, some wood-fired pizza, and kick back with the tunes some awesome local bands will be cranking for Dock Street's sixth annual Beer Week Music Fest. This year will feature Grandchildren, West Philadelphia Orchestra, and Gliss. Along with the tunes, there will be canjam, ladder toss, and other outdoor games to enjoy for free.
BBQ, Blues, Bourbon & Beer
MilkBoy (1100 Chestnut St.; 215-925-6455)
2 PM
This all-day, into-night party boasts great barbecue from Chef Joel Mazigian and drinks special like $4 Shawnee beers and $6 Bulleit Bourbon and Bulleit Rye drinks. A $40 prix fixe barbecue option includes Baby Back Ribs, Hot Sausages, Charred Short Ribs, Baked Beans, Braised Collards, Biscuits with Bacon Jam, Cheddar Grits and much more. Blues bands will play both floors from 3pm on, with Philly's own George Urgo Blues Band rocking the second floor stage from 4 - 7 PM.
Add to Calendar 2014-06-06 12 PM 2014-06-06 2 AM 15 Check Out Whats On Tap For Beer Weeks Final Weekend Multiple locations false YYYY-MM-DD
Event Date: 06/06,06/07,06/08
Event Time: 12 PM - 2 AM
Location: Multiple locations
Price: PAYG
Type: Bar Crawl,Beer,Beer Week,Food,Outdoor Seating,Parties

Tags:
Bar Crawl
,
Beer
,
Beer Week
,
Food
,
Outdoor Seating
,
Parties
Recent Articles

Feedback
How are we doing? Tell us what you like or don't like and how we can improve. We would love to hear your thoughts!