Where to Drink Wine Straight from the Barrel in Philadelphia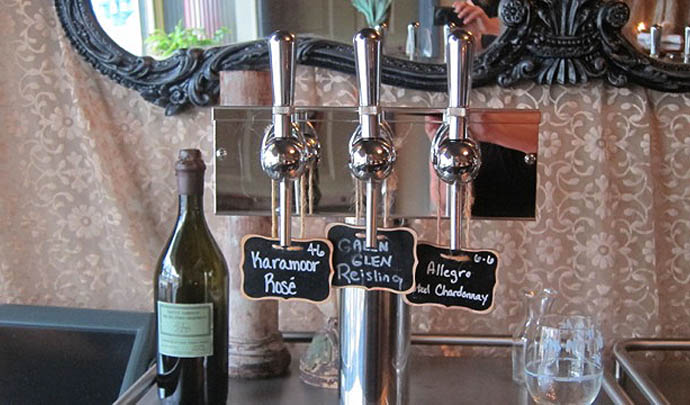 In Philadelphia, the question "What do you have on tap?" isn't just an inquiry about beer any more. Several of the city's bars and restaurants are serving wines straight from the barrel, offering a variety of local, national and international wines in a new, old-fashioned way.
Serving wine from outside the state from kegs has only been legal in Pennsylvania since 2013 when Terry Berch McNally of London Grill and Paris Wine Bar and William Reed of Standard Tap worked together to get the state laws changed. Before then, it was legal to serve only local wines from the barrel.
Since the laws changed, establishments throughout the city have been embracing the chance to hook a wine keg up to a tap and serve guests fresh wine. You can find wines being poured straight from the barrel at these locations.
Paris Wine Bar/London Grill: Six taps are dedicated to wines by the barrel, the majority of them dedicated to PA wines that owner Terry Berch McNally chooses from wineries like Karamoor Estate in Fort Washington, Pinnacle Ridge in Kutztown, and Manatawny Creek in Douglassville. The kegs live at Paris Wine Bar that's open Thursday through Saturday, but the keg wines are also available at Paris' sister restaurant London Grill, right next door. Thursdays are half-price carafe nights at Paris and live jazz fills the air on weekend nights. (2303 Fairmount Ave.;
 215-978-4545)
Johnny Brenda's: This Fishtown bar is known for its dedication to music and local beer, but it also has eight kegs of rotating wines. There are always four reds and four whites on tap; sometimes one of those whites is sparkling. The bar tries to keep some East Coast wines in rotation, including ones from PA and NY state. It also brings in international wines from Argentina, Chile, Portugal and more. Wines are $1 off during the weeknight happy hour from 4-6 PM. (1201 N. Frankford Ave.; 215-739-9684)
Townsend: East Passyunk's French-inspired restaurant dedicates two rotating taps to international wine from kegs. General Manager and Sommelier Lauren Harris says the barrels let her serve by glass at a good value to guests. Wine in a barrel is considerably less expensive than the same wine that's been bottled, and the first glass is always as fresh as the last because it never touches the air. (1623 E Passyunk Ave.; 267-639-3203)
Le Virtu: Just a few doors down from Townsend, East Passyunk's Le Virtu has two taps behind the bar devoted to pouring wine. Taking full advantage of changes in local liquor laws, owners Cathy Lee and Francis Cratil-Cretarola tap wines from many of Italy's wine producing regions. (1927 East Passyunk Ave.; 215-271-5626)
Alla Spina: Mark Vetri's Italian gastropub in the Fairmount section of the city offers two wines on tap. Currently, there's a Chardonnay from California and a Merlot blend from PA's Karamoor. During the restaurant's weeknight happy hour, 4:30-6 PM, and its late night happy hour, 10:30-12 PM, glasses of wine poured straight from the keg are only $6. (1410 Mt. Vernon St.; 215-600-0017)
Tria Taproom: You won't find a bottle of anything to drink at this Rittenhouse Square wine, beer and cheese spot. All beers and wines are straight from the keg, and the selection of wine always includes a rotation of six reds and six whites from all over the world. Tria doesn't have a happy hour, but the prices for a glass are usually in the $8-9 range. (2005 Walnut St.; 215-557-8277)
Stella Rossa: At this Center City Italian restaurant, you'll only find one wine on tap, and it's sparkling. Moletto, a Prosecco from Venice flows every day at Stella Rossa for $9 a glass. (929 Walnut St.; 215-644-9074)
Photo: Robin Shreeves
Tags:
Wine
Recent Articles

Feedback
How are we doing? Tell us what you like or don't like and how we can improve. We would love to hear your thoughts!