City Tap House
City Tap House Review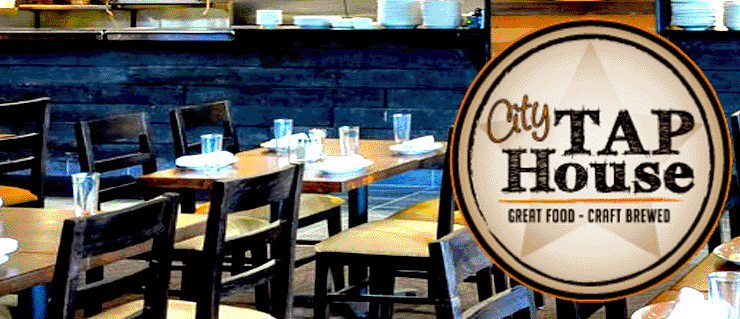 I decided to make a trip out to University City after hearing about a new bar in town. City Tap House is in the Radian Hotel on 39th and Walnut. After parking the car on the street and paying the meter, my friends and I opened the door to what we thought was City Tap House. We clicked the button in the elevator labeled "City Tap House," thank goodness it was labeled! When the door opened we all stepped forward and realized a few feet ahead was the bar. Phew. We all breathed a sigh of relief. A word of advice, just keep walking until you see the light and you will be pleased once you finally get there!

We found the hostess (after waiting for a while because of how mobbed the bar was) and told her we were there for happy hour. The bar was very modern and beautiful, and even had an old fashioned tap on display. The place was huge, but if you are there for happy hour you are only able to sit at the bar or outside by the fire pit. We chose to sit by the fire pit because of how crowded the bar was. This was an interesting choice, there was no one outside regardless of how beautiful it was. The balcony overlooked University City. The fire pit was a cool idea, but if you order food it's very difficult to eat it there (drinks are easy to drink there however). After sitting there for a while, lots of people ended up joining us by the fire pit.
I went there with some friends on a Thursday, which is City Tap House's "Hundred Mile Happy Hour". I thought this idea was brilliant! You get $2 off all local beers between 5 PM and 7 PM on Mondays, Tuesdays, Thursdays, and Fridays. They have over 60 draft beers and you get $2 off any beer that was brewed in a brewery that was within 100 miles of City Tap House. Very clever. On Wednesdays from 5 PM to 7 PM they have a "City Tap Hour" which gives you $3 select craft beers, $4 select wines, $5 specialty cocktails, and a $6 appetizer menu. There is also live music everyday! But the music unfortunately didn't start until we were leaving the bar, about halfway through happy hour.
I ordered a couple Dock St. Summer Sessions, which were only $4 each with the $2 off. It was the perfect summer ale and it tasted of wheat and ginger. Some other beers that were offered within 100 miles of City Tap House included Stoudts Heifer in Wheat, Yards Brawler, Yards ESA, Victory Helios, and Allentown Brewworks Space Monkey. Yum. To eat we ordered the "10-Spice Dry Rubbed Wings" that came with house ranch and veggies for only $10, as per the very friendly waitress's recommendation. There were 10 wings and they were perfect as a happy hour snack, they had a very intense rosemary flavor while the bleu cheese and ranch was delicious! The Hundred Mile Happy Hour was a good time, I can't wait to come back for the Wednesday night City Tap Hour!
Recent Articles

Feedback
How are we doing? Tell us what you like or don't like and how we can improve. We would love to hear your thoughts!