Where to Find Buck-a-Shuck Oysters in Philadelphia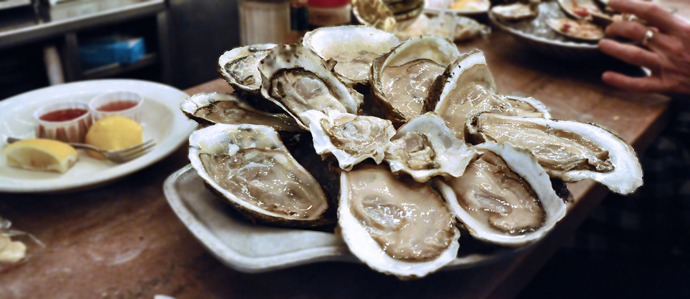 If you're looking for an in-depth history of the preparation and consumption of oysters, we recommend you check out the work of M.F.K. Fisher, especially her 1941 tome Consider the Oyster. But if you're simply in search of freshly shucked oysters and some good drinks to wash them down without breaking your budget, we suggest you check out one the many Philly bars listed below that offers buck-a-shuck oysters. Know of a place we missed? Give us a shout on Facebook or Twitter and let us know.
Oyster House (1516 Sansom St.; 215-567-7683)
This Center City institution can trace its roots to a time when similar mollusk mongers and the goods they dealt in were readily abundant throughout Philadelphia. Today third-generation restaurateur Sam Mink, whose grandfather bought Oyster House predecessor Kelly's on Mole Street back in 1947, keeps Philly's oyster -shucking and slurping traditions alive with Buck-a-Shuck happy hours six nights a week.
The Industry (1401 E. Moyamensing Ave.; 215-271-9500)
More of a newcomer, this Pennsport spot that's geared towards those who work in the service industry offers buck-a-shuck oysters daily at happy hour.
Doc Magrogan's Oyster House (3432 Sansom St.; 215-382-3474)
An oyster a day may not keep the doctor away, but at $1 a piece, you won't go broke. So let's call it a draw.
Varga Bar (941 Spruce St.; 215-627-5200)
WashWest's Varga Bar does oysters every day of the week, and shucks 'em for just a buck all day from Sunday through Thursday.
The Original Snockey's Oyster & Crab House (1020 S 2nd St.; 215-339-9578)
As the city's oldest, continuously-run seafood house Snockey's has been serving up fresh clams, oysters crabs and lobsters for more than 100 years. Weeknight "Clammy Hours," which run 4 PM to 6:30 PM Monday through Friday, feature more than a dozen different types of oysters offered at just 83 cents a piece. On Sundays they're priced at $1 to $1.50 all day.
Pennsylvania 6 (114 S. 12th St.; 267-639-5606)
Weekday happy hours ( 5 PM to 7 PM) here feature a daily selection of East and West Coast oysters for $1 a piece, as well as $5 glasses of bubbly and $3 Yards Philly Pale Ale drafts.
Devon Seafood Grill (225 S. 18th St.; 215-546-5940)
Sure, there are any number of Rittenhouse haunts with oysters on the menu, but Devon Seafood Grill is the only one serving them for $1 at happy hour.
East Girard Gastropub (200 E Girard Ave.; 267-761-9343)
On Tuesdays, this Fishtown corner spot shucks oysters to order for just $1.
Honorable Mentions:
a. bar (135 S 18th St.; 215-825-7035)
a. bar and it's sibling a. kitchen hosts happy hour daily from 3 PM to 6 PM with oysters priced at $1.50.
Johnny Brenda's (1201 N. Frankford Ave.; 215-739-9684)
Roll up to Frankford and Girard avenues weekdays between 4 PM and 6 PM, and enjoy fresh shucked oysters at half the ordinary price, which works out to about $1.25 to $1.50.
Photo: Flickr user Jeffrey Bary

Tags:
Beer
,
Cocktails
,
Spirits
Recent Articles

Feedback
How are we doing? Tell us what you like or don't like and how we can improve. We would love to hear your thoughts!