Frozen Fixes at the Jersey Shore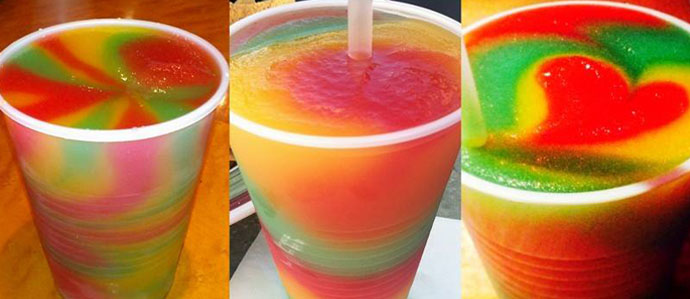 Sure, this may have been a relatively mild summer, but all locals know that when it gets hot, it gets really hot. And don't get us started on the humidity.
Sometimes, you just need to escape the heat. And what better way to cool down then with a frosty cocktail. I mean, is there anything better than the first sip of a blended, fruity concoction after a long day in the Jersey Shore sun? To feed your frozen fix, we've rounded up our favorite frosty cocktails from up and down the Jersey coast, featuring lots of ice, plenty of fruity mixes and a cool down to last you the rest of the Dog Days of summer.
Mango-Lime Margarita at Laguna Grill & Rum Bar: Go super tropical with this treat, which starts with mango puree then adds freshly-squeezed lime, along with 1800 Silver tequila and triple sec. It's plenty sweet, but you still get a bite from the tequila in each sip. (1400 Ocean Ave., Brigantine; 609-266-7731)
White Russian at Wet Willie's: The best part about this boardwalk bar? Everything they're serving is frozen. This spot lines up frozen machines and churns out all sorts of unusual blends, like their frozen White Russian with ice cream, coffee and vodka. You can even mix and match various flavors to create your own specialty drink. (2831 Boardwalk, Atlantic City; 609-449-8401)
The Sandy Banana at The Rusty Nail: Banana liqueur, Kahlua, creme de cocoa and vanilla vodka get frozen and blended together in a drink that is tropical but also creamy and rich. It all gets served up in a mug that's drizzled with chocolate syrup, so the chocolate-banana flavors carry through to the very end. (205 Beach Ave., Cape May; 609-884-0017)
Margaritas at La Costa: Frozen drink specials run almost every day at La Costa, so you can cool down without breaking the bank. Enjoy a blended margarita or any of their other frozen concoctions, all featuring various flavors and fruit juices. (4000 Landis Ave., Sea Isle City; 609-263-3756)
Strawberry Shortcake at The Sea Shell Resort's Tiki Bar: Dessert or drink? You decide with this one. Start with vanilla ice cream, then add strawberry, Kahlua, Bailey's Irish Cream and some Amaretto liqueur. Sure, it's not exactly the usual fruity frozen drink, but that doesn't mean it's not refreshing and delicious. (10 S. Atlantic Ave., Beach Haven; 609-492-4611)
Black Razz at Jenkinson's Boardwalk Bar & Grill: This blended beach treat is simple but satisfying. Take Bacardi black razz rum and mix it with a fresh, frozen raspberry mix, and serve. Then kick back, relax and take in those super-sweet berry flavors. (300 Ocean Ave., Point Pleasant; 732-0600)
Orange Creamsicle at The Sawmill: The Sawmill is still standing as a Seaside Heights institution- despite near fateful brushes with Hurricane Sandy and the 2013 fire that left a large part of the boardwalk out of commission. But against all odds their drinks remain cold, including the Creamsicle. A nod to your childhood favorites, this drink mixes orange vodka with triple sec, Licor 43, freshly squeezed orange juice and vanilla ice cream for a smooth and creamy treat. (1807 Boardwalk, Seaside Heights; 732-793-1990)
Photo via Wet Willie's
Tags:
Cocktails
,
Outdoor Seating
,
Rum
,
Spirits
Recent Articles

Feedback
How are we doing? Tell us what you like or don't like and how we can improve. We would love to hear your thoughts!