Where to Celebrate Oktoberfest in Philadelphia
by
Drink Philly
on Sep 16, 2014 in
Roundups
for
Alla Spina
,
Barren Hill Tavern & Brewery
,
Brauhaus Schmitz
,
City Tap House
,
Earth - Bread + Brewery
,
Frankford Hall
,
Grey Lodge Pub
,
Hop Angel Brauhaus
,
Iron Hill
,
XFINITY Live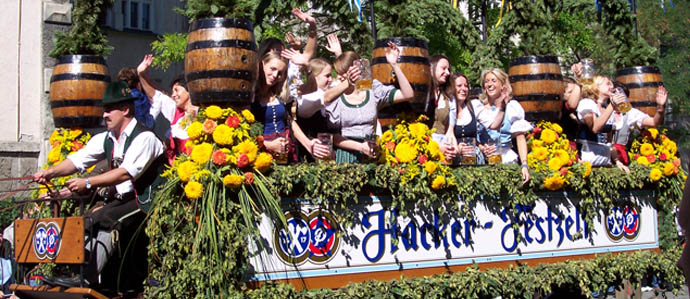 Oktoberfest season has arrived, and it's a grand time to be a beer lover. Based on a 200-year-old tradition that began in Munich, this celebration of harvest season has since spread around the globe. Inspired by the beer served at the 1810 wedding of Bavarian Crown Prince Ludwig that started the custom, Oktoberfest beers are Marzen-like beers: robust, reddish-amber lagers with pronounced malt flavors.
The modern German incarnation of the original celebration now draws millions each year, and runs 16 to 17 days long, and comes with strict rules about what brands and types of beers can fill your stein.
Here in the US, we're a bit more flexible with our suds-centric merrymaking, and Bavarian-style bashes are already underway. Slip into some lederhosen and don your dirndls and and check out below where festing will be going on around town.
Brauhaus Schmitz Oktoberfest Street Festival
Saturday, September 20, 12 PM - 8 PM
Brauhaus Schmitz (718 South St.; 267-909-8814)
South Street's beer hall Brauhaus Schmitz is back with its sixth annual celebration of Germany's storied fall beer fest, and this year promises to be bigger and better than ever. The main event is an all-day block party on Saturday, September 20, which will feature tented areas outside, a pig roast where chef Jeremy Nolen will serve more than a ton of pork, live oompah music and plenty, we mean plenty, of great beer. Food and drink are pay as you go.
Oktoberfest Street Festival
Saturday, September 20
Frankford Hall (1210 Frankford Ave.; 215-634-3338)
Head to Fishtown for tents full of beer, food, live music and so much more. There's plenty of fun for all ages with carnival games and pony rides, and you could even win an all-expenses paid trip to Europe.
Germantown Avenue Brewpub Crawl
Saturday, September 20, 12 PM - 5 PM
Barren Hill Tavern, Iron Hill, Earth Bread & Brewery (Germantown Ave.)
Join the 'Germantown Cartel' on a brewpub crawl along Germantown Avenue. Who belongs to this Germantown Cartel, you ask? The head brewers from Barren Hill, Iron Hill Chestnut Hill and Earth Bread & Brewery. The brewers have come together to create three special collaboration brews especially for this one-of-a-kind brewpub crawl. Enjoy one of the collab beers at each of the brewpubs that are all within a few miles of each other. The best part? There's a free shuttle to take you from pub to pub. Get more info and tickets here.
Stein Holding Competition
Thursday, September 25
Frankford Hall (1210 Frankford Ave.; 215-634-3338)
What better way to celebrate Oktoberfest than by demonstrating your spectacular strength. Heft steins full of beer for great prizes including gift cards, Flyers and Sixers tickets and even spa packages. This contest is open to men and women alike, so come one, come all.
Yuengling Oktoberfest Tapping
Friday, September 26, 6 PM - 9 PM
Grey Lodge Pub (6235 Frankford Ave.; 215-856-3591)
Grey Lodge's Grand Poobah, Mike "Scoats" Scotese is tapping a barrel of Yuengling Oktoberfest on Friday, September 26th, to kick off the Oktoberfest festivities, which will also feature traditional German eats. Prizes will be awarded for the best lederhosen and drindls, so dress smart.
Detox, Retox and The Wurst Games Ever
Saturday, September 27, 11 AM
City Tap Hosue (3925 Walnut St.; 215-662-0105)
Head to City Tap House for a day of yoga, beer and a whole lot of Oktoberfest games. Start the day at 11 AM with a 50-minute yoga class by Core Fitness, followed by a complimentary beer and the option to hang around for an awesome brunch. Then the games begin. Registration for The Wurst Games Ever begins at 1 PM and everything gets going around 2 PM. Compete in games like Beer Stein Races, Yodeling Contests, Lederhosen Relays, Stein Holding Competitions, Cornhole and more.
Oktoberfest Street Festival
Sunday, September 28, 12 PM - 6 PM
Alla Spina (1410 Mount Vernon St.; 215-600-0017)
Marc Vetri's Italian gastropub is going German for its all-day, outdoor Oktoberfest celebration. They're shutting down Mt. Vernon Street, firing up grills and taking the festivities outside. Chefs Pat Szoke and Julie Kline will be serving up traditional Oktoberfest foods, Victory Brewing Company will be taking over the taps, and Kite and Keeshka will pumping out Oompah numbers.
Oktoberfest
Saturday and Sunday, September 27 and 28
Hop Angel Brauhaus (7980 Oxford Ave.; 215-437-1939)
Hop Angel's two-day fest will feature authentic Oktoberfest style beers and
Bavarian food specials. During the fest, Hop Angel will give free sausage sandwiches to anyone who shows up in dirndls and lederhosen, and prizes will be awarded to those who wear them best.
Oktoberfest Live!
Saturday, September 27
Xfinity Live! (1100 Pattison Ave.; 855-406-4119)
For its third annual Oktoberfest celebration, Xfinity Live! is pulling out al the stops. There will be more than 200 craft beers on tap, live music, contests, prizes and food trucks. Tickets start at $40 per person. Get them here.
Photo: Wikimedia Commons
Recent Articles

Feedback
How are we doing? Tell us what you like or don't like and how we can improve. We would love to hear your thoughts!