Beer Review: Samuel Adams Kosmic Mother Funk Grand Cru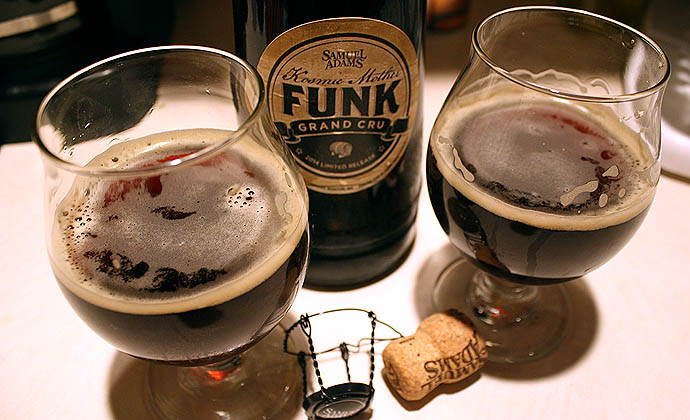 To say the wild world of spontaneously fermented beer has gained traction with the craft brew set is a bit of understatement. Like the foamy krausen head creeping over ebullient wort in open fermentation vessels, the once enigmatic niche has bubbled over into its own burgeoning category in recent years.
And like nearly every other American craft brewing concern, Samuel Adams has done its share of dabbling in the funky arts. One of the latest creations to emerge from the Boston-based brewery's barrel room is Kosmic Mother Funk Grand Cru, a dark and mysterious elixir designed to showcase a proprietary blend of Brettanomyces and Lactobacillus yeasts and "other wild critters" found in the company's 150-year-old brewhouse that they lovingly refer to as Kosmic Mother Funk. It serves as the backbone for the portfolio of small batch brews that make up the brewery's Barrel Room Collection.
Since the brew is in extremely limited supply, it's being introduced to the public this fall with a short, coast-to-coast 12 city tour. The Drink Nation was one of the few to score a sample from The Boston Beer Company.
From the 750 ml bottle, KMF pours a deep, dark purplish-brown color that barely lets even a twinkle of light shine through. A short-lived, two-finger brownish head lingers momentarily and leaves some semblance of lacing behind on the sides of the glass as it dissipates.
As expected, the aroma is complex — there's whiffs of malty sweetness, dark fruit, and boozy alcohol, as well a telltale sour vinous scent that's result of the wild fermentation. Like all of Sam Adams' Barrel Room Collection of limited release beers, KMF has a distinct wood element that comes from a year spent aging in gigantic brandy barrels imported from Italy.
On the palate, KMF comes on sweet, backed with notes of stone fruit, tart lemon and sour cherries. The medium-bodied brew has a subtle effervescence, and finishes dry with a funky, tart and wood-like aftertaste. All told, it's a pretty agreeable beer perfect for any newbie looking for a first step into sour ales. The funk and the sour characteristics here are subtle and kept in check, unlike many other specimens we've encountered on the beer world's wild frontier.
If you're interested in trying it for yourself, KMF will be hitting the following cities on dates listed below. Check it out, if you can.
New York, NY: 9/22/2014 - 9/28/2014
Denver, CO: 9/29/2014 - 10/5/2014
Cleveland, OH: 10/6/2014 - 10/12/2014
Dallas, TX: 10/13/2014 - 10/19/2014
Philadelphia, PA: 10/20/2014 - 10/26/2014
Washington DC: 10/20/2014 - 10/26/2014
Chicago, IL: 11/3/2014 - 11/9/2014
San Francisco, CA: 11/10/2014 - 11/16/2014
San Diego, CA: 11/10/2014 - 11/16/2014
Seattle, WA: 11/17/2014 - 11/23/2014
Photo: Collin Keefe
Tags:
Beer
Recent Articles

Feedback
How are we doing? Tell us what you like or don't like and how we can improve. We would love to hear your thoughts!