Old City's Nick's Roast Beef Hosts Second Annual Bacon and Beer Fest, Sat., Oct. 4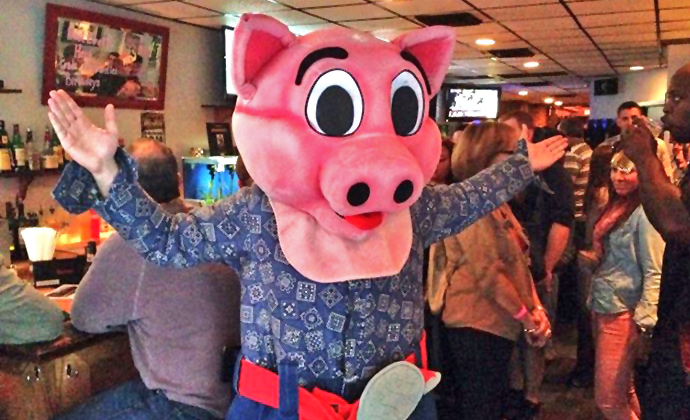 Old City's stalwart neighborhood corner bar Nick's Roast Beef is throwing a proper pig-out on Saturday, October 4 with the another installment of its popular Bacon and Beer Fest.
For this second annual run of the crowd-pleasing celebration of the best parts of the pig, Nick's will serve a mind-boggling spread of bacon-centric dishes, some bacon beers and other seasonal brews from craft breweries near and far.
The fest's all-bacon menu includes Nick's infamous Ground Bacon Burger — a house-blend of 35% ground bacon with 65% ground beef, served on a brioche roll, with lettuce and tomato and pickle chips on the side — in several different variations, including:
Bloody Mary Ground Bacon Burger (with bloody mary ketchup, blue cheese, green olives, celery shavings, black pepper) $9.50
Bacon Bacon Ground Bacon Burger (with applewood bacon and apple onion jam) $9.50
Breakfast Ground Bacon Burger (topped with fried egg and American cheese) $9.50
South Philly Ground Bacon Burger (topped with sharp provolone and long hots) $9.00
Southwestern Ground Bacon Burger (topped with fried pickles, house-made salsa, jalapeño slices and pepperjack cheese) $9.00
Classic Ground Bacon Burger (with American cheese, lettuce and tomato) $8.50
Ground Bacon Burger (with lettuce and tomato) $8.00
Ground Bacon Slider Assortment (with Bloody Mary, Bacon Bacon, Southwest and Classic) $15.00
Other bacon-y delights being served include:
Bacon Deviled Eggs (featuring special blend of bacon, chipotle and jalapeno) $8.00
Bacon Nachos (corn chips with crumbled bacon, cheese whiz, black olives, lettuce, tomato and sliced jalapenos) $10.00
Bacon Wrapped Shrimp (featuring pecan smoked bacon with cherry pepper aioli) $12.00
Spinach Salad (featuring crumbled bacon and blue cheese, hot bacon dressing and hard boiled egg) $9.00
Bacon Crusted Cheesecake (topped with caramelized apples, rosemary and garlic) $6.00
Pumpkin Bacon Brownies (chocolate fudge brownies with cherrywood smoked bacon and pumpkin cheesecake, with bacon crumble on top) $6.00
Bacon Fest beers include:
Prism Chocolate Bacon Stoudt $6.00
Pennsylvania Brewing Company Pumpkin Roll Ale $6.00
Flying Fish Oktoberfest $6.00
Flight of Hoegaarden Stella Artois and Leffe Blond $12.00
The fest runs 4 PM - 8 PM, and everything will be available pay-as-you-go.
Photo: Nick's Roast Beef Old City
Event Date: 10/04
Event Time: 4 - 8 PM
Location: Nick's Roast Beef in Old City
Price: PAYG
Type: Beer,Food

Tags:
Beer
,
Food
Recent Articles

Feedback
How are we doing? Tell us what you like or don't like and how we can improve. We would love to hear your thoughts!