The Unexpected Virtue of Ignorance: The Official Cocktail of the Philadelphia Film Festival
by
Drink Philly
on Oct 14, 2014 in
Featured Event Listing
for
1 Tippling Place
,
a.bar
,
Bank & Bourbon
,
Baril
,
Barren Hill Tavern & Brewery
,
Cooperage Wine & Whiskey Bar
,
Devil's Den
,
El Rey
,
Milkboy
,
Pennsylvania 6
,
Positano Coast
,
Red Owl Tavern
,
Rosa Blanca
,
Sassafras
,
The Franklin Bar
,
Time
,
Trestle Inn, The
,
Twisted Tail, The
,
Varalli Restaurant
,
Village Whiskey
,
XIX (Nineteen)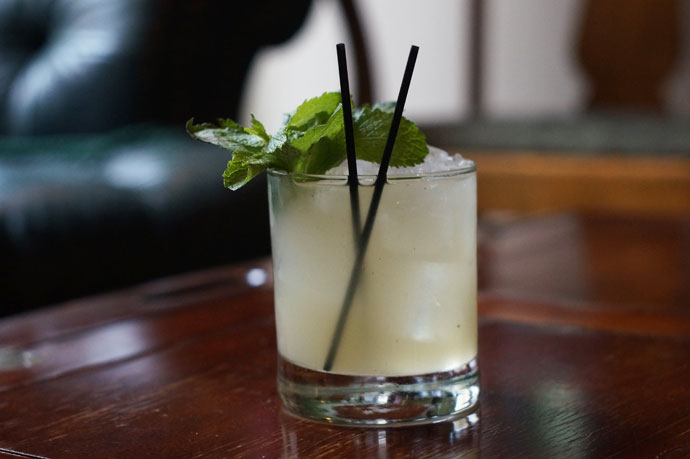 The magic of movies is something folks of all ages can revel in. Getting lost in the glow of the silver screen for an hour or two is a great escape from the everyday world. Each year, the Philadelphia Film Festival commemorates that escape, and is gearing up for a jam-packed 23rd year of shows and events taking place from October 16–26.
Drink Philly is proud to celebrate the movies and the Philadelphia Film Society with the official cocktail of the Festival, "The Unexpected Virtue of Ignorance." Tito's Vodka and fresh lemon and mint are used to create a delicious drink that will be available in finer bars throughout the city for the duration of the event.
The beverage is named for a new Alejandro Iñárritu film that will be shown on the opening night of the festival, Thursday, October 16. Birdman or The Unexpected Virtue of Ignorance is a bold, black comedy starring Michael Keaton as an actor, famous for portraying an iconic superhero, who struggles to mount a Broadway play about his life as he battles his ego and attempts to recover his family, his career and himself. The Unexpected Virtue of Ignorance cocktail is also bold and extremely drinkable but not overly sweet.
Check out the recipe and the list of bars that will be serving the special drink (we'll be updating this list frequently, so be sure to check back!). The Unexpected Virtue of Ignorance will be available starting October 16 at:
1 Tippling Place
Franklin Morgage & Investment Co.
Ranstead Room
Crow and the Pitcher
Sassafras
a.bar
Twisted Tail
Society Hill Society
Cooperage
Square 1682
Red Owl Tavern
MilkBoy Cafe
Trestle Inn
Devil's Den
Barren Hill Brewing
Varalli Restaurant
Bank and Bourbon
XIX (Nineteen)
Charlie Was a Sinner
Village Whiskey
Rosa Blanca
Positano Coast
Pennsylvania 6
Time Bar
Good King Tavern
The Unexpected Virtue of Ignorance
By Dan Lan Hamm at 1 Tippling Place
2 oz Tito's Vodka
¼ oz St Germain
½ oz simple syrup
½ lemon - quartered
Pinch of mint
Muddle lemon and mint together before adding all ingredients to a cocktail shaker with ice. Shake lightly and strain into rocks glass with ice. Garnish with mint sprig.
Event Date: 10/16,10/17,10/18,10/19,10/20,10/21,10/22,10/23,10/24,10/25,10/26
Event Time: All Day
Location: Participating Locations
Price: PAYG
Type: Cocktails

Tags:
Cocktails
Recent Articles

Feedback
How are we doing? Tell us what you like or don't like and how we can improve. We would love to hear your thoughts!