Happy Hour Crawl: Old City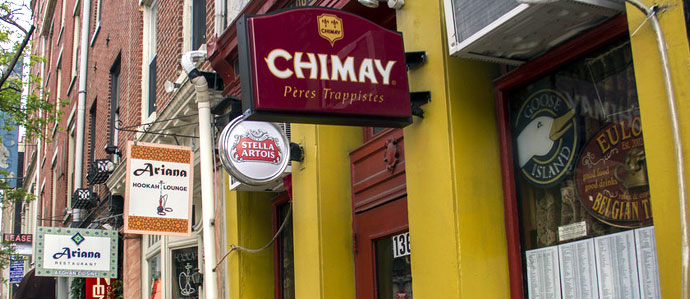 There are plenty of easy bar crawls you can make in the city—at least one in each neighborhood. Old City's—and specifically, a three-block radius from the Market-Frankford Line's 2nd Street stop—offers something that most others don't. A quick walk around will take you through a veritable Epcot Center of bars and restaurants, representing a variety of nations and, most importantly, all of those nations' boozy favorites. So surface at the 2nd Street El stop, or take any number of buses to Front and Market or 3rd and Market to start your journey around the world.

In addition to the ease of arrival, you'll have a Happy Hour crawl so easy you'll still be able to navigate it after your fifth stop—a quick look going south on Front Street, turning onto Chestnut, and then heading north on 2nd Street back to Market will not only get you sufficiently Happy-Houred, it will put you back within easy stumbling distance of the MFL.

Panorama: With a selection of cocktails and a wine bar boasting 120 wines on tap and 150 by the glass, you can begin your night in style. The wines are always varied, so no matter your price point or style preference, you're not only sure to be matched with something perfect, you're sure to not have to worry about getting the same thing every time you come back.
You can enjoy a fine Italian meal, or just a flight of cheeses, but amidst that you'll get your happy hour deal of $5 off every wine flight, $5 off select wine and $4 off select beer, $4 off select signature cocktails, and half-price appetizers. (14 N Front St.; 215-922-7800; Happy Hour 5-7 PM, Sunday-Friday; 3-5 PM Saturday)

Victoria Freehouse: Down Front Street and across Market you'll find British food you don't have to pay and arm and a leg for, and fish and chips done right (with haddock, that is). In addition to the English food, you'll get a well-rounded selection of bottled beer from across the pond, as well as 10 taps and 2 casks specializing in English suds.

In addition to all that great food and beer, the pub also offers a selection of wine (with half-price glasses and bottles for Monday's happy hour) and pages of cocktails, whiskeys, sherry, and everything in between. Drink specials range from $4-$7 during happy hour. (10 S. Front St.; 215-543-6089; Happy Hour 4-7 PM, Monday-Friday)

Eulogy Belgian Tavern: Continue south on Front Street and hook a right onto Chestnut to make your stop in Belgium. Eulogy is one of the city's preeminent craft beer bars, with 21 taps and over 300 bottles from around the world, but specializing in Belgian beer. The food has a decidedly Belgian slant as well, so if you're hungry park yourself on one of the two floors and go to town.

In addition to the regular greatness of their beer lineup, their Belgian-inspired happy hour offers $3.50 glasses of Stella, Leffe, and Hoegaarden. You're probably not going to find much to write home about in the cocktail and wine department, but we're guessing you're not here for those things anyway. (136 Chestnut St.; 215-413-1918; Happy Hour 5-7 PM Daily)

Khyber Pass Pub: Take a right onto 2nd Street and head a few doors north to make your way from Belgium to New Orleans and another one of the craft beer scene's most well-loved bars. Khyber offers 22 taps of some of the best craft beers in Philadelphia and some excellent drinking food. If you're not going to stick around for a proper dinner, don't leave without eating a bag of the Benton's Bacon Grease Popcorn.

With the caliber of beer here, their happy hour special of $2 off draft makes everything seem like a bargain. Throw in $1.50 domestic bottles, $10 select pitchers, and $1 off everything else (including that fantastic popcorn) and you'll be tempted to end your crawl right in your bar stool. (56 S. 2nd St.; 215-238-5888; Happy Hour 4-6 PM, Monday-Friday)

Revolution House: Continuing northward on 2nd Street, at the corner of Market is our next destination, featuring food from the good ol' US of A—that is, a mix-up of most of the other ethnic foods that have come to America. Whether you're looking for Mexican, Asian, Mediterranean, Italian, or just an old-fashioned hamburger, you'll find a little bit of everything.

Along with the food comes eight rotating drafts, a handful of bottles, and a small but workable selection of wine. Happy hour will get you half-off margherita pizzas, half-off drafts, $5 red and white house wines, and a $6 rotating specialty cocktail. Revolution has truly offered you the freedom to choose. (200 Market St.; 215-625-4566; Happy Hour 5-7 PM, Monday-Friday)

Bierstube: Stumble a few feet west on Market Street and we end our night on the only suitable note to do so: German. And believe it or not, there is more than one place to get good German food in Philly. And good beer: they've got an extensive tap and bottle list that focuses on ze mutterland's finest exports. In addition, Bierstube offers German wine, liquer and schnapps if you want to end your night on a high note—or a low note, depending on how hard you hit them.

Happy hour here is a worthy investment, with their "German Four Play" deal of $3.99 Paulaner Hefeweizen, Wurzburger Hofbrau Premium Pilsner, Kostrizer Schwarzbier, Gaffel Kolsch, $6.99 liters, and 99 cent landjager. And since it is the end of a very long night of Instagramming food and Untapping beers, you'll certainly appreciate the outlets at every seat for your phone charger. (206 Market St.; 215-922-2958; Happy Hour 5-7 PM, Monday-Friday)
Photo via Flickr
Tags:
Bar Crawl
,
Beer
,
Cocktails
,
Food
,
Wine
Recent Articles

Feedback
How are we doing? Tell us what you like or don't like and how we can improve. We would love to hear your thoughts!